Event Details
Date
February 18, 2013
Time
9:00 am - Noon
Location
Cibi deliziosi
3894 Rush Mendon Road
Mendon, NY 14506
Cost
$10.00 per person, includes handouts and networking

At the Door
$10.00 per person

Host
CVP, CCE and Finger Lakes Culinary Bounty
Angela Parr
585-394-3977 x426
email Angela Parr


EVENT HAS PASSED
Culinary Connections: Farm to Restaurant Workshop and Networking Opportunity
February 18, 2013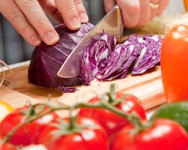 Local food sourcing, freshness, and seasonal eating continue to be driving trends among restaurant and dining entities in the region. Farms in the Finger Lakes are better positioned to serve restaurant accounts with local vegetables, fruits, and specialty foods. Chefs have the opportunity to work with farmers to coordinate volumes, products, quality expectations and consistency. Farmers are still striving to connect with local chefs and help create high-quality working relationships.
This workshop and networking session is a chance for culinary professionals to connect with some of our regional farmers to get fresh, local grown produce on their menus. Panels of farmers and chefs will explain how they are making beneficial culinary connections through communication and insights.
Workshop fee: $10.00 per person, includes handouts, networking and refreshments.
Hosted by the Cornell Vegetable Program and Cornell Cooperative Extension, in cooperation with Finger Lakes Culinary Bounty.
Register for the event now online
or, for more information or to register contact
Angela Parr
.
Mapquest
the location of this workshop for me.
Promo Flyer (PDF; 445KB)


Upcoming Events
High Tunnel School (Bath, NY)
December 2, 2014
10:00 AM - 3:00 PM; registration at 9:30 AM
Bath, NY
This beginner level school is for new high tunnel growers and will focus on best management practices, with an emphasis on tomato production. The school is strongly encouraged for growers with 2 or fewer seasons of tunnel growing experience, those considering getting a tunnel in the next few seasons, or NRCS EQIP recipients.
2014 Processing Beet and Carrot Advisory Meeting

December 8, 2014
12:30 PM - 2:30 PM
Batavia, NY
All are invited to discuss the 2014 processing beet and carrot season in New York. Hear ideas and concerns from fellow growers and industry members. Your input is needed to set future research priorities.
2014 Processing Pea Advisory Meeting

December 8, 2014
10:00 AM - 12:00 PM
Batavia, NY
Come discuss the 2014 processing pea season with industry colleagues. Your input is needed to set priorities for future research.
Announcements
Cornell Vegetable Program Receives Award
The Cornell Vegetable Program has been awarded the 2014 Cornell University College of Agriculture and Life Sciences'
Research and Extension
Award for Outstanding Accomplishments in Extension/Outreach.
This award recognizes individuals/teams who have demonstrated leadership in developing a highly innovative and responsive extension/outreach program that addresses stakeholder needs. The Awards Committee cited the excellent synergy among members of the Cornell Vegetable Program team in addressing the needs of New York's vegetable production operations and the many activities our team collectively organize to successfully connect Cornell faculty and their research with the real-world needs of vegetable producers. Our team will be recognized at an awards ceremony on November 10.
Send a congratulatory message to the Cornell Vegetable Program.
Include a message about how our team has helped your organization. We hope to hear from you!
Funding Available for Soil Health Practices
New funding opportunities are available to assist growers in adoption of reduced tillage and cover cropping practices. Contact NRCS at your local USDA Service Center, and/or county Soil & Water Conservation District staff as soon as possible, to be eligible for assistance in 2015.
Read more
about the State and Federal program opportunities to improve soil health for vegetable producers.
Cornell Vegetable Program - Cornell Cooperative Extension
Your Trusted Source for Research-Based Knowledge