Event Details
Date
February 18, 2013
Time
9:00 am - Noon
Location
Cibi deliziosi
3894 Rush Mendon Road
Mendon, NY 14506
Cost
$10.00 per person, includes handouts and networking

At the Door
$10.00 per person

Host
CVP, CCE and Finger Lakes Culinary Bounty
Angela Parr
585-394-3977 x426
email Angela Parr


EVENT HAS PASSED
Culinary Connections: Farm to Restaurant Workshop and Networking Opportunity
February 18, 2013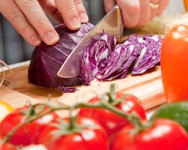 Local food sourcing, freshness, and seasonal eating continue to be driving trends among restaurant and dining entities in the region. Farms in the Finger Lakes are better positioned to serve restaurant accounts with local vegetables, fruits, and specialty foods. Chefs have the opportunity to work with farmers to coordinate volumes, products, quality expectations and consistency. Farmers are still striving to connect with local chefs and help create high-quality working relationships.
This workshop and networking session is a chance for culinary professionals to connect with some of our regional farmers to get fresh, local grown produce on their menus. Panels of farmers and chefs will explain how they are making beneficial culinary connections through communication and insights.
Workshop fee: $10.00 per person, includes handouts, networking and refreshments.
Hosted by the Cornell Vegetable Program and Cornell Cooperative Extension, in cooperation with Finger Lakes Culinary Bounty.
Register for the event now online
or, for more information or to register contact
Angela Parr
.
Mapquest
the location of this workshop for me.
Promo Flyer (PDF; 445KB)


Upcoming Events
Garlic School 2015
March 3, 2015
9:30 AM -3:00 PM
Geneva, NY
This year's garlic school will have a broad focus on disease, insect and weed pests that growers are already dealing with or that may show up in New York from other parts of the country. Cornell pathologists and growers will discuss the latest research on Aster Yellows, a disease which has devastated the garlic industry in the Midwest, and the soil-borne diseases such as Fusarium. The latest fertility and weed control research will also be presented. Industry updates will be presented by David Stern of the NYS Garlic Seed Foundation.

Winter Wednesday Lunch Webinar: Using Sanitizers in Wash Water
March 4, 2015
1:00 PM - 2:00 PM
Penn State and Cornell University have teamed up to present a series of webinars to keep you informed about critical production issues. This series provides convenient access to timely updates in commercial vegetable and small fruit production for extension educators, producers, and industry representatives in Pennsylvania, New York, and surrounding states.

Luke LaBorde, Associate Professor, Penn State, will be speaking during this webinar.

Clean Up Your Veggies! Post-Harvest Handling System Workshop
March 9, 2015
9:30 AM - 12:30 PM
Shortsville, NY
Join NOFA-NY and Cornell Vegetable Program's Robert Hadad to learn how to design, build, and operate a small-scale, DIY post-harvest handling system! This great workshop will focus on the trifecta of good washing and handling—food safety, maintaining high quality and efficiency, and affordability for new and small growers.

Announcements
Do's and Don'ts for Barn Snow Removal
Concerned about the snowload on your barn roof? Removal of significant snow accumulations off of a barn roof is best performed in a systematic way to reduce the risk of injury or death to both barn occupants and those working on the roof. Removing roof snow without a proper approach may actually cause more damage than if left alone in some cases by creating an unbalanced and/or concentrated roof loads.
Read more and view drawings on how to safely and effectively remove snow from a barn roof.
2015 Cornell Vegetable Guidelines Available
The 2015 edition of the Cornell Commercial Vegetable Production Guidelines is now available. This annual publication provides up-to-date vegetable crop production information for New York State. It has been designed as a practical guide for vegetable crop producers, crop consultants, and ag suppliers. In addition to the annually revised pesticide and crop production information, this edition also includes revised soil management guidelines; adding mode of action/group numbers to all pesticide listings; updated Colorado potato beetle resistance management information; totally revised organic vegetable production information; and the addition of western bean cutworm in sweet corn and western flower thrips in tomatoes as pests of concern.
NOTE: Beginning in 2015, Vegetable Guidelines will no longer be offered for free online. Instead, you will have the option to purchase just a print copy ($33 plus shipping), online version ($33), or a bundle of a print copy plus online access ($46 plus shipping). You can order this publication, or other Cornell Guidelines from the
Cornell Store
at Cornell University at 800-624-4080.
Cornell Vegetable Program - Cornell Cooperative Extension
Your Trusted Source for Research-Based Knowledge