Event Details
Date
February 18, 2013
Time
9:00 am - Noon
Location
Cibi deliziosi
3894 Rush Mendon Road
Mendon, NY 14506
Cost
$10.00 per person, includes handouts and networking

At the Door
$10.00 per person

Host
CVP, CCE and Finger Lakes Culinary Bounty
Angela Parr
585-394-3977 x426
email Angela Parr


EVENT HAS PASSED
Culinary Connections: Farm to Restaurant Workshop and Networking Opportunity
February 18, 2013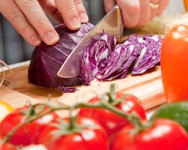 Local food sourcing, freshness, and seasonal eating continue to be driving trends among restaurant and dining entities in the region. Farms in the Finger Lakes are better positioned to serve restaurant accounts with local vegetables, fruits, and specialty foods. Chefs have the opportunity to work with farmers to coordinate volumes, products, quality expectations and consistency. Farmers are still striving to connect with local chefs and help create high-quality working relationships.
This workshop and networking session is a chance for culinary professionals to connect with some of our regional farmers to get fresh, local grown produce on their menus. Panels of farmers and chefs will explain how they are making beneficial culinary connections through communication and insights.
Workshop fee: $10.00 per person, includes handouts, networking and refreshments.
Hosted by the Cornell Vegetable Program and Cornell Cooperative Extension, in cooperation with Finger Lakes Culinary Bounty.
Register for the event now online
or, for more information or to register contact
Angela Parr
.
Mapquest
the location of this workshop for me.
Promo Flyer (PDF; 445KB)


Upcoming Events
2014 NYS Dry Bean Field Meeting

September 18, 2014
5:15 PM - 7:45 PM
Caledonia, NY
Tour the Cornell dry bean variety trial and nearby strip trials. Cornell professors will share research-based ideas on pest issues and management including bacterial diseases and Western bean cutworm updates. Changing bean plant architecture to improve yields will also be discussed. 0.75 DEC pesticide recertification and CCA credits will be available.
Disease and Weed Management Workshop for Southern Tier Vegetable Growers

September 29, 2014
8:30 AM - 12:00 PM
Belmont, NY
Topics covered will include: Vegetable disease control; focusing on the main diseases of vegetable crops in NYS and their management options; both organic and conventional. Weed topics include: weed biology and identification, difference between annual, perennial and biennial weeds, grasses, sedges and broadleaf, and cool vs. warm season. The major weeds that affect vegetable crops in NYS will be discussed and their management options reviewed.
Announcements
Downy Mildew Confirmed in Western New York
As expected from the prediction of hot weather and westerly winds, downy mildew (DM) has reached WNY with a confirmed case reported in Niagara County. For those with late cucumbers, it is time to step up the spray program to keep DM from really taking hold. Refer to the Cornell Vegetable Guidelines for a complete list of products available. Rotating fungicides is essential to reduce chances of resistance. Forceful sprays are needed to reach the undersides of leaves. For more information, contact
Robert Hadad
.
Cornell Vegetable Program - Cornell Cooperative Extension
Your Trusted Source for Research-Based Knowledge