Event Details
Date
February 18, 2013
Time
9:00 am - Noon
Location
Cibi deliziosi
3894 Rush Mendon Road
Mendon, NY 14506
Cost
$10.00 per person, includes handouts and networking

At the Door
$10.00 per person

Host
CVP, CCE and Finger Lakes Culinary Bounty
Angela Parr
585-394-3977 x426
email Angela Parr


EVENT HAS PASSED
Culinary Connections: Farm to Restaurant Workshop and Networking Opportunity
February 18, 2013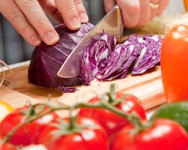 Local food sourcing, freshness, and seasonal eating continue to be driving trends among restaurant and dining entities in the region. Farms in the Finger Lakes are better positioned to serve restaurant accounts with local vegetables, fruits, and specialty foods. Chefs have the opportunity to work with farmers to coordinate volumes, products, quality expectations and consistency. Farmers are still striving to connect with local chefs and help create high-quality working relationships.
This workshop and networking session is a chance for culinary professionals to connect with some of our regional farmers to get fresh, local grown produce on their menus. Panels of farmers and chefs will explain how they are making beneficial culinary connections through communication and insights.
Workshop fee: $10.00 per person, includes handouts, networking and refreshments.
Hosted by the Cornell Vegetable Program and Cornell Cooperative Extension, in cooperation with Finger Lakes Culinary Bounty.
Register for the event now online
or, for more information or to register contact
Angela Parr
.
Mapquest
the location of this workshop for me.
Promo Flyer (PDF; 445KB)


Upcoming Events
2015 Finger Lakes Produce Auction Growers Meeting

January 8, 2015
10:00 AM - 3:30 PM
Penn Yan, NY
This course will educate produce growers on pest management, varieties and marketing issues in vegetables grown for auction. Topics such as disease resistant varieties, pest ID, responsible spray options, food safety and attributes of successful auction growers will be presented. 2.25 DEC Category Credits in 10, 1a and 23.
Winter Wednesday Lunch Webinar: Current Issues in Strawberry Pest Management
January 14, 2015
1:00 PM - 2:00 PM
Penn State and Cornell University have teamed up to present a series of webinars to keep you informed about critical production issues. This series provides convenient access to timely updates in commercial vegetable and small fruit production for extension educators, producers, and industry representatives in Pennsylvania, New York, and surrounding states.
Kathy Demchak, Senior Extension Associate, Penn State, will be speaking during this webinar.
2015 Empire State Producers EXPO

January 20 - January 22, 2015
Morning, Mid-day, and Afternoon Sessions
Syracuse, NY
This show combines the major fruit, flower, vegetable, and direct marketing associations of New York State in order to provide a comprehensive trade show and educational conference for the fruit and vegetable growers of this state, as well as the surrounding states and Eastern Canada. The Cornell Vegetable Program Specialists are involved in organizing sessions on Processing Vegetables, Potatoes, Onions, Cabbage/Cole Crops, Soil Health, Managing Herbicide Resistance, Tunnels, and Ethnic Vegetables. Registration information will be available soon.
Announcements
Crops Not Covered by Crop Insurance: Deadline 2/1
USDA recently announced the release of a reinvigorated Noninsured Crop Disaster Assistance Program (NAP). This is a result of opportunities created by the Farm Bill of 2014, and a general interest in covering more crops under the increasingly important policy umbrella known as crop insurance. NY legislators have been pushing for more creativity to provide safety net programs for producers of horticultural crops that do not have other crop insurance alternatives.
For very early spring planted vegetables the deadline is February 1, with later planted crops having a later deadline. Read more on program and deadlines.
2015 Cornell Vegetable Guidelines Available Soon
The 2015 edition of the Cornell Commercial Vegetable Production Guidelines will be released in January. This annual publication provides up-to-date vegetable crop production information for New York State. It has been designed as a practical guide for vegetable crop producers, crop consultants, and ag suppliers.
NOTE: Beginning in 2015, Vegetable Guidelines will no longer be offered for free online. Instead, you will have the option to purchase just a print copy ($33 plus shipping), online version ($33), or a bundle of a print copy plus online access ($46 plus shipping). You can order this publication, or other Cornell Guidelines from the
Cornell Store
at Cornell University at 800-624-4080.
New Video Helps to Promote the Work of the CVP
Many people in our community are not aware of the size or the impact of the Western New York vegetable industry on the state's economy. We decided to do something about that! The Cornell Vegetable Program is proud to release a video that highlights vegetable production in our region – from fresh market to processing, from farms that are several thousand acres to just a few, from biodynamic growers to conventional – and provides an introduction to our team of Vegetable Specialists and how we assist growers in this area. We greatly appreciate that several WNY vegetable growers shared their thoughts on what the Cornell Vegetable Program means to them: Paul Fenton, Batavia; Mark Zittel, Eden; and Matt Mortellaro, Elba. The video was produced by videographer, James Monahan.
Watch the video
and leave us a comment!
Cornell Vegetable Program - Cornell Cooperative Extension
Your Trusted Source for Research-Based Knowledge