Event Details
Date
February 18, 2013
Time
9:00 am - Noon
Location
Cibi deliziosi
3894 Rush Mendon Road
Mendon, NY 14506
Cost
$10.00 per person, includes handouts and networking

At the Door
$10.00 per person

Host
CVP, CCE and Finger Lakes Culinary Bounty
Angela Parr
585-394-3977 x426
email Angela Parr


EVENT HAS PASSED
Culinary Connections: Farm to Restaurant Workshop and Networking Opportunity
February 18, 2013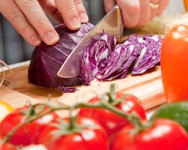 Local food sourcing, freshness, and seasonal eating continue to be driving trends among restaurant and dining entities in the region. Farms in the Finger Lakes are better positioned to serve restaurant accounts with local vegetables, fruits, and specialty foods. Chefs have the opportunity to work with farmers to coordinate volumes, products, quality expectations and consistency. Farmers are still striving to connect with local chefs and help create high-quality working relationships.
This workshop and networking session is a chance for culinary professionals to connect with some of our regional farmers to get fresh, local grown produce on their menus. Panels of farmers and chefs will explain how they are making beneficial culinary connections through communication and insights.
Workshop fee: $10.00 per person, includes handouts, networking and refreshments.
Hosted by the Cornell Vegetable Program and Cornell Cooperative Extension, in cooperation with Finger Lakes Culinary Bounty.
Register for the event now online
or, for more information or to register contact
Angela Parr
.
Mapquest
the location of this workshop for me.
Promo Flyer (PDF; 445KB)


Upcoming Events
Farm Food Safety Training with GAPs (Ontario County)
March 6 - March 7, 2014
8:30 AM registration; 9:00 AM - 4:00 PM training
Geneva, NY
This 2-day training will focus on the details of what GAPs is, how it works, what it means for your farming operation, and how to write a farm food safety plan for your farm. Open to all fresh produce farms and related industry people.
Building Fertility Through Cover Crops - Cancelled
March 11, 2014
9:00 am - 2:00 pm
Canandaigua, NY
This workshop has been cancelled. Please contact Robert Hadad with any questions pertaining to this topic.
2014 NYS Dry Bean Growers Meeting

March 18, 2014
9:00 am - 3:15 pm
LeRoy, NY
Join us for the important dry bean updates for 2014! Topics will include varieties, insect, disease & weed management, and soils & tillage. Back by popular demand...there will be a tasting of innovative dry bean dishes!
Announcements
Job Available: CVP Vegetable Research Technician
The Cornell Vegetable Program seeks an individual to assist in research trial implementation, data collection and harvest. Work in field and greenhouses throughout Western, NY. Full-time with benefits. Minimum 6 months training beyond HS diploma or Associate's degree. Applicants must apply online.
Review the full job description and apply online
on Cornell's Human Resources site.
General information
about applying for a Cornell position is also available. This posting will only be open through March 22, 2014 so apply now!
2014 Cornell Vegetable Guidelines Available
The 2014 edition of the Cornell Commercial Vegetable Production Guidelines is available. This annual publication provides up-to-date vegetable crop production information for New York State. It has been designed as a practical guide for vegetable crop producers, crop consultants, and ag suppliers. The cost of this guide is $33 plus shipping. You can order this publication, or other Cornell Guidelines, through Cornell Cooperative Extension offices or from the
Cornell Store
at Cornell University at 800-624-4080.
Cornell Vegetable Program - Cornell Cooperative Extension
Your Trusted Source for Research-Based Knowledge