Event Details
Date
February 18, 2013
Time
9:00 am - Noon
Location
Cibi deliziosi
3894 Rush Mendon Road
Mendon, NY 14506
Cost
$10.00 per person, includes handouts and networking

At the Door
$10.00 per person

Host
CVP, CCE and Finger Lakes Culinary Bounty
Angela Parr
585-394-3977 x426
email Angela Parr


EVENT HAS PASSED
Culinary Connections: Farm to Restaurant Workshop and Networking Opportunity
February 18, 2013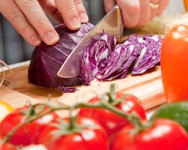 Local food sourcing, freshness, and seasonal eating continue to be driving trends among restaurant and dining entities in the region. Farms in the Finger Lakes are better positioned to serve restaurant accounts with local vegetables, fruits, and specialty foods. Chefs have the opportunity to work with farmers to coordinate volumes, products, quality expectations and consistency. Farmers are still striving to connect with local chefs and help create high-quality working relationships.
This workshop and networking session is a chance for culinary professionals to connect with some of our regional farmers to get fresh, local grown produce on their menus. Panels of farmers and chefs will explain how they are making beneficial culinary connections through communication and insights.
Workshop fee: $10.00 per person, includes handouts, networking and refreshments.
Hosted by the Cornell Vegetable Program and Cornell Cooperative Extension, in cooperation with Finger Lakes Culinary Bounty.
Register for the event now online
or, for more information or to register contact
Angela Parr
.
Mapquest
the location of this workshop for me.
Promo Flyer (PDF; 445KB)


Upcoming Events
August Walk & Talk
August 20, 2014
6:00 PM
Freedom, NY
This August crop walk will highlight pest and disease controls, with an emphasis on pro-active management. Cultural practices, as well as topics of interest to the group, will be discussed.
Fresh Market Potato Varieties, Disease & Insect Management Meeting

August 28, 2014
5:30 PM - 8:30 PM
Marion, NY
This meeting will include updates on late blight and other potato diseases, management of Colorado potato beetle and other insects, and the opportunity to see the 2014 Cornell fresh market muck variety and breeding line trial.
Research Updates: Grafting, Living Mulch & More
August 29, 2014
6:00 PM - 8:00 PM
Penn Yan, NY
Jud Reid will give updates on his fresh market research program, with a major focus on grafting in tomatoes, the use of living mulch in a variety of crops, and varietal resistance to brown leaf mold of tomatoes.
Announcements
Late Blight Confirmed in Many NY Counties
Late blight (LB) in potatoes and tomatoes has now been confirmed in the following counties: Allegany, Erie, Genesee, Madison, Livingston, Ontario, Schuyler, Tompkins, Wayne, Wyoming, and Yates Counties. Several of these are new counties confirmed last week. New samples with LB are coming in all the time. It is likely now present in all counties in Western NY, the Finger Lakes Region, and Central NY.
The continued wet weather has been very favorable for development. The majority of LB samples from the area that were tested have been the US23 strain, sensitive to mefenoxam fungicides (Ridomil, other materials). The only exceptions remain in Allegany County, where the mefenoxam sensitivity of the LB is unknown, and one sample each of US24, with variable mefenoxam sensitivity, in Erie and Wyoming Counties.
If you think you might have LB contact
Carol MacNeil
,
John Gibbons
, or another Cornell Vegetable Program staff member. LB DSS users: If you need assistance contact
Ian Small
or
Carol MacNeil
.
Cornell Vegetable Program - Cornell Cooperative Extension
Your Trusted Source for Research-Based Knowledge