Event Details
Date
February 18, 2013
Time
9:00 am - Noon
Location
Cibi deliziosi
3894 Rush Mendon Road
Mendon, NY 14506
Cost
$10.00 per person, includes handouts and networking

At the Door
$10.00 per person

Host
CVP, CCE and Finger Lakes Culinary Bounty
Angela Parr
585-394-3977 x426
email Angela Parr


EVENT HAS PASSED
Culinary Connections: Farm to Restaurant Workshop and Networking Opportunity
February 18, 2013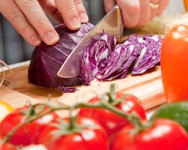 Local food sourcing, freshness, and seasonal eating continue to be driving trends among restaurant and dining entities in the region. Farms in the Finger Lakes are better positioned to serve restaurant accounts with local vegetables, fruits, and specialty foods. Chefs have the opportunity to work with farmers to coordinate volumes, products, quality expectations and consistency. Farmers are still striving to connect with local chefs and help create high-quality working relationships.
This workshop and networking session is a chance for culinary professionals to connect with some of our regional farmers to get fresh, local grown produce on their menus. Panels of farmers and chefs will explain how they are making beneficial culinary connections through communication and insights.
Workshop fee: $10.00 per person, includes handouts, networking and refreshments.
Hosted by the Cornell Vegetable Program and Cornell Cooperative Extension, in cooperation with Finger Lakes Culinary Bounty.
Register for the event now online
or, for more information or to register contact
Angela Parr
.
Mapquest
the location of this workshop for me.
Promo Flyer (PDF; 445KB)


Upcoming Events
High Tunnel School: Winter Greens and Tour

December 4, 2013
9:30 AM - 3:30 PM
Batavia, NY
Consumer attitudes about food are changing. How can farmers grow products that meet the converging demands for local, natural, and high quality vegetables year round? A variety of season extension techniques such as high tunnels can help growers generate revenue 12 months of the year. Crop plans and markets are critical to success, but holistic planning is the basis for a sustainable system.
Upstate NY Potato Advisory Meeting
December 4, 2013
9:30 am - 3:00 pm
Canandaigua, NY
Annual roundtable on concerns of fresh market and processing potato growers and processors, reports on research, and agency updates. All potato growers are invited.
High Tunnel School: Getting the Most from Your High Tunnel - Basics and Warm Season Crops

December 5, 2013
9:30 AM - 3:00 PM
Batavia, NY
This program is targeted for commercial growers new to high tunnels. NRCS cooperating farms are particularly encouraged to attend. All who are interested in improving their crop yield, quality and profitability by using high tunnels are welcome.
Announcements
Working for WNY Veg Growers: 2013 Highlights
The Cornell Vegetable Program is working hard in our region to address the concerns of our growers. In 2013, our team took an active role in promoting soil and water management, supported the growth of produce auctions in NYS, tackled the management of perennial sowthistle in onions, encouraged the use of a late blight forecasting tool for potato and tomato growers, researched weed control options in carrots, held in-field monthly discussion groups to encourage sharing ideas between growers, trained growers on wash water stations, and created new tomato grafting resources.
Read more
about these highlighted projects in our 2013 Year in Review brochure.
Cornell Vegetable Program - Cornell Cooperative Extension
Your Trusted Source for Research-Based Knowledge