Event Details
Date
April 10, 2013
Time
10 a.m. to 2 p.m.
Location
CCE Albany County
24 Martin Rd
Voorheesville, NY
Cost
$20.00 CDVSFP Enrollee
$25.00 Non-CDVSFP Enrolled Grower


Host
Pre-Registration Deadline: March 18, 2013

EVENT HAS PASSED
2013 Capital District Garlic School
April 10, 2013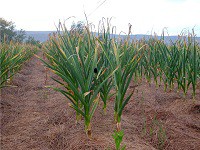 Complete Schedule:
10:00: The relationship between soil health and plant health- Dr. George Abawi, Geneva NY
11:00- Garlic Bloat Nematode Update: George Abawi, David Stern
11:30- Cover crop rotations for garlic: Crystal Stewart, ENY Horticulture Program & local growers
12:00-lunch and networking
12:45- Fertility management for garlic: Dr. Steve Reiners, Geneva, NY
1:15- Issues and concerns for the future-- Interactive session with the audience and the speakers
* Proposed topics include seed certification and future research needs. All topics welcome.
2:00: Safe Travels!
Garlic School 2013 (PDF; 442KB)


Upcoming Events
Farm Food Safety Training with GAPs (Genesee County)
December 10 - December 11, 2013
8:30 am registration & refreshments; 9:00 am - 3:30 pm training
Batavia, NY
This 2-day training will focus on the details of what GAPs is, how it works, what it means for your farming operation, and how to write a farm food safety plan for your farm. Open to all fresh produce farms and related industry people.
2013 Processing Snap and Lima Bean Advisory Meeting

December 11, 2013
12:30pm - 3pm
Geneva, NY
The processing snap and lima bean industry will meet to discuss the 2013 growing season and to set priorities for future research. Your input is needed!
2013 Processing Sweet Corn Advisory Meeting

December 11, 2013
10am - 11:50am
Geneva, NY
Your input is needed to set future research priorities. Come discuss the 2013 growing season with your industry peers and hear the latest research results.
Announcements
Working for WNY Veg Growers: 2013 Highlights
The Cornell Vegetable Program is working hard in our region to address the concerns of our growers. In 2013, our team took an active role in promoting soil and water management, supported the growth of produce auctions in NYS, tackled the management of perennial sowthistle in onions, encouraged the use of a late blight forecasting tool for potato and tomato growers, researched weed control options in carrots, held in-field monthly discussion groups to encourage sharing ideas between growers, trained growers on wash water stations, and created new tomato grafting resources.
Read more
about these highlighted projects in our 2013 Year in Review brochure.
Cornell Vegetable Program - Cornell Cooperative Extension
Your Trusted Source for Research-Based Knowledge