Grafting Tomatoes Video: The Motivation and Benefits of Grafting
Judson Reid, Extension Vegetable Specialist
Cornell Vegetable Program
October 16, 2013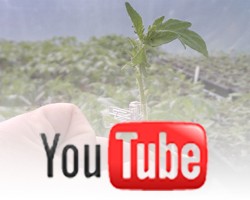 As soil based production of tomatoes continues in tunnels and greenhouses, risk of root-zone diseases, insects and nutrient imbalances increase. Grafting, the combination of two separate cultivars into one plant, is one management approach to these challenges.
Learn more about the motivations and benefits of grafting tomatoes in this video of Judson Reid, Extension Vegetable Specialist for the Cornell Vegetable Program.
The Cornell Vegetable Program has developed additional resources on
How to Graft Tomatoes
for Soil-Based Production in Greenhouses and High Tunnels.


Upcoming Events
Tomato Health and Grafting Workshop
February 2, 2015
10:00 AM - 12:00 Noon
Interlaken, NY
This workshop will review the latest Cornell Vegetable Program research on successful tomato production, including disease resistant varieties, high tunnel crop rotation, greenhouse container results and pest management. Participants will also learn to graft their own tomatoes with live plants. Jump start the 2015 tomato season with season extension and increased yields!
Erie Vegetable Growers Meeting – High Tunnel School
February 4, 2015
9:30 AM - 2:30 PM
East Aurora, NY
This beginner level school is for new high tunnel growers and will focus on best management practices, with an emphasis on tomato production. The school is strongly encouraged for growers with 2 or fewer seasons of tunnel growth experience, those considering getting a tunnel in the next few season, or NRCS EQIP recipients. Topics will include site selection and structural considerations, crop and variety selection, cultural management, disease management, and an experienced grower panel.
Erie Vegetable Growers Meeting – Addressing Issues in Vegetable Production

February 5, 2015
9:00 AM - 3:00 PM
East Aurora, NY
All vegetable producers are encouraged to attend this day-long meeting featuring Cornell Plant Pathologist Sarah Pethybridge, Vegetable IPM Coordinator for the NYS IPM program Abby Seaman, and Regional Vegetable Specialists. Topics will include weed biology and management, herbicide resistance in weeds, disease biology and management, marketing, spotted wing drosophila management, beneficial insects and rotation in organic vegetable production systems.
Announcements
2015 Cornell Vegetable Guidelines Available
The 2015 edition of the Cornell Commercial Vegetable Production Guidelines is now available. This annual publication provides up-to-date vegetable crop production information for New York State. It has been designed as a practical guide for vegetable crop producers, crop consultants, and ag suppliers. In addition to the annually revised pesticide and crop production information, this edition also includes revised soil management guidelines; adding mode of action/group numbers to all pesticide listings; updated Colorado potato beetle resistance management information; totally revised organic vegetable production information; and the addition of western bean cutworm in sweet corn and western flower thrips in tomatoes as pests of concern.
NOTE: Beginning in 2015, Vegetable Guidelines will no longer be offered for free online. Instead, you will have the option to purchase just a print copy ($33 plus shipping), online version ($33), or a bundle of a print copy plus online access ($46 plus shipping). You can order this publication, or other Cornell Guidelines from the
Cornell Store
at Cornell University at 800-624-4080.
Crops Not Covered by Crop Insurance: Deadline 2/1
USDA recently announced the release of a reinvigorated Noninsured Crop Disaster Assistance Program (NAP). This is a result of opportunities created by the Farm Bill of 2014, and a general interest in covering more crops under the increasingly important policy umbrella known as crop insurance. NY legislators have been pushing for more creativity to provide safety net programs for producers of horticultural crops that do not have other crop insurance alternatives.
For very early spring planted vegetables the deadline is February 1, with later planted crops having a later deadline.
Read more on program and deadlines
.
Soil Health Grant for Veg Growers
The Cornell Vegetable Program just received a two year grant to work with vegetable, potato and dry bean growers in the Cornell Vegetable Program Region to increase or diversify their cover cropping, and/or to reduce tillage. For cooperating growers soil sampling, soil testing, and interpretation for the Cornell Soil Health Test (CSHT) will be free. Evaluation of biomass, weed growth, nitrogen produced, crop response, etc. can be done for new cover crop plantings being tried. Reduced/zone-tilled crops planted side by side with conventional crops can also be evaluated. Field days are part of this grant, as is assistance for grower discussion groups/grower-to-grower networking. More money than ever is available as an incentive for adoption of good soil health practices!
Learn more!
Cornell Vegetable Program - Cornell Cooperative Extension
Your Trusted Source for Research-Based Knowledge