Grafting Tomatoes Video: The Motivation and Benefits of Grafting
Judson Reid, Extension Vegetable Specialist
Cornell Vegetable Program
October 16, 2013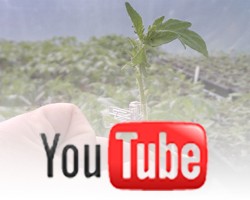 As soil based production of tomatoes continues in tunnels and greenhouses, risk of root-zone diseases, insects and nutrient imbalances increase. Grafting, the combination of two separate cultivars into one plant, is one management approach to these challenges.
Learn more about the motivations and benefits of grafting tomatoes in this video of Judson Reid, Extension Vegetable Specialist for the Cornell Vegetable Program.
The Cornell Vegetable Program has developed additional resources on
How to Graft Tomatoes
for Soil-Based Production in Greenhouses and High Tunnels.


Upcoming Events
Muck Donut Hour Every Tuesday
July 29, 2014
8:30 - 9:30 AM
Elba, NY
Meet with Cornell Vegetable Program Specialist Christy Hoepting every Tuesday morning to ask questions and share your observations.
Vegetable Pest and Cultural Management Field Meeting - Orleans County

July 31, 2014
6:00 PM - 8:00 PM
Waterport, NY
This course will demonstrate pest management in fresh market vegetables in both field and greenhouse (high tunnel) vegetables; primarily for those growing for wholesale auction. A hands-on demonstration of weed, insect and disease identification in vegetables including management options such as inter-row cover crops, grafting and where appropriate, spray options will be used to educate growers. Judson Reid, Senior Extension Associate with the Cornell Vegetable Program will instruct participants and facilitate peer-based learning.
Vegetable Disease Management - In Field Management Scenarios

August 4, 2014
6:00 PM - 7:30 PM
Eden, NY
Join us for field tours to talk about best crop production practices for managing and controlling vegetable diseases. Expect an update on diseases currently affecting vegetable crops in WNY along with hands-on demonstrations on identifying pests and scouting. Dr. Christine Smart, Cornell Plant Pathologist, will provide disease management information for both conventional and organic growers. Cornell Vegetable Program Specialists Robert Hadad and Darcy Telenko will lead field tours and facilitate discussions among participants.
Announcements
2014 Cornell Vegetable Guidelines Available
The 2014 edition of the Cornell Commercial Vegetable Production Guidelines is available. This annual publication provides up-to-date vegetable crop production information for New York State. It has been designed as a practical guide for vegetable crop producers, crop consultants, and ag suppliers. The cost of this guide is $33 plus shipping. You can order this publication, or other Cornell Guidelines, through Cornell Cooperative Extension offices or from the
Cornell Store
at Cornell University at 800-624-4080.
Cornell Vegetable Program - Cornell Cooperative Extension
Your Trusted Source for Research-Based Knowledge