Grafting Tomatoes Video: The Motivation and Benefits of Grafting
Judson Reid, Extension Vegetable Specialist
Cornell Vegetable Program
October 16, 2013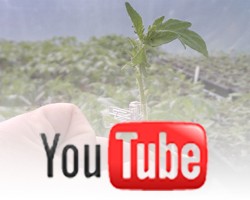 As soil based production of tomatoes continues in tunnels and greenhouses, risk of root-zone diseases, insects and nutrient imbalances increase. Grafting, the combination of two separate cultivars into one plant, is one management approach to these challenges.
Learn more about the motivations and benefits of grafting tomatoes in this video of Judson Reid, Extension Vegetable Specialist for the Cornell Vegetable Program.
The Cornell Vegetable Program has developed additional resources on
How to Graft Tomatoes
for Soil-Based Production in Greenhouses and High Tunnels.


Upcoming Events
Garlic School 2015
March 3, 2015
9:30 AM -3:00 PM
Geneva, NY
This year's garlic school will have a broad focus on disease, insect and weed pests that growers are already dealing with or that may show up in New York from other parts of the country. Cornell pathologists and growers will discuss the latest research on Aster Yellows, a disease which has devastated the garlic industry in the Midwest, and the soil-borne diseases such as Fusarium. The latest fertility and weed control research will also be presented. Industry updates will be presented by David Stern of the NYS Garlic Seed Foundation.

Winter Wednesday Lunch Webinar: Using Sanitizers in Wash Water
March 4, 2015
1:00 PM - 2:00 PM
Penn State and Cornell University have teamed up to present a series of webinars to keep you informed about critical production issues. This series provides convenient access to timely updates in commercial vegetable and small fruit production for extension educators, producers, and industry representatives in Pennsylvania, New York, and surrounding states.

Luke LaBorde, Associate Professor, Penn State, will be speaking during this webinar.

Clean Up Your Veggies! Post-Harvest Handling System Workshop
March 9, 2015
9:30 AM - 12:30 PM
Shortsville, NY
Join NOFA-NY and Cornell Vegetable Program's Robert Hadad to learn how to design, build, and operate a small-scale, DIY post-harvest handling system! This great workshop will focus on the trifecta of good washing and handling—food safety, maintaining high quality and efficiency, and affordability for new and small growers.

Announcements
2015 Cornell Vegetable Guidelines Available
The 2015 edition of the Cornell Commercial Vegetable Production Guidelines is now available. This annual publication provides up-to-date vegetable crop production information for New York State. It has been designed as a practical guide for vegetable crop producers, crop consultants, and ag suppliers. In addition to the annually revised pesticide and crop production information, this edition also includes revised soil management guidelines; adding mode of action/group numbers to all pesticide listings; updated Colorado potato beetle resistance management information; totally revised organic vegetable production information; and the addition of western bean cutworm in sweet corn and western flower thrips in tomatoes as pests of concern.
NOTE: Beginning in 2015, Vegetable Guidelines will no longer be offered for free online. Instead, you will have the option to purchase just a print copy ($33 plus shipping), online version ($33), or a bundle of a print copy plus online access ($46 plus shipping). You can order this publication, or other Cornell Guidelines from the
Cornell Store
at Cornell University at 800-624-4080.
Cornell Vegetable Program - Cornell Cooperative Extension
Your Trusted Source for Research-Based Knowledge