Grafting Tomatoes Video: The Motivation and Benefits of Grafting
Judson Reid, Extension Vegetable Specialist
Cornell Vegetable Program
October 16, 2013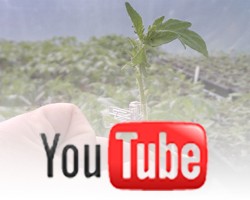 As soil based production of tomatoes continues in tunnels and greenhouses, risk of root-zone diseases, insects and nutrient imbalances increase. Grafting, the combination of two separate cultivars into one plant, is one management approach to these challenges.
Learn more about the motivations and benefits of grafting tomatoes in this video of Judson Reid, Extension Vegetable Specialist for the Cornell Vegetable Program.
The Cornell Vegetable Program has developed additional resources on
How to Graft Tomatoes
for Soil-Based Production in Greenhouses and High Tunnels.


Upcoming Events
2014 Processing Beet and Carrot Advisory Meeting

December 8, 2014
12:30 PM - 2:30 PM
Batavia, NY
All are invited to discuss the 2014 processing beet and carrot season in New York. Hear ideas and concerns from fellow growers and industry members. Your input is needed to set future research priorities.
2014 Processing Pea Advisory Meeting

December 8, 2014
10:00 AM - 12:00 PM
Batavia, NY
Come discuss the 2014 processing pea season with industry colleagues. Your input is needed to set priorities for future research.
2014 Processing Snap and Lima Bean Advisory Meeting

December 17, 2014
12:30 PM - 3:00 PM
Geneva, NY
The processing snap and lima bean industry will meet to discuss the 2014 growing season and to set priorities for future research. Your input is needed!
Announcements
Cornell Vegetable Program Receives Award
The Cornell Vegetable Program has been awarded the 2014 Cornell University College of Agriculture and Life Sciences'
Research and Extension
Award for Outstanding Accomplishments in Extension/Outreach.
This award recognizes individuals/teams who have demonstrated leadership in developing a highly innovative and responsive extension/outreach program that addresses stakeholder needs. The Awards Committee cited the excellent synergy among members of the Cornell Vegetable Program team in addressing the needs of New York's vegetable production operations and the many activities our team collectively organize to successfully connect Cornell faculty and their research with the real-world needs of vegetable producers. Our team will be recognized at an awards ceremony on November 10.
Send a congratulatory message to the Cornell Vegetable Program.
Include a message about how our team has helped your organization. We hope to hear from you!
Funding Available for Soil Health Practices
New funding opportunities are available to assist growers in adoption of reduced tillage and cover cropping practices. Contact NRCS at your local USDA Service Center, and/or county Soil & Water Conservation District staff as soon as possible, to be eligible for assistance in 2015.
Read more
about the State and Federal program opportunities to improve soil health for vegetable producers.
Cornell Vegetable Program - Cornell Cooperative Extension
Your Trusted Source for Research-Based Knowledge