Grafting Tomatoes Video: The Motivation and Benefits of Grafting
Judson Reid, Extension Vegetable Specialist
Cornell Vegetable Program
October 16, 2013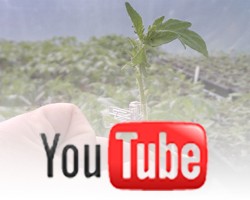 As soil based production of tomatoes continues in tunnels and greenhouses, risk of root-zone diseases, insects and nutrient imbalances increase. Grafting, the combination of two separate cultivars into one plant, is one management approach to these challenges.
Learn more about the motivations and benefits of grafting tomatoes in this video of Judson Reid, Extension Vegetable Specialist for the Cornell Vegetable Program.
The Cornell Vegetable Program has developed additional resources on
How to Graft Tomatoes
for Soil-Based Production in Greenhouses and High Tunnels.


Upcoming Events
2017 Empire State Producers EXPO

January 16 - January 19, 2017
Morning, Mid-day, and Afternoon Sessions
Syracuse, NY
The 2017 Empire State Producers Expo combines the major fruit, flower, vegetable, and direct marketing associations of New York State in order to provide a comprehensive trade show and educational conference for the fruit and vegetable growers of this state, as well as the surrounding states and Eastern Canada.
Farm Food Safety Workshop (Erie County)
January 30 - January 31, 2017
9:30 AM - 4:00 PM
East Aurora, NY
Whether you just want to learn more about what farm food safety is all about or if you are being required to have food safety training by your buyers, this training is for you!
This training will provide growers with the information needed to begin implementing food safety into their practices. Day 1 will cover all aspects of what farm food safety is and why it is important for anyone involved in growing fresh produce. Day 2 will help those who want to write a draft food safety implementation plan for their own farm. A food safety plan is required for GAPs/HGAPs audits.
2017 WNY Fresh Market Winter Vegetable Meeting (Southern region)

February 9, 2017
8:30 AM - 3:30 PM
Ellicottville, NY
Regional Fresh Market Winter Vegetable Meetings will be hosted by the Cornell Vegetable Program to discuss results from 2016 research trials and present information on pest management. Program topics will include an update on wildlife management, high tunnel nutrient management update, vegetable disease update including the new iPiPE Program in vegetables, new Climate Smart Farming Tools, cover crops and soil health, an update on Food Safety and Modernization Act and what you need to do for your farm, and other regional research and program updates.
Announcements
2017 Cornell Vegetable Guidelines Available
The 2017 edition of the

Cornell Integrated Crop and Pest Management Guidelines for Commercial Vegetable Production is now available. This annual publication provides up-to-date vegetable crop production information for New York State. It is designed as a practical guide for vegetable crop producers, crop consultants, ag chemical dealers, and others who advise vegetable crop producers.

In addition to the annually revised pesticide and crop production information, highlighted changes in this edition of the
Vegetable Guidelines
include:
Addition of Dickeya blackleg on potato as a disease of concern.
Updated regulatory considerations for organic vegetable production.
Revised European corn borer management strategies for beans and potatoes.
The Cornell Guidelines are available as a print copy ($41 plus shipping), online-only access ($41), or a package that combines print and online access ($57.50 plus shipping). Cornell Guidelines can be purchased through your local Cornell Cooperative Extension office or from the Cornell Store at Cornell University. To order from the Cornell Store, call (844) 688-7620 or
order online
.
Eden Valley Growers Named 2016 Friend of Extension
Strong friendships typically spring from deep roots. That is certainly the case with Cornell Cooperative Extension (CCE) and Eden Valley Growers, Inc., a 50-year-old vegetable growing farm cooperative in western New York. It's also why CCE recently honored Eden Valley Growers with its
2016 Friend of Extension award
.
"Excellent extension and research programming is not possible without grower involvement and that is where Eden Valley Growers comes into the picture," said CCE Director Chris Watkins during the keynote address at the Friend of Extension luncheon on December 2, held at Cornell University's Moakley House. "Their member farms are key in connecting university research to real-world farm utility."
On hand to accept the award were representatives from member farms Henry W. Agle & Sons, Amos Zittel & Sons, W.D. Henry & Sons, MCR Farm and D. & J. Brawdy Farms. In accepting the award, Mark Zittel told the audience that the relationship between Eden Valley Growers and CCE is a symbiotic one and that CCE provides unbelievable resources for vegetable growers throughout the state. The most important of those resources, he said, are extension specialists such as [Darcy] Telenko, who are wholly committed to assisting the cooperative's member farms.
Read more...
NEW! Pesticide Product Search Online
The NYS Department of Environmental Conservation (NYSDEC) Bureau of Pest Management has released a new
pesticide product registration database
. When visiting the webpage, please select the Products icon on the right side of the page to perform product searches.
This pesticide search database is replacing the Product, Ingredient, and Manufacturer System (PIMS) product database that has been hosted by Cornell University since its inception.
The new search database includes many added features, including site and pest searches. Additionally, updates to the product data and labeling will be reflected instantaneously.
Cornell Vegetable Program - Cornell Cooperative Extension
Your Trusted Source for Research-Based Knowledge