Testing for Garlic Bloat Nematode
Carol MacNeil, Extension Vegetable Specialist
Cornell Vegetable Program
Last Modified: April 25, 2014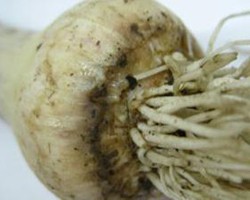 Garlic growers can submit samples, through September 2014, to Cornell Nematologist George Abawi's lab for testing using a standardized submission form. Submission is being subsidized through a Specialty Crop Block Grant, and will cost $20 per sample of garlic or soil, for NYS growers and industry reps. Growers are encouraged to sample different plantings separately, selecting 10 representative bulbs per planting per sample. Soil should be tested to a depth of 6-8 inches, and in 10+ sites through the suspect field then mixed before bagging. Make sure samples are secured against leaking or damage during shipping. Garlic samples should be surrounded in a layer of absorbent material such as paper towel. Soil should be placed in a Zip-Loc bag and should not be dried before shipping.
If you have questions about sampling, please contact your local vegetable specialist for assistance. To send in a sample, fill out the submission form (download below) as completely as possible and mail overnight or first class with your check and your sample. You should receive results within two weeks.
Garlic Bloat Nematode & Test Form_revd Apr 2014 (PDF; 852KB)


Upcoming Events
2014 NYS Dry Bean Field Meeting

September 18, 2014
5:15 PM - 7:45 PM
Caledonia, NY
Tour the Cornell dry bean variety trial and nearby strip trials. Cornell professors will share research-based ideas on pest issues and management including bacterial diseases and Western bean cutworm updates. Changing bean plant architecture to improve yields will also be discussed. 0.75 DEC pesticide recertification and CCA credits will be available.
Disease and Weed Management Workshop for Southern Tier Vegetable Growers

September 29, 2014
8:30 AM - 12:00 PM
Belmont, NY
Topics covered will include: Vegetable disease control; focusing on the main diseases of vegetable crops in NYS and their management options; both organic and conventional. Weed topics include: weed biology and identification, difference between annual, perennial and biennial weeds, grasses, sedges and broadleaf, and cool vs. warm season. The major weeds that affect vegetable crops in NYS will be discussed and their management options reviewed.
Announcements
Downy Mildew Confirmed in Western New York
As expected from the prediction of hot weather and westerly winds, downy mildew (DM) has reached WNY with a confirmed case reported in Niagara County. For those with late cucumbers, it is time to step up the spray program to keep DM from really taking hold. Refer to the Cornell Vegetable Guidelines for a complete list of products available. Rotating fungicides is essential to reduce chances of resistance. Forceful sprays are needed to reach the undersides of leaves. For more information, contact
Robert Hadad
.
Cornell Vegetable Program - Cornell Cooperative Extension
Your Trusted Source for Research-Based Knowledge