Testing for Garlic Bloat Nematode
Carol MacNeil, Extension Vegetable Specialist
Cornell Vegetable Program
Last Modified: April 25, 2014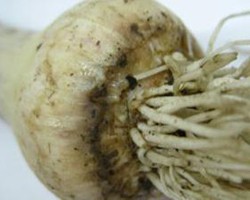 Garlic growers can submit samples, through September 2014, to Cornell Nematologist George Abawi's lab for testing using a standardized submission form. Submission is being subsidized through a Specialty Crop Block Grant, and will cost $20 per sample of garlic or soil, for NYS growers and industry reps. Growers are encouraged to sample different plantings separately, selecting 10 representative bulbs per planting per sample. Soil should be tested to a depth of 6-8 inches, and in 10+ sites through the suspect field then mixed before bagging. Make sure samples are secured against leaking or damage during shipping. Garlic samples should be surrounded in a layer of absorbent material such as paper towel. Soil should be placed in a Zip-Loc bag and should not be dried before shipping.
If you have questions about sampling, please contact your local vegetable specialist for assistance. To send in a sample, fill out the submission form (download below) as completely as possible and mail overnight or first class with your check and your sample. You should receive results within two weeks.
Garlic Bloat Nematode & Test Form_revd Apr 2014 (pdf; 852KB)


Upcoming Events
Farm Food Safety Workshop (Broome County)
December 6 - December 7, 2016
Tues 8:30 AM - 5:00 PM; Weds 8:30 AM - 3:00 PM
Binghamton, NY
Join Cornell Cooperative Extension of Broome County, the Cornell Vegetable Program, Cornell National GAPs Program and New York State Department of Agriculture & Markets, as we hear from Cornell University's Gretchen Wall of the National Good Agricultural Practices Program and the Produce Safety Alliance for a 2-day intensive workshop that will help you understand food safety risks and implement food safety practices on the farm.
2017 Produce Auction Growers Production Meeting (Yates)

January 12, 2017
Time TBD
Penn Yan, NY
This course will educate growers on disease and pest management, varieties and marketing issues in open field and high tunnel vegetables. Topics such as disease resistant varieties, pest/disease, cultural management and appropriate spray options.
2017 Empire State Producers EXPO

January 16 - January 19, 2017
Morning, Mid-day, and Afternoon Sessions
Syracuse, NY
Planning is already under way for the 2017 Empire State Producers Expo! This show combines the major fruit, flower, vegetable, and direct marketing associations of New York State in order to provide a comprehensive trade show and educational conference for the fruit and vegetable growers of this state, as well as the surrounding states and Eastern Canada.
Announcements
Carol MacNeil Retires After 40 Years at Extension
Our teammate, mentor, and friend Carol MacNeil retired on October 1, 2016 from Cornell Cooperative Extension after 40 years of service!
After completing a B.A. in Biology and Education from SUNY-Buffalo and her M.S. in Vegetable Crops and Soils from Cornell University, Carol was hired by Cornell Cooperative Extension of Ontario County in 1976 as a vegetable extension agent. As one of the pioneering women in this position, she gained the respect of growers, faculty, and industry colleagues through her knowledge, hard work and sincere desire to improve vegetable production on local farms.
Carol's responsibilities grew as she became part of the Ontario-Wayne-Yates-Steuben regional team, and then as a member of the 12-county Cornell Vegetable Program. Always seeing challenges and looking for ways to help, Carol has led the way in many initiatives such as her recent focus on improved soil health, production and pest management of dry beans and potatoes, and improving growers' ability to forecast and manage late blight disease.
Although we can never fill Carol's shoes completely, her duties will be divided amongst CVP team members, with the NYS IPM Program and Cornell Faculty assuming some of the research responsibilities. If you have questions or concerns, please contact Team Leader,
Julie Kikkert
.
Cornell Vegetable Program - Cornell Cooperative Extension
Your Trusted Source for Research-Based Knowledge