Testing for Garlic Bloat Nematode
Carol MacNeil, Extension Vegetable Specialist
Cornell Vegetable Program
Last Modified: April 25, 2014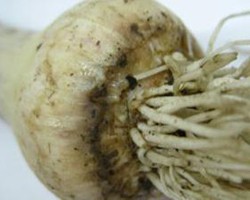 Garlic growers can submit samples, through September 2014, to Cornell Nematologist George Abawi's lab for testing using a standardized submission form. Submission is being subsidized through a Specialty Crop Block Grant, and will cost $20 per sample of garlic or soil, for NYS growers and industry reps. Growers are encouraged to sample different plantings separately, selecting 10 representative bulbs per planting per sample. Soil should be tested to a depth of 6-8 inches, and in 10+ sites through the suspect field then mixed before bagging. Make sure samples are secured against leaking or damage during shipping. Garlic samples should be surrounded in a layer of absorbent material such as paper towel. Soil should be placed in a Zip-Loc bag and should not be dried before shipping.
If you have questions about sampling, please contact your local vegetable specialist for assistance. To send in a sample, fill out the submission form (download below) as completely as possible and mail overnight or first class with your check and your sample. You should receive results within two weeks.
Garlic Bloat Nematode & Test Form_revd Apr 2014 (PDF; 852KB)


Upcoming Events
Fresh Market Potato Varieties, Disease & Insect Management Meeting

August 28, 2014
5:30 PM - 8:30 PM
Marion, NY
This meeting will include updates on late blight and other potato diseases, management of Colorado potato beetle and other insects, and the opportunity to see the 2014 Cornell fresh market muck variety and breeding line trial.
Research Updates: Grafting, Living Mulch & More
August 29, 2014
6:00 PM - 8:00 PM
Penn Yan, NY
Jud Reid will give updates on his fresh market research program, with a major focus on grafting in tomatoes, the use of living mulch in a variety of crops, and varietal resistance to brown leaf mold of tomatoes.
2014 NYS Dry Bean Field Meeting

September 18, 2014
5:15 PM - 7:45 PM
Caledonia, NY
Tour the Cornell dry bean variety trial and nearby strip trials. Cornell professors will share research-based ideas on pest issues and management including bacterial diseases and Western bean cutworm updates. Changing bean plant architecture to improve yields will also be discussed. 0.75 DEC pesticide recertification and CCA credits will be available.
Announcements
Late Blight Confirmed in Many NY Counties
Late blight (LB) in potatoes and tomatoes has now been confirmed in the following counties: Allegany, Erie, Genesee, Madison, Livingston, Ontario, Schuyler, Tompkins, Wayne, Wyoming, and Yates Counties. Several of these are new counties confirmed last week. New samples with LB are coming in all the time. It is likely now present in all counties in Western NY, the Finger Lakes Region, and Central NY.
The continued wet weather has been very favorable for development. The majority of LB samples from the area that were tested have been the US23 strain, sensitive to mefenoxam fungicides (Ridomil, other materials). The only exceptions remain in Allegany County, where the mefenoxam sensitivity of the LB is unknown, and one sample each of US24, with variable mefenoxam sensitivity, in Erie and Wyoming Counties.
If you think you might have LB contact
Carol MacNeil
,
John Gibbons
, or another Cornell Vegetable Program staff member. LB DSS users: If you need assistance contact
Ian Small
or
Carol MacNeil
.
Cornell Vegetable Program - Cornell Cooperative Extension
Your Trusted Source for Research-Based Knowledge