Testing for Garlic Bloat Nematode
Carol MacNeil, Extension Vegetable Specialist
Cornell Vegetable Program
Last Modified: April 25, 2014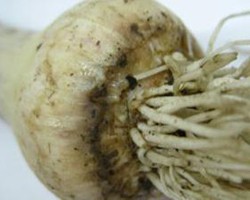 Garlic growers can submit samples, through September 2014, to Cornell Nematologist George Abawi's lab for testing using a standardized submission form. Submission is being subsidized through a Specialty Crop Block Grant, and will cost $20 per sample of garlic or soil, for NYS growers and industry reps. Growers are encouraged to sample different plantings separately, selecting 10 representative bulbs per planting per sample. Soil should be tested to a depth of 6-8 inches, and in 10+ sites through the suspect field then mixed before bagging. Make sure samples are secured against leaking or damage during shipping. Garlic samples should be surrounded in a layer of absorbent material such as paper towel. Soil should be placed in a Zip-Loc bag and should not be dried before shipping.
If you have questions about sampling, please contact your local vegetable specialist for assistance. To send in a sample, fill out the submission form (download below) as completely as possible and mail overnight or first class with your check and your sample. You should receive results within two weeks.
Garlic Bloat Nematode & Test Form_revd Apr 2014 (pdf; 852KB)


Upcoming Events
Muck Donut Hour Every Tuesday
July 7, 2015
8:30 - 9:30 AM
Elba, NY
Meet with Cornell Vegetable Program Specialist Christy Hoepting every Tuesday morning to ask questions and share your observations.

Crop Quality Control on Small-Scale Organic Farms & High Tunnels
July 8, 2015
3:00 PM - 6:00 PM
Eden, NY
Tour several acres of cultivated fields to learn how the Falkowskis produce quality organic produce, and market it through direct-to-consumer opportunities. Cornell Vegetable Program Specialist Judson Reid will lead a demonstration and discussion of tomato pruning and other high tunnel production practices that improve quality, especially in organic systems. There will be time to network and ask questions.

Muck Donut Hour Every Tuesday
July 14, 2015
8:30 - 9:30 AM
Elba, NY
Meet with Cornell Vegetable Program Specialist Christy Hoepting every Tuesday morning to ask questions and share your observations. Grower experience is combined with research and scouting information for a whole lot of talk about growing ONIONS!

Announcements
Cucurbit Downy Mildew Confirmed in WNY
Cucurbit downy mildew has been found in Erie County, NY on cucumber. This disease quickly moved up the coast with the recent weather systems and is officially here. Characteristic disease symptoms are angular, pale green areas bounded by the leaf veins. They will turn yellow and later necrotic. Under high humidity conditions sporulation will occur on the lower leaf surface. Apply targeted fungicides tank-mixed with protectant fungicides weekly and alternated among available modes of action (FRAC code), starting when there is risk for a specific crop based on forecasting program. Refer to the Cornell Vegetable Guidelines for a complete list of products available. For more information, contact
Robert Hadad
or
Darcy Telenko
.
Herbicide Charts for Vegetable Crops Available
The Cornell Vegetable Program has compiled herbicide charts for control of weeds in the following crops in New York in 2015:
beans (snap & dry beans)
,
beans (lima)
,
beets
,
cabbage
,
carrots
,
cucurbits
,
peas
,
peppers
, and
sweet corn
. While these reference charts are handy, it is critical to read the labels thoroughly.
2015 Cornell Vegetable Guidelines Available
The 2015 edition of the Cornell Commercial Vegetable Production Guidelines is now available. This annual publication provides up-to-date vegetable crop production information for New York State. It has been designed as a practical guide for vegetable crop producers, crop consultants, and ag suppliers. In addition to the annually revised pesticide and crop production information, this edition also includes revised soil management guidelines; adding mode of action/group numbers to all pesticide listings; updated Colorado potato beetle resistance management information; totally revised organic vegetable production information; and the addition of western bean cutworm in sweet corn and western flower thrips in tomatoes as pests of concern.
NOTE: Beginning in 2015, Vegetable Guidelines will no longer be offered for free online. Instead, you will have the option to purchase just a print copy ($33 plus shipping), online version ($33), or a bundle of a print copy plus online access ($46 plus shipping). You can order this publication, or other Cornell Guidelines from the
Cornell Store
at Cornell University at 800-624-4080.
Cornell Vegetable Program - Cornell Cooperative Extension
Your Trusted Source for Research-Based Knowledge