Testing for Garlic Bloat Nematode
Carol MacNeil, Extension Vegetable Specialist
Cornell Vegetable Program
Last Modified: April 25, 2014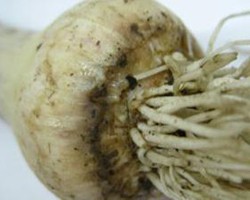 Garlic growers can submit samples, through September 2014, to Cornell Nematologist George Abawi's lab for testing using a standardized submission form. Submission is being subsidized through a Specialty Crop Block Grant, and will cost $20 per sample of garlic or soil, for NYS growers and industry reps. Growers are encouraged to sample different plantings separately, selecting 10 representative bulbs per planting per sample. Soil should be tested to a depth of 6-8 inches, and in 10+ sites through the suspect field then mixed before bagging. Make sure samples are secured against leaking or damage during shipping. Garlic samples should be surrounded in a layer of absorbent material such as paper towel. Soil should be placed in a Zip-Loc bag and should not be dried before shipping.
If you have questions about sampling, please contact your local vegetable specialist for assistance. To send in a sample, fill out the submission form (download below) as completely as possible and mail overnight or first class with your check and your sample. You should receive results within two weeks.
Garlic Bloat Nematode & Test Form_revd Apr 2014 (pdf; 852KB)


Upcoming Events
2014 Processing Snap and Lima Bean Advisory Meeting

December 17, 2014
12:30 PM - 3:00 PM
Geneva, NY
The processing snap and lima bean industry will meet to discuss the 2014 growing season and to set priorities for future research. Your input is needed!
2014 Processing Sweet Corn Advisory Meeting

December 17, 2014
10:00 AM - 11:50 AM
Geneva, NY
Your input is needed to set future research priorities. Come discuss the 2014 growing season with your industry peers and hear the latest research results.
2015 Finger Lakes Produce Auction Growers Meeting

January 8, 2015
10:00 AM - 3:30 PM
Penn Yan, NY
This course will educate produce growers on pest management, varieties and marketing issues in vegetables grown for auction. Topics such as disease resistant varieties, pest ID, responsible spray options, food safety and attributes of successful auction growers will be presented. 2.25 DEC Category Credits in 10, 1a and 23.
Announcements
Crops Not Covered by Crop Insurance: Deadline 2/1
USDA recently announced the release of a reinvigorated Noninsured Crop Disaster Assistance Program (NAP). This is a result of opportunities created by the Farm Bill of 2014, and a general interest in covering more crops under the increasingly important policy umbrella known as crop insurance. NY legislators have been pushing for more creativity to provide safety net programs for producers of horticultural crops that do not have other crop insurance alternatives.
For very early spring planted vegetables the deadline is February 1, with later planted crops having a later deadline. Read more on program and deadlines.
2015 Cornell Vegetable Guidelines Available Soon
The 2015 edition of the Cornell Commercial Vegetable Production Guidelines will be released in January. This annual publication provides up-to-date vegetable crop production information for New York State. It has been designed as a practical guide for vegetable crop producers, crop consultants, and ag suppliers.
NOTE: Beginning in 2015, Vegetable Guidelines will no longer be offered for free online. Instead, you will have the option to purchase just a print copy ($33 plus shipping), online version ($33), or a bundle of a print copy plus online access ($46 plus shipping). You can order this publication, or other Cornell Guidelines from the
Cornell Store
at Cornell University at 800-624-4080.
New Video Helps to Promote the Work of the CVP
Many people in our community are not aware of the size or the impact of the Western New York vegetable industry on the state's economy. We decided to do something about that! The Cornell Vegetable Program is proud to release a video that highlights vegetable production in our region – from fresh market to processing, from farms that are several thousand acres to just a few, from biodynamic growers to conventional – and provides an introduction to our team of Vegetable Specialists and how we assist growers in this area. We greatly appreciate that several WNY vegetable growers shared their thoughts on what the Cornell Vegetable Program means to them: Paul Fenton, Batavia; Mark Zittel, Eden; and Matt Mortellaro, Elba. The video was produced by videographer, James Monahan.
Watch the video
and leave us a comment!
Cornell Vegetable Program - Cornell Cooperative Extension
Your Trusted Source for Research-Based Knowledge