Testing for Garlic Bloat Nematode
Carol MacNeil, Extension Vegetable Specialist
Cornell Vegetable Program
Last Modified: April 25, 2014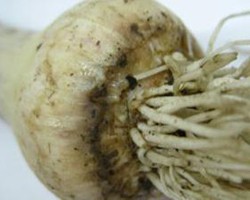 Garlic growers can submit samples, through September 2014, to Cornell Nematologist George Abawi's lab for testing using a standardized submission form. Submission is being subsidized through a Specialty Crop Block Grant, and will cost $20 per sample of garlic or soil, for NYS growers and industry reps. Growers are encouraged to sample different plantings separately, selecting 10 representative bulbs per planting per sample. Soil should be tested to a depth of 6-8 inches, and in 10+ sites through the suspect field then mixed before bagging. Make sure samples are secured against leaking or damage during shipping. Garlic samples should be surrounded in a layer of absorbent material such as paper towel. Soil should be placed in a Zip-Loc bag and should not be dried before shipping.
If you have questions about sampling, please contact your local vegetable specialist for assistance. To send in a sample, fill out the submission form (download below) as completely as possible and mail overnight or first class with your check and your sample. You should receive results within two weeks.
Garlic Bloat Nematode & Test Form_revd Apr 2014 (PDF; 852KB)


Upcoming Events
Vegetable Pest and Cultural Management Field Meeting - Orleans County

July 31, 2014
6:00 PM - 8:00 PM
Waterport, NY
This course will demonstrate pest management in fresh market vegetables in both field and greenhouse (high tunnel) vegetables; primarily for those growing for wholesale auction. A hands-on demonstration of weed, insect and disease identification in vegetables including management options such as inter-row cover crops, grafting and where appropriate, spray options will be used to educate growers. Judson Reid, Senior Extension Associate with the Cornell Vegetable Program will instruct participants and facilitate peer-based learning.
Vegetable Disease Management - In Field Management Scenarios

August 4, 2014
6:00 PM - 7:30 PM
Eden, NY
Join us for field tours to talk about best crop production practices for managing and controlling vegetable diseases. Expect an update on diseases currently affecting vegetable crops in WNY along with hands-on demonstrations on identifying pests and scouting. Dr. Christine Smart, Cornell Plant Pathologist, will provide disease management information for both conventional and organic growers. Cornell Vegetable Program Specialists Robert Hadad and Darcy Telenko will lead field tours and facilitate discussions among participants.
Muck Donut Hour Every Tuesday
August 5, 2014
8:30 - 9:30 AM
Elba, NY
Meet with Cornell Vegetable Program Specialist Christy Hoepting every Tuesday morning to ask questions and share your observations.
Announcements
2014 Cornell Vegetable Guidelines Available
The 2014 edition of the Cornell Commercial Vegetable Production Guidelines is available. This annual publication provides up-to-date vegetable crop production information for New York State. It has been designed as a practical guide for vegetable crop producers, crop consultants, and ag suppliers. The cost of this guide is $33 plus shipping. You can order this publication, or other Cornell Guidelines, through Cornell Cooperative Extension offices or from the
Cornell Store
at Cornell University at 800-624-4080.
Cornell Vegetable Program - Cornell Cooperative Extension
Your Trusted Source for Research-Based Knowledge