Testing for Garlic Bloat Nematode
Carol MacNeil, Extension Vegetable Specialist
Cornell Vegetable Program
Last Modified: April 25, 2014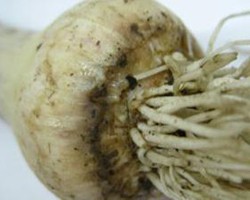 Garlic growers can submit samples, through September 2014, to Cornell Nematologist George Abawi's lab for testing using a standardized submission form. Submission is being subsidized through a Specialty Crop Block Grant, and will cost $20 per sample of garlic or soil, for NYS growers and industry reps. Growers are encouraged to sample different plantings separately, selecting 10 representative bulbs per planting per sample. Soil should be tested to a depth of 6-8 inches, and in 10+ sites through the suspect field then mixed before bagging. Make sure samples are secured against leaking or damage during shipping. Garlic samples should be surrounded in a layer of absorbent material such as paper towel. Soil should be placed in a Zip-Loc bag and should not be dried before shipping.
If you have questions about sampling, please contact your local vegetable specialist for assistance. To send in a sample, fill out the submission form (download below) as completely as possible and mail overnight or first class with your check and your sample. You should receive results within two weeks.
Garlic Bloat Nematode & Test Form_revd Apr 2014 (pdf; 852KB)


Upcoming Events
High Tunnel School (Bath, NY)
December 2, 2014
10:00 AM - 3:00 PM; registration at 9:30 AM
Bath, NY
This beginner level school is for new high tunnel growers and will focus on best management practices, with an emphasis on tomato production. The school is strongly encouraged for growers with 2 or fewer seasons of tunnel growing experience, those considering getting a tunnel in the next few seasons, or NRCS EQIP recipients.
2014 Processing Beet and Carrot Advisory Meeting

December 8, 2014
12:30 PM - 2:30 PM
Batavia, NY
All are invited to discuss the 2014 processing beet and carrot season in New York. Hear ideas and concerns from fellow growers and industry members. Your input is needed to set future research priorities.
2014 Processing Pea Advisory Meeting

December 8, 2014
10:00 AM - 12:00 PM
Batavia, NY
Come discuss the 2014 processing pea season with industry colleagues. Your input is needed to set priorities for future research.
Announcements
Erie County Snowfall - Contact Us to Report Damage
The Cornell Vegetable Program is working with Erie County Cornell Cooperative Extension to report damage caused by the record snowfall in Western New York this week to NYS Ag & Markets, Federal lawmakers, Cornell University's EDEN staff, and New York Farm Bureau. All of these organizations are working together to coordinate an effective response for the agricultural industry. The National Guard has been mobilized in the Buffalo area, but Farm Bureau has been told the current primary responsibility is the health and safety of the citizens. Much of the effort is clearing roads for emergency services and health care workers. As soon as those are met, the focus will turn to other immediate needs, including agricultural priorities.
Report your snowfall damage to Darcy Telenko
so that we can forward the information to the appropriate response organization.
In an emergency, your first call should be to 9-1-1. If you need any non-emergency assistance, please contact New York Farm Bureau at 1-800-342-4143. New York Farm Bureau can connect you to the appropriate state services who may be able to help.
New Video Helps to Promote the Work of the CVP
Many people in our community are not aware of the size or the impact of the Western New York vegetable industry on the state's economy. We decided to do something about that! The Cornell Vegetable Program is proud to release a video that highlights vegetable production in our region – from fresh market to processing, from farms that are several thousand acres to just a few, from biodynamic growers to conventional – and provides an introduction to our team of Vegetable Specialists and how we assist growers in this area. We greatly appreciate that several WNY vegetable growers shared their thoughts on what the Cornell Vegetable Program means to them: Paul Fenton, Batavia; Mark Zittel, Eden; and Matt Mortellaro, Elba. The video was produced by videographer, James Monahan.
Watch the video
and leave us a comment!
Cornell Vegetable Program Receives Award
The Cornell Vegetable Program has been awarded the 2014 Cornell University College of Agriculture and Life Sciences'
Research and Extension
Award for Outstanding Accomplishments in Extension/Outreach.
This award recognizes individuals/teams who have demonstrated leadership in developing a highly innovative and responsive extension/outreach program that addresses stakeholder needs. The Awards Committee cited the excellent synergy among members of the Cornell Vegetable Program team in addressing the needs of New York's vegetable production operations and the many activities our team collectively organize to successfully connect Cornell faculty and their research with the real-world needs of vegetable producers. Our team was recognized at an awards ceremony on November 10.
Send a congratulatory message to the Cornell Vegetable Program.
Include a message about how our team has helped your organization. We hope to hear from you!
Cornell Vegetable Program - Cornell Cooperative Extension
Your Trusted Source for Research-Based Knowledge