Testing for Garlic Bloat Nematode
Carol MacNeil, Extension Vegetable Specialist
Cornell Vegetable Program
Last Modified: April 25, 2014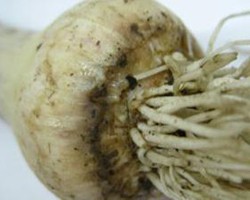 Garlic growers can submit samples, through September 2014, to Cornell Nematologist George Abawi's lab for testing using a standardized submission form. Submission is being subsidized through a Specialty Crop Block Grant, and will cost $20 per sample of garlic or soil, for NYS growers and industry reps. Growers are encouraged to sample different plantings separately, selecting 10 representative bulbs per planting per sample. Soil should be tested to a depth of 6-8 inches, and in 10+ sites through the suspect field then mixed before bagging. Make sure samples are secured against leaking or damage during shipping. Garlic samples should be surrounded in a layer of absorbent material such as paper towel. Soil should be placed in a Zip-Loc bag and should not be dried before shipping.
If you have questions about sampling, please contact your local vegetable specialist for assistance. To send in a sample, fill out the submission form (download below) as completely as possible and mail overnight or first class with your check and your sample. You should receive results within two weeks.
Garlic Bloat Nematode & Test Form_revd Apr 2014 (pdf; 852KB)


Upcoming Events
2017 Empire State Producers EXPO

January 16 - January 19, 2017
Morning, Mid-day, and Afternoon Sessions
Syracuse, NY
Planning is already under way for the 2017 Empire State Producers Expo! This show combines the major fruit, flower, vegetable, and direct marketing associations of New York State in order to provide a comprehensive trade show and educational conference for the fruit and vegetable growers of this state, as well as the surrounding states and Eastern Canada.
Announcements
Ag Commissioner Tours WNY Farms: Drought Damage
The NYS Ag and Markets Commissioner, Richard Ball, toured four farms in the area affected by severe drought on Friday, September 9.
At 1:30 he visited the Edward Sharp and Sons Farm on Warboys road in Byron. Also along for the tour was Dean Norton, President of the NYS Farm Bureau, Chris Watkins, Director of Cornell Cooperative Extension and Senator Michael Ranzenhofer. Cornell Vegetable Program Specialist Christy Hoepting also participated in the tour.
Aaron Sharp, who is a 4th Generation farmer on his family's farm, says he has worked hard to save his cabbage crop, but the size and quantity are not there. Sharp says that goes for his pumpkin crop too. Sharp says recovery could easily take several years.
Commissioner Ball says he is touring areas across the state to assess the drought damage and better understand the outlook for recovery.
Ball also visited the McCormick Farm in Bliss, Stein Farm in LeRoy and Branton Farm in LeRoy.
Drought Issues on Your Farm? Tell Us About It!
Are you experiencing drought issues on your farm? Please help us collect regional information so we can help vegetable growers be better prepared in the future.
As you know, this summer we have experienced a period of lower than average rainfall combined with higher than average temperatures that has led to a drought of moderate to unprecedented severity in New York and much of the Northeast.
A 2016 NY drought survey
is being conducted and we need your input. Vegetable producers are underrepresented in this survey right now. The survey is an attempt to capture at this critical time information on regional impacts and how you are coping with this situation, so that farmers and those institutions and industries that support farmers will be better prepared in the future. This is associated with research being conducted by NatureNet Science Postdoctoral Fellow, Shannan Sweet, working with Professor David Wolfe on a project focused on NYS water resources and agriculture. Thanks for your help!
Questions or comments? Contact:
Shannan Sweet
(607-255-8641) or
David Wolfe
(607-255-7888).
Cornell High Tunnels Website Redesigned
The
Cornell High Tunnel website
has been redesigned to help farmers profit from the use of high tunnels to extend their growing season and produce higher quality vegetables, fruit and flowers. The site contains information on the different types of structures and the resources for high tunnel profitability. Events, Tweets by Judson Reid, and the latest blog articles are accessible as well.
Cornell Vegetable Program - Cornell Cooperative Extension
Your Trusted Source for Research-Based Knowledge