Testing for Garlic Bloat Nematode
Carol MacNeil, Extension Vegetable Specialist
Cornell Vegetable Program
Last Modified: April 25, 2014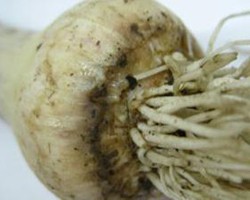 Garlic growers can submit samples, through September 2014, to Cornell Nematologist George Abawi's lab for testing using a standardized submission form. Submission is being subsidized through a Specialty Crop Block Grant, and will cost $20 per sample of garlic or soil, for NYS growers and industry reps. Growers are encouraged to sample different plantings separately, selecting 10 representative bulbs per planting per sample. Soil should be tested to a depth of 6-8 inches, and in 10+ sites through the suspect field then mixed before bagging. Make sure samples are secured against leaking or damage during shipping. Garlic samples should be surrounded in a layer of absorbent material such as paper towel. Soil should be placed in a Zip-Loc bag and should not be dried before shipping.
If you have questions about sampling, please contact your local vegetable specialist for assistance. To send in a sample, fill out the submission form (download below) as completely as possible and mail overnight or first class with your check and your sample. You should receive results within two weeks.
Garlic Bloat Nematode & Test Form_revd Apr 2014 (pdf; 852KB)


Upcoming Events
Seneca Produce Auction Greenhouse Growers Meeting
February 17, 2016
12:15 PM - 3:00 PM
Romulus, NY
This meeting for produce auction growers will include information on making flowers profitable for auction sales, growth regulators, vegetable transplant production, alkalinity and irrigation, and principals of acidification. This will be a fairly informal, discussion oriented meeting.
2016 Auction Growers Production Meeting (Orleans)

February 18, 2016
1:00 PM - 3:45 PM
Albion, NY
This course will educate growers on disease and pest management, varieties, soil management, and marketing issues in open field and high tunnel vegetables. Topics such as disease resistant varieties, managing pests (weeds, diseases, birds), cultural management and appropriate spray options.
There will 3 grower panels during this event. Weed control and Best Management Practices for Auction will be discussed by the first panel. A sweet corn grower panel will discuss varieties, seeding dates, and auction sales. The final grower panel will focus on soil management for Orleans County clay.
Irrigation Water Regulations, Traceability, and Recall: Info for Produce Farmers Concerning FSMA
February 22, 2016
9:30 AM - 3:00 PM
Geneva, NY
This meeting will provide information and answers to questions on several of the more complicated sections of the new FSMA regulations going into effect for produce growers. There will be a focus on irrigation water and what is required for testing your water sources, record keeping, how to set up a meaningful traceability program, and how to conduct a recall.
Announcements
2016 Cornell Vegetable Guidelines Available
The 2016 edition of the Cornell Commercial Vegetable Production Guidelines is now available. This annual publication provides up-to-date vegetable crop production information for New York State. It has been designed as a practical guide for vegetable crop producers, crop consultants, and ag suppliers. In addition to the annually revised pesticide and crop production information, this edition also includes the addition of several new pests of concern (seedcorn maggot in beans, leafminers in lettuce and endive, spider mites in peppers, anthracnose in spinach, and powdery mildew in tomatoes), a new table listing biofungicide options for vegetable production, revised management strategies for striped cucumber beetle in cucurbits and Stewart's wilt in sweet corn, and identification of pesticide active ingredients that meet EPA's criteria for acute toxicity to bees.
NOTE: Vegetable Guidelines are no longer be offered for free online. Instead, you will have the option to purchase just a print copy ($33 plus shipping), online version ($33), or a bundle of a print copy plus online access ($46 plus shipping). You can order this publication, or other Cornell Guidelines from the
Cornell Store
at Cornell University at 844-688-7620.
Video Released: Using Produce Washing Stations
A new video has been created to show you a set of standard operating procedures for using a germicidal bleach in a produce washing station. Learn what supplies are required and how to calculate the amount of germicidal bleach needed to sanitize the water.
Watch the video now.
This video was developed by the Cornell Vegetable Program and Harvest New York with support from the USDA and the Northeast Center for Risk Management Education.
Empire State Producers EXPO Proceedings Available
Proceedings from the Empire State Producers EXPO
conference from 2011-2016 are available online.
Cornell Vegetable Program - Cornell Cooperative Extension
Your Trusted Source for Research-Based Knowledge