Testing for Garlic Bloat Nematode
Carol MacNeil, Extension Vegetable Specialist
Cornell Vegetable Program
May 17, 2012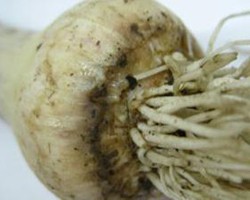 Garlic growers are now able to submit samples to Cornell Nematologist George Abawi's lab for testing using a standardized submission form. Submission is being subsidized through a Specialty Crop Block Grant, and will cost $20 per sample of garlic or soil, for NYS growers and industry reps. Growers are encouraged to sample different plantings separately, selecting 10 representative bulbs per planting per sample. Soil should be tested to a depth of 6-8 inches, and in 10+ sites through the suspect field then mixed before bagging. Make sure samples are secured against leaking or damage during shipping. Garlic samples should be surrounded in a layer of absorbent material such as paper towel. Soil should be placed in a Zip-Loc bag and should not be dried before shipping.
If you have questions about sampling, please contact your local vegetable specialist for assistance. To send in a sample, fill out the submission form (download below) as completely as possible and mail overnight or first class with your check and your sample. You should receive results within two weeks.
Garlic Bloat Nematode & Test Form_revd Apr 2012 (PDF; 833KB)


Upcoming Events
Beating Back the Bugs - Walk & Talk
May 14, 2014
Wednesday 5:00 PM
Allegany, NY
This month we'll be focusing on insect management. What are some of the main pests, and what is the best way to deal with them? Learn how to develop a proactive, integrated pest management approach and bring all your questions about spray effectiveness, beneficials, scouting, and more.

Fertility from the Ground Up - Rolling Hills May Meeting
May 20, 2014
Tuesday 6:00 PM
Phelps, NY
Prof. Steve Reiners will be the guest speaker this month. His focus is on vegetables, extension, and fertility. Steve will start out with a discussion on basic soil science (how different types behave, what soil characteristics influence fertility) and move into a discussion on how to use that understanding to improve your nutrition programs.

Please bring a copy of your most recent soil test! It will help us answer your questions. Growers can also bring soil samples that they'd like to have checked for pH or submitted to the lab for full analysis.

Muck Donut Hour BEGINS
May 27, 2014
8:30 - 9:30 AM
Elba, NY
Meet with Cornell Vegetable Program Specialist Christy Hoepting every Tuesday morning to ask questions and share your observations.

Announcements
New Vegetable Specialist Joins Our Team
The Cornell Vegetable Program is proud to announce that Darcy Telenko will be joining the Cornell Vegetable Program team as a Vegetable Specialist on May 16, 2014. Originally from Batavia, Darcy grew up on a dairy farm and worked extensively in her parents' fruit and vegetable stand. She completed her undergraduate work at Cornell in biological sciences and plant biology. She completed her MS at Southern Illinois University in plant and soil science, and earned a PhD in plant pathology and crop science from North Carolina State University. She has experience in scouting, applied research and interpreting the results for constituents through presentations and extension publications. Darcy will have an office at CCE Erie County and will frequently be visiting farms in our region. Please help us welcome Darcy to our team!
2014 Cornell Vegetable Guidelines Available
The 2014 edition of the Cornell Commercial Vegetable Production Guidelines is available. This annual publication provides up-to-date vegetable crop production information for New York State. It has been designed as a practical guide for vegetable crop producers, crop consultants, and ag suppliers. The cost of this guide is $33 plus shipping. You can order this publication, or other Cornell Guidelines, through Cornell Cooperative Extension offices or from the
Cornell Store
at Cornell University at 800-624-4080.
Cornell Vegetable Program - Cornell Cooperative Extension
Your Trusted Source for Research-Based Knowledge