Swede Midge Website
Julie Kikkert, Team Leader, Extension Vegetable Specialist
Cornell Vegetable Program
June 29, 2010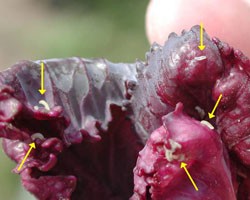 Swede midge, a relatively new pest to the U.S., damages the growth points of 'cole crops' or plants in the cabbage family (Brassicaceae). CCE Cornell Vegetable Program (CVP) Specialists and Cornell University Entomologists began a major effort to locate and manage swede midge in 2001 when they first heard that the pest had begun to wreak havoc in neighboring Ontario, Canada. In the ensuing 9 years, the Cornell team collaborated with Canadian and European colleagues to refine detection and management methods for swede midge. The pest is now known to be present throughout Ontario and Quebec, Canada and New York State. It has also been detected in several surrounding states and provinces.
As swede midge continues its spread to more farms and gardens across the U.S., a new comprehensive website is available to aid in the identification and management of this pest. The website was developed by Julie Kikkert and Christy Hoepting, CVP vegetable specialists, and Tony Shelton and Mao Chen, Dept. of Entomology, Cornell University. The website features maps of the distribution of swede midge, protocols on insect monitoring and identification, best management practices for farms and home gardens, a photo gallery of damage symptoms and a comprehensive resource section.
visit swede midge website


Upcoming Events
No upcoming events at this time.
Announcements