Spotted Wing Drosophila (SWD) in Tomatoes
Judson Reid, Extension Vegetable Specialist
Cornell Vegetable Program
Last Modified: September 23, 2013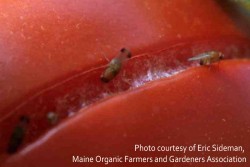 Spotted Wing Drosophila (SWD) has gained notoriety for its impact on berry crops. We are including an update here as it has also been documented to infest tomatoes.
As a brief recap, SWD is a new invasive fruit fly with the unique ability to lay eggs in unripe fruit. The eggs and larvae become crop contaminants, unfortunately often not apparent until post-harvest and sometimes post-sale. So far in 2013 SWD has been confirmed in the Hudson Valley (Ulster and Orange Counties); Northern New York (St. Lawrence Co.), Long Island (Suffolk Co.) and the Finger Lakes (Ontario Co.). These specimens were all caught in traps near berry plantings. From the wide range of geography and macro-climates of these confirmed findings we can infer that SWD is present throughout NYS.
How much of a threat is SWD to tomato growers? We don't know for sure yet. Initial reports of SWD in tomatoes focused on high tunnels. This may be due to the popularity of heirloom varieties with tunnel growers, as heirlooms are more crack-prone, and thus more attractive to fruit flies such as SWD. The tunnel itself is actually an effective management tool as we'll see below.
Important work by Marion Zuefle of NYS IPM demonstrated that SWD can lay eggs in healthy tomato fruit under laboratory settings when given no other choice. However, field sampling showed SWD emergence only from damaged fruit. Tunnel tomatoes in this study had no SWD emergence.
What are the implications? Tunnels will likely reduce SWD risk as fruit cracking is much less than in the field. Cherry and grape tomatoes, which tend to have more unharvested, overmature fruit represent higher risk. Heirlooms, which are often marketed with cracks, are also higher risk than tomatoes with intact skin. Any tomato with cracks, regardless of inside or outside, is at higher risk for SWD.
Management steps for SWD in tomatoes:
If possible locate tomatoes away from soft fruits such as blueberries or brambles.

Harvest tomatoes thoroughly and removed all ripe fruit regularly.

Manage irrigation water to reduce cracks.

Consider tunnels/greenhouses to increase fruit quality.

If the market allows, shift to thicker skinned, less crack prone varieties.
The Cornell Vegetable Program is not at this time recommending the use of insecticides for SWD in tomatoes (unlike berries). A number of the materials berry growers are now deploying against SWD are labeled for other insect pests in tomatoes. But, given the wide range of hosts that SWD appears to prefer above healthy tomatoes, insecticide applications are not merited. An exception maybe in field production of heirlooms, where despite our best efforts, there will be many cracked fruit.
This story will continue to develop as we learn more each season.
Contact Judson
if you have questions.
Cornell has an
excellent set of SWD resources
online.


Upcoming Events
Muck Donut Hour Every Tuesday
July 16, 2019
8:30 - 9:30 AM
Elba, NY
Meet with Cornell Vegetable Program Specialist Christy Hoepting every Tuesday morning to ask questions and share your observations about ONIONS!
Vegetable Pest and Cultural Management Field Meeting for Auction Growers (Yates)

July 19, 2019
Friday, 7:00 - 9:00 PM
Himrod, NY
This course will demonstrate pest management in fresh market vegetables in both field and greenhouse (high tunnel) vegetables, primarily for those growing for wholesale auction. A hands-on demonstration of weed, insect and disease identification in vegetables including management options such as inter-row cover crops, grafting, and where appropriate, spray options will be used to educate growers. Judson Reid, Senior Extension Associate with the CCE Cornell Vegetable Program along with CCE staff will instruct participants and facilitate peer-based learning. Details on each topic will focus on field observations at these farms.
Muck Donut Hour Every Tuesday
July 23, 2019
8:30 - 9:30 AM
Elba, NY
Meet with Cornell Vegetable Program Specialist Christy Hoepting every Tuesday morning to ask questions and share your observations. Grower experience is combined with research and scouting information for a whole lot of talk about growing ONIONS! All are welcome to join us!
Announcements