Leaf Mold in High Tunnel Tomatoes 2015
Amy Ivy, Vegetable Specialist
Eastern New York Commercial Horticulture
Last Modified: December 2, 2015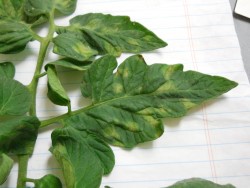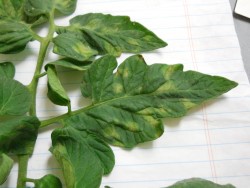 Leaf mold is a fungus disease of tomatoes that has been increasing across New York State in recent years. It is favored by high humidity and is therefore seen in greenhouse and high tunnel production but rarely in field production.
Early leaf mold symptoms (pdf; 641KB)
Leaf Mold in High Tunnel Tomatoes 2015 (pdf; 700KB)
Download this file to see full article on Leaf Mold in High Tunnel Tomatoes 2015


Upcoming Events
2019 Processing Vegetable Crops Advisory Meeting

December 17, 2019
9:30am - 12:10pm, 1pm - 2pm, and 2pm - 3:30pm
Batavia, NY
All are invited to attend and discuss the 2019 season for each crop, meet the new Cornell Weed Scientist and discuss weed management concerns, and receive updates on research conducted during 2019. Separate DEC and CCA credits will be available for each of the 3 crop meetings. The meeting is free of charge and there is no registration required.
Announcements