Priaxor: New Fungicide for Upstate NY Growers
September 16, 2015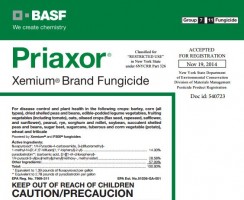 Written by Margaret T. McGrath, Cornell:
Priaxor contains fluxapyroxad, a new SDHI (succinate dehydrogenase inhibitors: FRAC group 7) fungicide; and pyraclostrobin, the QoI (strobilurin; FRAC group 11) fungicide developed by BASF. Priaxor is labeled for disease control and plant health in the following crops: barley, corn (all types), dried shelled peas and beans, edible-podded legume vegetables, fruiting vegetables (including tomato), oats, oilseed crops (flax seed, rapeseed, safflower, and sunflower), peanut, rye, sorghum and millet, soybean, succulent shelled peas and beans, sugar beet, sugarcane, tuberous and corm vegetable (potato), wheat and triticale. New active ingredients in a chemical group typically are intrinsically more active than those developed previously. Thus Priaxor is generally recommended used in place of products containing boscalid (Pristine and Endura). Fluxapyroxad is not only more active than boscalid, it also has broader spectrum of activity. Early blight in tomato and potato is one of the most important uses for Priaxor. QoI fungicides are no longer recommended used alone for this disease because resistance is becoming widespread. Having a QoI component in Priaxor is important for managing Septoria leaf spot, another important disease in NY. While not as active as a QoI, fluxapyroxad does contribute to control of this disease. Surprisingly, fluxapyroxad is not as effective as boscalid for white mold, thus Endura remains the top choice for this disease in edible beans and other susceptible crops.

Priaxor is classified for restricted use in NY. Use is prohibited in Suffolk and Nassau counties on Long Island. REI is 12 hours. PHI is 0 days for tomato. It is as long as 21 days for some other crops.

View the NYS product label.