A Peek at Nitrogen Dynamics in Cabbage: First Year Results
Christy Hoepting, Extension Vegetable Specialist
Cornell Vegetable Program
October 27, 2015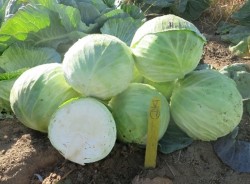 In 2013, the Cabbage Research and Development Program (CRDP) made nitrogen fertility one of their highest research priorities. In response, we studied nitrogen dynamics in cabbage with respect to total rate applied nitrogen and timing of application (proportion applied pre- and/or at-planting compared to side-dressed) in order to determine the appropriate use and timing of nitrogen in cabbage in order to improve efficiency, optimize rates, and reduce environmental contamination from nitrogen leaching and/or lodging in following winter wheat crop. In 2014, a small-plot trial was set up in commercial field of storage cabbage (c.v. Constellation) with five rates of total applied nitrogen (31, 66, 132, 197 and 262 lb/A) and three application timings (100:0; 50:50 and 25:75 at-planting: side-dress). To study the variability of available nitrate-nitrogen remaining in the soil at harvest of summer cabbage, a small survey was conducted. Within a period of 8 days between Aug-25 and Sep-2, nine fields of summer cabbage that were either just harvested or being harvested were sampled for available nitrate-N.
Understanding Nitrogen Dynamics in Cabbage: 2014 FINAL Report (pdf; 977KB)


Upcoming Events
No upcoming events at this time.
Announcements