A Peek at Nitrogen Dynamics in Cabbage: First Year Results
Christy Hoepting, Extension Vegetable Specialist
Cornell Vegetable Program
October 27, 2015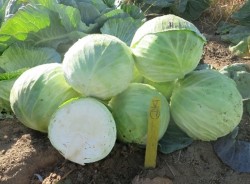 In 2013, the Cabbage Research and Development Program (CRDP) made nitrogen fertility one of their highest research priorities. In response, we studied nitrogen dynamics in cabbage with respect to total rate applied nitrogen and timing of application (proportion applied pre- and/or at-planting compared to side-dressed) in order to determine the appropriate use and timing of nitrogen in cabbage in order to improve efficiency, optimize rates, and reduce environmental contamination from nitrogen leaching and/or lodging in following winter wheat crop. In 2014, a small-plot trial was set up in commercial field of storage cabbage (c.v. Constellation) with five rates of total applied nitrogen (31, 66, 132, 197 and 262 lb/A) and three application timings (100:0; 50:50 and 25:75 at-planting: side-dress). To study the variability of available nitrate-nitrogen remaining in the soil at harvest of summer cabbage, a small survey was conducted. Within a period of 8 days between Aug-25 and Sep-2, nine fields of summer cabbage that were either just harvested or being harvested were sampled for available nitrate-N.
Understanding Nitrogen Dynamics in Cabbage: 2014 FINAL Report (pdf; 977KB)


Upcoming Events
Finger Lakes Produce Auction Educational Meeting

January 3, 2019
8:30 AM - 3:00 PM
Penn Yan, NY
This meeting is our annual winter educational event for Finger Lakes Produce Auction growers. This year we focus on disease management in cole crops, strawberries, food safety and greenhouse flowers. 2.0 recertification credits in private vegetable category.
Ontario Produce Auction Winter Growers Meeting

January 9, 2019
9:30 AM - 2:30 PM
Stanley, NY
This meeting is our annual winter educational event for Ontario Produce Auction growers. This year we focus on disease management in high tunnel tomatoes, vine crops and greenhouse flowers. Grower and buyer panels will be presented as well irrigation and plastic mulch. DEC pesticide applicator recertification credits have been requested.
2019 Empire State Producers EXPO

January 15 - January 17, 2019
1.25 hr sessions throughout each day
Syracuse, NY
The 2019 Empire State Producers Expo combines the major fruit, flower and vegetable associations of New York State in order to provide a comprehensive trade show and educational conference for New York producers, as well as the surrounding states and Eastern Canada.
Announcements
Checklist for Cleaning a Root Barrel Washer
Don't miss those hard-to-reach places in your root barrel washer! Here is a
checklist
of areas to remember to clean to obtain an acceptable level of cleanliness completed in a reasonable about of time. Critical cleaning points are identified.
Cornell Vegetable Program - Cornell Cooperative Extension
Your Trusted Source for Research-Based Knowledge