Cornell Onion Fungicide "Cheat Sheet" for Leaf Diseases, 2019
Christy Hoepting, Extension Vegetable Specialist
Cornell Vegetable Program
Last Modified: July 10, 2019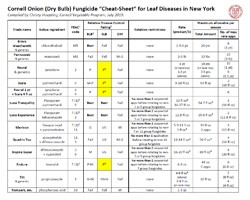 This chart provides information on fungicides available for use in New York in 2019 in onions for control of leaf diseases including Botrytis Leaf Blight (BLB), Stemphylium Leaf Blight (SLB), and Downy Mildew (DM). Rotation restrictions and maximum allowable per season are provided.
2019 Cornell Onion (Dry Bulb) Fungicide "Cheat-Sheet" for Leaf Diseases in NY (pdf; 339KB)


Upcoming Events
No upcoming events at this time.
Announcements