2016 Weed Research in Vegetable Crops, Cornell University
Darcy Telenko, Extension Vegetable Specialist
Cornell Vegetable Program
January 11, 2017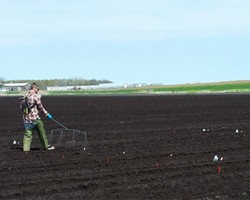 Twelve weed science research plots were established at the Homer C. Thompson Vegetable Research Farm in Freeville and with on-farm collaborators. Research trials included: herbicide evaluation trials in dry bean, snap bean, lima bean, beets, carrots, peas, and sweet corn; a NYFVI support trial in collaboration with Sarah Pethybridge and Julie Kikkert on evaluation of ethofumesate rates for beets; and an industry sponsored evaluation of a new products for potential use in carrot, rosemary, rhubarb, bell pepper and broccoli.

These research projects were supported through funding from the NY Vegetable Research Council and Association, NYS Dry Bean Industry, Cabbage Research and Development Program, NYFVI, and Industry Sponsors.
Final Report: 2016 Weed Research in Vegetable Crops, Cornell University (pdf; 3713KB)
The report (130 pages) is organized by crop and the Table of Contents on page 3 is hyperlinked to the appropriate page.