Armyworms are Poised to Eat Your Vegetable Crops
Julie Kikkert, Team Leader, Extension Vegetable Specialist
Cornell Vegetable Program
June 6, 2012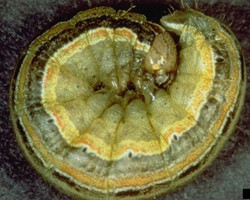 They're back! Remember 2008 when armyworms marched from wheat into vegetable fields, eating everything in their path? Well, reports in western, NY are that populations of true armyworms in wheat are the highest they've been in years. True armyworms have also recently been reported in grass hay in Washington and Schenectady Cos., and in numerous crops, including sweet corn, Swiss Chard, and lettuce in Ulster/Orange Cos.
According to the NYS IPM Weekly Field Crops Report, the most common infestation sites for true armyworm larvae include dense fields of grasses, including wheat and other cereals, grassy forages, fields with rye cover crops and corn. Good grass control within and along field margins helps reduce the risk of infestations.
START SCOUTING NOW! When armyworms run out of food in wheat, cereal and grass fields, they will "march" into juicier crops, especially corn, and including vegetables. A 20- to 40-foot treated border around armyworm-infested wheat fields should prevent armyworms from entering other crops and minimizes the use of chemicals. Insecticide treatments for true armyworms are most effective if applied late in the day. Generally, true armyworms are easy to control with pyrethroid insecticides. It is important to detect problem areas early, while larvae are still small, because the large larvae do the most feeding and may quickly destroy whole stands. Armyworms feed at night, so check fields regularly for ragged holes chewed from the leaf margins, pellet-like frass on the ground and hidden larvae under plants and surface residue.
Some useful information from M. Montgomery, University of Illinois Extension follows:
"During the day, true armyworms curl up on the ground, typically beneath residue if they can find it. Larvae come in a range of colors (gray-green to tan). When residue is pulled back, larvae at first remain fairly still (typically curled up but occasionally sprawled out). However, in a short period of time the half inch to 1-3/4 inch long larvae begin to crawl rapidly looking for someplace else to hide such as additional residue or a soil crack. The true armyworm has a dark head capsule with a wide "V-shaped" marking between the eyes plus an orange stripe running down either side of the body. While some of these features may be shared by "look-a-like" larvae, true armyworm larvae can always be distinguished from other larvae by a series of dark bands/ diagonal black smudge-like markings on the prolegs (false legs) of older larvae. True armyworm larvae typically overwinter in the southern United States, and moths migrate back north each spring. Once here and once they have mated, females deposit eggs on the lower portion of host plant material. That host plant material can include corn, wheat, beans, cabbage, carrots, onions, peas, peppers, radishes, sweet potatoes, etc. Larvae feed for over a month and remove notches or large sections of leaf tissue on either side of the main veins. Left unchecked, all leaf tissue may be removed and plants may become soiled by frass (a polite term for insect feces). A few generations of true armyworm occur each season."
Download the PDF below for websites to visit for additional information and photos.
Armyworms are Poised to Eat Your Vegs, 6-6-12 (pdf; 290KB)


Upcoming Events
2019 Chautauqua-Cattaraugus Produce Meeting

January 28, 2019
M 9:30 am - 3:45 pm
Jamestown, NY
This annual winter educational event for the Chautauqua Produce Auction will educate produce growers on pest management, variety selection, and marketing issues in fresh market crops grown for auction. Specific topics include season extension techniques and high tunnels, growing good onions and preventing early die-back, Strawberries 101, managing worms and Alternaria in Cole Crops, lessons learned at the Buffalo Valley Produce Auction, strategic crop management for increased profitability, Spotted Lantern Fly updates, and updates on FSMA, GAPS, and On-Farm Readiness Reviews.
This is a multi-discipline produce meeting featuring expert speakers in vegetable and fruit production and a Q&A panel of experienced, successful growers.
2019 Allegany-Cattaraugus Produce Growers Meeting
January 29, 2019
T 9:30am - 3:30pm
Freedom, NY
A fresh market vegetable meeting for beginner to intermediate growers. The meeting will emphasize grower perspectives and present both organic and conventional management information. Topics include soil health, onions, GAPs, good crop establishment, flower production, and organic tomato production. Lunch included for those pre-registering by noon on January 24th.
Produce Safety Alliance Grower Training Course
February 13, 2019
W Full day program - specific times TBD
Albion, NY
Fruit and vegetable growers and others interested in learning about produce safety, the Food Safety Modernization Act (FSMA) Produce Safety Rule, Good Agricultural Practices (GAPs), and co-management of natural resources and food safety. The PSA Grower Training Course is one way to satisfy the FSMA Produce Safety Rule requirement outlined in § 112.22(c) that requires 'At least one supervisor or responsible party for your farm must have successfully completed food safety training at least equivalent to that received under standardized curriculum recognized as adequate by the Food and Drug Administration.'
Announcements
We're Hiring: VEGETABLE CROPS SPECIALIST
The CCE Cornell Vegetable Program seeks a highly qualified candidate to lead research and educational programming in commercial vegetable production. A focus will be in potato and dry bean production. Additional emphasis will be placed on production and harvest handling practices that impact post-harvest vegetable quality. The Extension Educator will work as part of our regional agriculture team that serves commercial vegetable growers throughout a 14-county region of western and central NY. This position is full-time and will be located in western NY.
Applicants are required to hold a Master's degree, and should have a solid background in vegetable crop production. Experience in potato production and post-harvest handling and storage through formal education and work experience are desired. Applications are due by January 20, 2019.
For more information, visit
http://tiny.cc/Vegetable_WDR_00017327
Wanted: VEG FIELD RESEARCH & EXTENSION ASSISTANT
The CCE Cornell Vegetable Program (CVP) seeks a qualified candidate to provide technical and program support to the CVP Onion and Cole Crops Specialist in carrying out all aspects of research programming including research project design, set-up, data collection, harvest, data entry, analysis and summary, report writing, program evaluation and presentation preparation. Scout for pests weekly on grower farms, summarize scouting data and collect grower pesticide records, prepare annual scouting reports. Maintain accurate records and photo files.
This position is full-time and will be located in Albion, NY (Orleans County) but travel to other CVP counties will be expected during the growing season. Overtime is normal during peak periods (June-August).
Applicants are required to hold an Associate's degree in Agricultural Science (with course work indicating an aptitude for sciences) plus 1+ year of professional experience in agriculture or vegetable production. Applications are due by January 20, 2019.
For more information, visit
http://tiny.cc/Veg_Field_WDR_00017434
2018 Cornell Vegetable Program Year in Review
2018 is behind us but we hope that our team's efforts to enhance New York vegetable production continues well beyond! This year, our Specialists gave presentations at 119 events, sharing our knowledge with 3,535 people.
We continue to conduct on-farm research to help answer the questions of our growers. The Cornell Vegetable Program managed 50 research grants and projects in 2018. We extend our gratitude to the 65 farms and organizations that offered us land, labor, and supplies to support our trials! We also want to thank those farmers that gave generous financial contributions to support our work as well.
We cannot forget to thank the 13 Cooperative Extension Associations that partnered with us this year too. We're excited to be adding Steuben County to our list of participating counties in 2019!
Our
2018 Year in Review brochure
highlights our research and educational projects.