Lorsban is Banned: How to Control Cabbage Maggot in Brassicas Now?
Christy Hoepting, Extension Vegetable Specialist
Cornell Vegetable Program
Last Modified: May 3, 2023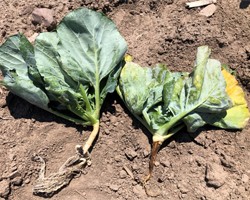 Cabbage maggot (CM) feeds on brassica seedlings by tunneling into the stem of the plant just below the soil line. Their feeding can result in unsightly and unmarketable produce in the case of root brassicas like turnips, and in stunting, reduced stand, and reduced yield in head and stem brassicas like cabbage and broccoli. Lorsban and other formulations containing the active ingredient chlorpyrifos were the first line of defense for control of cabbage maggot in several brassica crops, because 1) at ~$10 per acre, it was affordable, and 2) it was easy to apply and avoided worker exposure as a directed spray at the base of the plant.
Unfortunately, Lorsban and all of its generic products for food and feed uses were banned in New York as of July 31, 2021, and in the United States as of February 28, 2022. In the absence of Lorsban and other chlorpyrifos-containing insecticides, NY brassica growers have 6 products belonging to 4 chemical classes available to manage cabbage maggot. This article, Lorsban is Banned: How to Control Cabbage Maggot in Brassicas Now?, written by Cornell Vegetable Program Specialist Christy Hoepting and Brian Nault of Cornell AgriTech, provides our "2022 Top Picks" to use instead of Lorsban plus results of Cornell research trial results related to application method, rate, and cabbage maggot control.

NEW: Control Options for Cabbage Maggot in Brassicas in New York for 2023!
Lorsban is Banned: How to Control Cabbage Maggot in Brassicas Now? (pdf; 969KB)
Control Options for Cabbage Maggot in Brassicas in NY, 2023 (pdf; 192KB)


Upcoming Events
2023 Potato Advisory Meeting

December 12, 2023
Canandaigua, NY
This year's Potato Advisory Meeting will include talks from Cornell faculty on insect pest and weed updates, as well as updates from this year's potato variety trials. Following lunch, there will be a round table discussion with fellow potato growers and industry members. DEC credits: 2.0 credits in 10, 1a, 23. This meeting is FREE to attendees and includes lunch!
2024 Finger Lakes Produce Auction Winter Growers Meeting

January 4, 2024
Penn Yan, NY
This annual meeting will present information on insect and disease management in fresh market vegetables in both field and greenhouse (high tunnel) vegetables, primarily for those growing for wholesale auction. Grafting, biological and, where appropriate, conventional spray options will be discussed. Berry production updates will be provided. A general session will include updates from the Food Safety Modernization Act. Judson Reid, Senior Extension Associate with the Cornell Vegetable Program along with CCE staff will instruct participants and facilitate peer-based learnings. DEC recertification credits will be offered.
Announcements