Video: Farm Food Safety as if Someone's Life Depended On It
Robert Hadad, Extension Vegetable Specialist
Cornell Vegetable Program
April 3, 2015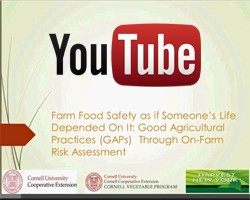 This video is an overview of Good Agricultural Practices (GAPs) through on-farm risk assessment. Cornell Cooperative Extension, along with the National GAPs Program and the New York State Department of Agriculture and Markets, has developed and implemented a nationally-recognized training program in GAPs to prepare New York growers for the marketplace's increased vigilance in food safety. You can learn more about that program through this video, as well as updates on the Food Safety Modernization Act (FSMA), and economic information on the implementation of GAPs collected from growers through extensive interviews.


Upcoming Events
Food Safety and Wash/Pack Facilities: Virtual Training
November 16, 2020
A well-thought out Wash/Pack Facility can go a long way in improving produce quality, worker health and safety, and overall efficiency. But how can intentional design impact food safety? This virtual training will help farmers and workers understand the food safety risks present in wash/pack facilities and outline ways in which risks can be minimized.
Announcements