Lettuce / Leafy Greens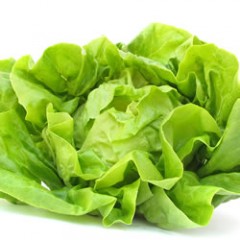 Two dozen or more types of leafy greens are grown in New York, primarily for fresh market production. According to the 2007 Census of Agriculture, 224 New York farms produced 1,398 acres of lettuce. Leaf lettuce is the most widely grown with 758 acres, followed by 381 acres of head lettuce and 260 acres of romaine lettuce. Lettuce is grown for local sales as well as large wholesale markets in the Northeastern, US.
Other popular greens are spinach (247 acres), collards (96 acres), escarole & endive (75 acres), kale (57 acres), mustard greens (36 acres) and turnip greens (16 acres). Additional types for which no statistical information is available include: arugula, beet greens, bok choy, dandelion greens, radiccho, rapini, swiss chard and watercress.
Field-grown greens are available beginning from May through mid-October (depending on the type). However, the season can be extended by growing in tunnels protected from harsh winter temperatures.
Growing for Wholesale: Grading and Packing Guidelines by Crop
Last Modified: August 29, 2019

Grading and packing guidelines are now available for 18 commonly grown specialty crops in NYS: romaine lettuce, acorn squash, broccoli crowns, Brussels sprouts, sweet corn, green peppers, cucumbers, green cabbage, red cabbage, savoy cabbage, cauliflower, eggplant, green beans, jalapenos, poblanos, Hungarian hot peppers, summer squash, and zucchini.
2018 Lettuce Variety Trial First Planting Results
Crystal Stewart-Courtens, Extension Vegetable Specialist
Eastern New York Commercial Horticulture
Last Modified: August 21, 2018

This year's lettuce variety trial was conducted at Pleasant Valley Farm in Argyle, NY. It was planted on May 28th, and harvested August 1st. The main goal of the trial was to evaluate romaine varieties to see which would perform well in hot summer conditions and there were 17 days above 85 degrees.
Lettuce Variety Trial, 2017
Last Modified: April 3, 2018


The CCE Eastern NY Commercial Horticulture Program evaluated 20 lettuce varieties in 2017. The outdoor production trial was conducted in Washington County, hosted by Pleasant Valley Farm. The lettuce was rated on disease susceptibility, taste, bitterness, and weight of one head.
Video: New York State Produce Auctions
Last Modified: March 8, 2018

Currently, there are 8 produce auctions in New York State. These auctions are aggregation points that allow local farmers to sell their produce in wholesale lots to buyers from across the region. To document the economic impact of produce auctions on agriculture, local businesses, family farms, and produce buyers, the Cornell Vegetable Program worked with Harvest New York to survey top sellers and buyers.

A new Cornell Vegetable Program video shares general information about produce auctions, how buyers and sellers use the auctions to expand their businesses, and how local communities benefit from them.
Organic Production Guides
Robert Hadad, Extension Vegetable Specialist
Cornell Vegetable Program
Last Modified: July 17, 2017


Organic Production Guides for fruits, vegetables and dairy are available through the NYS Integrated Pest Management (IPM) program. They outline general practices for growing vegetable and fruit crops using organic integrated pest management techniques.
Cold Storage Chart and Reference Guide to Commercial Vegetable Storage
Robert Hadad, Extension Vegetable Specialist
Cornell Vegetable Program
Last Modified: December 13, 2016

Commercial vegetable growers will find a Cold Storage Chart by crop type with temperature and relative humidity recommendations. The maximum number of weeks that the crop can be held under ideal conditions is provided as well.

Adapted from the USDA Bulletin #66, The Commercial Storage of Fruits, Vegetables, and Florist and Nursery Stock, growers will find information on quality, grading, sizes, and packaging, chilling and storage, and post-harvest pathology of vegetables.
Video: Produce Washing Stations - How to Use a Germicidal Bleach
Last Modified: January 26, 2016

Good Agricultural Practices or GAPs are the steps taken in produce packing areas to reduce microbial contamination. One area where reducing micro contamination is critical is in the washing and cleaning of produce. This video shows you a set of standard operating procedures for using a germicidal bleach in a produce washing station. Learn what supplies are required and how to calculate the amount of germicidal bleach needed to sanitize the water.
Video: Farm Food Safety as if Someone's Life Depended On It
Robert Hadad, Extension Vegetable Specialist
Cornell Vegetable Program
Last Modified: April 3, 2015

This video is an overview of Good Agricultural Practices (GAPs) through on-farm risk assessment. Cornell Cooperative Extension, along with the National GAPs Program and the New York State Department of Agriculture and Markets, has developed and implemented a nationally-recognized training program in GAPs to prepare New York growers for the marketplace's increased vigilance in food safety. You can learn more about that program through this video, as well as updates on the Food Safety Modernization Act (FSMA), and economic information on the implementation of GAPs collected from growers through extensive interviews.
Wash Your Greens: A Low-Cost but Effective Washer/Spinner Design
Robert Hadad, Extension Vegetable Specialist
Cornell Vegetable Program
Last Modified: March 26, 2015

Farm Food Safety practices not only reduces the risk of microbial contamination that can lead to food-borne diseases but can also improve the post-harvest quality of washed vegetables. There are many issues dealing with farm food safety and a lot of research going on. One area centers on low-cost but effective equipment options. Dr. Jay Neal from the University of Houston has designed a greens washer/spinner built from PVC and using a 5 gallon bucket with lid. One of our farmers has built a model and modified the instructions to make building and usage easier.
Winter Aphid Management Fact Sheet
Cordelia Machanoff, Program Aide
Cornell Vegetable Program
Last Modified: December 8, 2014


Aphids can be a major problem in winter greens. This fact sheet outlines our experience with biological and biorational controls over four years of field research.
Copper Fungicides for Organic Disease Management in Vegetables
Last Modified: September 16, 2013


There are several different copper fungicides approved for use in organically-produced crops. Copper fungicides are important tools for managing diseases that cannot be effectively managed with cultural practices alone.
Extending the Harvest Season with Fall Production
Robert Hadad, Extension Vegetable Specialist
Cornell Vegetable Program
Last Modified: July 11, 2013


Late season production starts in mid spring. For a successful crop, start with a detailed plan. Designate an area specific for late season production so that management can take place in one spot rather than all over the farm. This will make cultivation, pest management, using row cover, and harvesting more efficient to manage.


Ethnic Greens Trial, 2012
Robert Hadad, Extension Vegetable Specialist
Cornell Vegetable Program
Last Modified: January 23, 2013


Interest in growing ethnic vegetables has been increasing in our region. In response, the Cornell Vegetable Program conducted a two-year ethnic vegetable variety and marketing trial. The focus of the trial was to see how well assortments of vegetables that represent some different nationalities perform in WNY under our wildly fluctuating weather conditions and also to see how growers can market these new vegetables, how customers respond to them at the market, and what is needed to reach targeted communities perhaps. Funding was provided by the Western NY CCE Association group.



Upcoming Events
SCRUB Twilight Workshop Series
September 1, 2021 : Bin Blitz
Experienced growers and UVM's Ag Engineering present new strategies and cleaning tools to increase the efficiency and efficacy of bin cleaning, sanitation and management practices. Lead growers show and tell their bin systems, with lessons learned. Participants leave with a plan to improve/implement new practices.
September 8, 2021 : Low Cost and High Value
Evaluate low-cost (either money or time) improvements that make a big difference. Experience growers show and tell the thrifty improvements they made and summarize lessons learned, including trade-offs of spending money (or not) to lower risks and increase efficiency.
September 15, 2021 : Wash/Pack Floors
Learn to improve or repair a concrete floor so that it is smooth and easy to clean. This workshop highlights concrete repair, cleaning and sanitation techniques, water management, products and resources, as well as show and tell from experienced growers, and Chris Callahan from UVM's Extension Ag Engineering.
September 22, 2021 : Wash Water Management
Experienced growers and facilitators dig into the fundamentals of managing produce wash water, including show and tell with lessons learned about wash water management, use and monitoring of sanitizers. All participants leave with a plan to improve/implement new practices.
September 29, 2021 : Tools for Employee Management and Empowerment
Develop management strategies/systems to retain and empower high-value workers, while improving crew morale and culture. Learn from experienced managers of loyal and reliable crews, the pros and cons of their current management systems, and how they came to be. Participants leave with resources and a plan to improve/implement one or more new practices or strategies.
October 6, 2021 : Bubblers/Aerators for Greens Washing
For growers wanting to install or improve a greens bubbler/aerator. Get feedback from growers who built/improved their own systems. Examine designs and DYI resources, as well as perceived quality and efficiency gains from bubblers as compared to other washing methods. This workshop features a panel of New York growers!
Announcements