Lettuce / Leafy Greens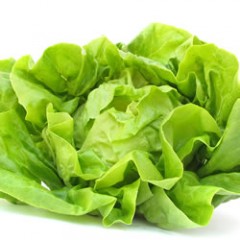 Two dozen or more types of leafy greens are grown in New York, primarily for fresh market production. According to the 2007 Census of Agriculture, 224 New York farms produced 1,398 acres of lettuce. Leaf lettuce is the most widely grown with 758 acres, followed by 381 acres of head lettuce and 260 acres of romaine lettuce. Lettuce is grown for local sales as well as large wholesale markets in the Northeastern, US.
Other popular greens are spinach (247 acres), collards (96 acres), escarole & endive (75 acres), kale (57 acres), mustard greens (36 acres) and turnip greens (16 acres). Additional types for which no statistical information is available include: arugula, beet greens, bok choy, dandelion greens, radiccho, rapini, swiss chard and watercress.
Field-grown greens are available beginning from May through mid-October (depending on the type). However, the season can be extended by growing in tunnels protected from harsh winter temperatures.
Most Recent Lettuce / Leafy Greens Content
Organic Production Guides
Robert Hadad, Extension Vegetable Specialist
Cornell Vegetable Program
Last Modified: July 17, 2017


Organic Production Guides for fruits, vegetables and dairy are available through the NYS Integrated Pest Management (IPM) program. They outline general practices for growing vegetable and fruit crops using organic integrated pest management techniques.
Cold Storage Chart and Reference Guide to Commercial Vegetable Storage
Robert Hadad, Extension Vegetable Specialist
Cornell Vegetable Program
Last Modified: December 13, 2016


Commercial vegetable growers will find a Cold Storage Chart by crop type with temperature and relative humidity recommendations. The maximum number of weeks that the crop can be held under ideal conditions is provided as well.

Adapted from the USDA Bulletin #66, The Commercial Storage of Fruits, Vegetables, and Florist and Nursery Stock, growers will find information on quality, grading, sizes, and packaging, chilling and storage, and post-harvest pathology of vegetables.
The 'Late Blight' of Spinach in the Northeast. See it? Report it! Manage it!
Last Modified: November 15, 2016

Downy mildew has been found recently in spinach at several farms in the northeastern U.S. This devastating disease has not been confirmed in the region for several years, thankfully as it has been a major production constraint in California. Pathogens causing downy mildew are Oomycetes and thus are related to the late blight pathogen. They are similar in ability to produce an abundance of wind-dispersed spores capable of moving long distances and to not need leaves to be wet to infect (high humidity is sufficient), plus ability to devastate crops.
All growers with spinach should inspect their plants for symptoms promptly NOW and also in spring plantings to catch if there is carry over or new outbreaks. If downy mildew is suspected, please contact your local extension specialist and send an
email to Meg McGrath
.
It will be CRITICAL that all high tunnel and overwintering spinach crops with downy mildew be destroyed couple weeks before the start of the spring spinach production season in the region to avoid carry over into 2017.
More Lettuce / Leafy Greens Content


Upcoming Events
NY Veterans in Agriculture Summit
November 29, 2017
8:30 AM - 4:30 PM
Syracuse, NY
Come gather for a day of education and networking. Learn about resources that are available to farmer veterans in New York and participate in educational sessions on topics including animal health, financial management, high tunnels, and business planning.
Second Annual Cut Flower Conference
December 1, 2017
8:00 AM - 4:00 PM
Rensselaerville, NY
Cornell Cooperative Extension's Capital Area Agriculture and Horticulture Program, announces their upcoming Second Annual Cut Flower Conference. The initial Cut Flower Conference, held in 2016, was very popular with established and beginning cut flower growers and growers considering adding cut flowers to their diversified farms.
2017 Processing Vegetable Crops Advisory Meeting

December 13, 2017
9:30 AM - 2:30 PM
Batavia, NY
All processing vegetable growers and industry members are invited to attend. Discuss the 2017 growing season and management concerns. Reports and discussion of the 2017 Projects funded by the New York Vegetable Research Council/Association. Review priorities and the role of the advisory group in applications for state and federal grants. Give your input on the format of future advisory meetings and future educational programs.
Announcements
Available: 2017 Certified Seed Potato Directory
The
2017 NYS Certified Seed Potato Crop Directory
is now available. There is a wealth of information on NYS potato seed certification, as well as on the varieties grown for certification in 2017. The varieties include standards for processing and tablestock, newer varieties and numbered lines, and specialty/heirloom varieties. Brief summaries of the varieties' maturity, appearance, yield potential, and major disease susceptibility are included. Contact info for the growers with seed supplies of each variety is included. There is also a listing of the inspectors from the NYS Department of Agriculture and Markets in Albany and Syracuse.
Growing for Wholesale Guidelines Available
Grading and packing guidelines are now available for 16 commonly grown specialty crops in NYS: broccoli crowns, Brussels sprouts, corn, green peppers, cucumbers, green cabbage, red cabbage, savory cabbage, cauliflower, eggplant, green beans, jalapenos, poblanos, Hungarian hot peppers, summer squash, and zucchini.
Acceptable quality standards and common defects that should be sorted out on the grading line are depicted in these resources, both visually and in outline form. Find all of the
grading sheets here
.
Cornell Vegetable Program - Cornell Cooperative Extension
Your Trusted Source for Research-Based Knowledge