Broccoli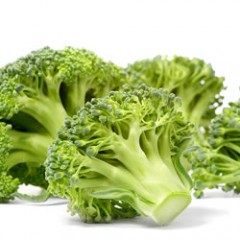 Broccoli is grown on an estimated 800 acres throughout New York State. Multiple plantings are typically grown along with other Cole crops such as cauliflower, cabbage and kale on small-scale diversified vegetable farms. Broccoli is predominantly grown from transplants set in April and May for a spring crop and in late June through August for a fall crop. Broccoli that is harvested in July and early August tends to have very high cull rates due to abnormalities caused by heat stress. Broccoli is cut during the cooler part of the day and sold as soon after harvest as possible, as it does not store well.
Fortunately, recent genetic breakthroughs have overcome broccoli's susceptibility to heat stress and broccoli growers in New York look forward to the availability of new varieties adapted to the hot and humid summers of the Northeastern United States. Cornell University is leading an ambitious effort to develop a $100 million broccoli industry in the Eastern United States. Below you will find educational information and results of our research trials.
Growing for Wholesale: Grading and Packing Guidelines by Crop
Last Modified: August 29, 2019

Grading and packing guidelines are now available for 18 commonly grown specialty crops in NYS: romaine lettuce, acorn squash, broccoli crowns, Brussels sprouts, sweet corn, green peppers, cucumbers, green cabbage, red cabbage, savoy cabbage, cauliflower, eggplant, green beans, jalapenos, poblanos, Hungarian hot peppers, summer squash, and zucchini.
Eastern Organic Broccoli Webinar Recording
Last Modified: January 23, 2019

In this webinar, The Eastern Broccoli Project presents information of value to those raising Organic broccoli in the Eastern US.
Organic nutrition for a nitrogen-hungry crop
Weed management in high fertility and short season
Insect management amid many hungry pests
Varieties suitable for organic production in the East
The market for organic broccoli
Growing for Wholesale: Vegetable Grading/Sizing Templates
Robert Hadad, Extension Vegetable Specialist
Cornell Vegetable Program
Last Modified: February 21, 2018

To further assist farmers looking to sell into the wholesale markets, the Cornell Vegetable Program has put together some helpful tools. The tools provided here consist of a color photo guide highlighting the grades of some of the most common vegetables grown for wholesale market in WNY. To aid in the visualization of the grading sizes, the templates are available here for you to print off. These are scaled to size and can be used to create sizing templates to be used by workers on the wash and pack lines.
Organic Production Guides
Robert Hadad, Extension Vegetable Specialist
Cornell Vegetable Program
Last Modified: July 17, 2017


Organic Production Guides for fruits, vegetables and dairy are available through the NYS Integrated Pest Management (IPM) program. They outline general practices for growing vegetable and fruit crops using organic integrated pest management techniques.
Video: Swede Midge
Last Modified: June 12, 2017


Swede midge is an invasive insect pest that is threatening the viability of broccoli, cauliflower, cabbage, Brussels sprouts, kale, kohlrabi and turnip production within the Cornell Vegetable Program region and throughout the Northeastern US. This short video will provide you with some general information about this pest and how to scout for it in your Brassicas.
Video: Flea Beetles
Last Modified: June 5, 2017


Flea beetles are a common vegetable pest affecting peppers, cucurbits, sweet potato, potato, peas, beans, beets, tomato, corn, turnip, pumpkin, melon, eggplant, and others. This short video gives you some general information about this pest.
Cold Storage Chart and Reference Guide to Commercial Vegetable Storage
Robert Hadad, Extension Vegetable Specialist
Cornell Vegetable Program
Last Modified: December 13, 2016

Commercial vegetable growers will find a Cold Storage Chart by crop type with temperature and relative humidity recommendations. The maximum number of weeks that the crop can be held under ideal conditions is provided as well.

Adapted from the USDA Bulletin #66, The Commercial Storage of Fruits, Vegetables, and Florist and Nursery Stock, growers will find information on quality, grading, sizes, and packaging, chilling and storage, and post-harvest pathology of vegetables.
Video: Produce Washing Stations - How to Use a Germicidal Bleach
Last Modified: January 26, 2016

Good Agricultural Practices or GAPs are the steps taken in produce packing areas to reduce microbial contamination. One area where reducing micro contamination is critical is in the washing and cleaning of produce. This video shows you a set of standard operating procedures for using a germicidal bleach in a produce washing station. Learn what supplies are required and how to calculate the amount of germicidal bleach needed to sanitize the water.
Video: Farm Food Safety as if Someone's Life Depended On It
Robert Hadad, Extension Vegetable Specialist
Cornell Vegetable Program
Last Modified: April 3, 2015

This video is an overview of Good Agricultural Practices (GAPs) through on-farm risk assessment. Cornell Cooperative Extension, along with the National GAPs Program and the New York State Department of Agriculture and Markets, has developed and implemented a nationally-recognized training program in GAPs to prepare New York growers for the marketplace's increased vigilance in food safety. You can learn more about that program through this video, as well as updates on the Food Safety Modernization Act (FSMA), and economic information on the implementation of GAPs collected from growers through extensive interviews.
Copper Fungicides for Organic Disease Management in Vegetables
Last Modified: September 16, 2013


There are several different copper fungicides approved for use in organically-produced crops. Copper fungicides are important tools for managing diseases that cannot be effectively managed with cultural practices alone.
Extending the Harvest Season with Fall Production
Robert Hadad, Extension Vegetable Specialist
Cornell Vegetable Program
Last Modified: July 11, 2013


Late season production starts in mid spring. For a successful crop, start with a detailed plan. Designate an area specific for late season production so that management can take place in one spot rather than all over the farm. This will make cultivation, pest management, using row cover, and harvesting more efficient to manage.


2010 Broccoli Variety Evaluation
Christy Hoepting, Extension Vegetable Specialist
Cornell Vegetable Program
Last Modified: January 7, 2013

The 2010 Broccoli Variety Trail consisted of 27 entries from 7 seed companies. Industry standards included Diplomat, Gypsy, Green Magic, Imperial and Windsor. Two varieties, Major and Bl 10, were included to evaluate heat tolerance.
See complete report below
O-zone Injury on Vegetables
Crystal Stewart-Courtens, Extension Vegetable Specialist
Eastern New York Commercial Horticulture
Last Modified: August 22, 2012


Hot, humid weather with stagnant air masses may lead to ozone damage on crops. Ozone warnings were recently issued for much of New York. These warnings are intended for people with respiratory problems and let them know they should limit their outdoor activity and try to stay as much as possible in air-conditioned locations. These warning are also a good indicator that ozone damage may occur in plants.
Swede Midge Website
Julie Kikkert, Team Leader, Extension Vegetable Specialist
Cornell Vegetable Program
Last Modified: June 29, 2010


As swede midge continues to spread to more farms and gardens across the United States, a comprehensive website is available to aid in the identification and management of this pest of cole crops.