Broccoli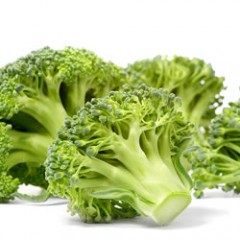 Broccoli is grown on an estimated 800 acres throughout New York State. Multiple plantings are typically grown along with other Cole crops such as cauliflower, cabbage and kale on small-scale diversified vegetable farms. Broccoli is predominantly grown from transplants set in April and May for a spring crop and in late June through August for a fall crop. Broccoli that is harvested in July and early August tends to have very high cull rates due to abnormalities caused by heat stress. Broccoli is cut during the cooler part of the day and sold as soon after harvest as possible, as it does not store well.
Fortunately, recent genetic breakthroughs have overcome broccoli's susceptibility to heat stress and broccoli growers in New York look forward to the availability of new varieties adapted to the hot and humid summers of the Northeastern United States. Cornell University is leading an ambitious effort to develop a $100 million broccoli industry in the Eastern United States. Below you will find educational information and results of our research trials.
Relevant Events
2019 Processing Vegetable Crops Advisory Meeting

December 17, 2019
9:30am - 12:10pm, 1pm - 2pm, and 2pm - 3:30pm
Batavia, NY
2020 Finger Lakes Produce Auction Education Meeting

January 2, 2020
9:00 AM - 2:00 PM
Penn Yan, NY
2020 Ontario Produce Auction Winter Growers Meeting

January 8, 2020
9:00 AM - 2:30 PM
Stanley, NY
2020 Empire State Producers EXPO

January 14 - January 16, 2020
1.25 hr sessions throughout each day
Syracuse, NY
Most Recent Broccoli Content
Growing for Wholesale: Grading and Packing Guidelines by Crop
Last Modified: August 29, 2019

Grading and packing guidelines are now available for 18 commonly grown specialty crops in NYS: romaine lettuce, acorn squash, broccoli crowns, Brussels sprouts, sweet corn, green peppers, cucumbers, green cabbage, red cabbage, savoy cabbage, cauliflower, eggplant, green beans, jalapenos, poblanos, Hungarian hot peppers, summer squash, and zucchini.
Eastern Organic Broccoli Webinar Recording
Last Modified: January 23, 2019

In this webinar, The Eastern Broccoli Project presents information of value to those raising Organic broccoli in the Eastern US.
Organic nutrition for a nitrogen-hungry crop
Weed management in high fertility and short season
Insect management amid many hungry pests
Varieties suitable for organic production in the East
The market for organic broccoli
Video: New York State Produce Auctions
Last Modified: March 8, 2018


Currently, there are 8 produce auctions in New York State. These auctions are aggregation points that allow local farmers to sell their produce in wholesale lots to buyers from across the region. To document the economic impact of produce auctions on agriculture, local businesses, family farms, and produce buyers, the Cornell Vegetable Program worked with Harvest New York to survey top sellers and buyers.

A new Cornell Vegetable Program video shares general information about produce auctions, how buyers and sellers use the auctions to expand their businesses, and how local communities benefit from them.
More Broccoli Content


Upcoming Events
2019 Processing Vegetable Crops Advisory Meeting

December 17, 2019
9:30am - 12:10pm, 1pm - 2pm, and 2pm - 3:30pm
Batavia, NY
2020 Finger Lakes Produce Auction Education Meeting

January 2, 2020
9:00 AM - 2:00 PM
Penn Yan, NY
2020 Ontario Produce Auction Winter Growers Meeting

January 8, 2020
9:00 AM - 2:30 PM
Stanley, NY
Announcements