Newsletter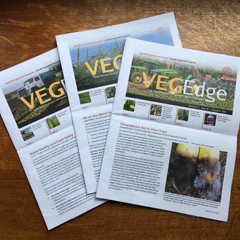 VegEdge is the highly regarded newsletter produced by the Cornell Vegetable Program. It provides readers with information on upcoming meetings, pesticide updates, pest management strategies, cultural practices, marketing ideas and research results from Cornell and Cornell Cooperative Extension. VegEdge is produced every few weeks, with frequency increasing leading up to and during the growing season. Twenty-five issues of VegEdge are produced each year!
VegEdge is only available to enrollees in the Cornell Vegetable Program.

All Cornell Vegetable Program enrollees receive a complimentary electronic subscription to VegEdge with their enrollment. For more information, contact Angela Ochterski.

If you are enrolled in the Cornell Vegetable Program, log in (black panel at top of screen) to view current issues of VegEdge newsletter.

If you are not enrolled in our program, you must enroll to view current issues.

Archived issues of VegEdge (issues produced more than 6 months ago) can be found below.

Archived VegEdge Newsletters
2023 VegEdge Newsletters
2022 VegEdge Newsletters
2021 VegEdge Newsletters
2020 VegEdge Newsletters
2019 VegEdge Newsletters
2018 VegEdge Newsletters
2017 VegEdge Newsletters
2016 VegEdge Newsletters
2015 VegEdge Newsletters
2014 VegEdge Newsletters
2013 VegEdge Newsletters
2012 VegEdge Newsletters
2011 VegEdge Newsletters


Upcoming Events
2023 Potato Advisory Meeting

December 12, 2023
Canandaigua, NY
This year's Potato Advisory Meeting will include talks from Cornell faculty on insect pest and weed updates, as well as updates from this year's potato variety trials. Following lunch, there will be a round table discussion with fellow potato growers and industry members. DEC credits: 2.0 credits in 10, 1a, 23. This meeting is FREE to attendees and includes lunch!
2024 Finger Lakes Produce Auction Winter Growers Meeting

January 4, 2024
Penn Yan, NY
This annual meeting will present information on insect and disease management in fresh market vegetables in both field and greenhouse (high tunnel) vegetables, primarily for those growing for wholesale auction. Grafting, biological and, where appropriate, conventional spray options will be discussed. Berry production updates will be provided. A general session will include updates from the Food Safety Modernization Act. Judson Reid, Senior Extension Associate with the Cornell Vegetable Program along with CCE staff will instruct participants and facilitate peer-based learnings. DEC recertification credits will be offered.
Announcements