Newsletter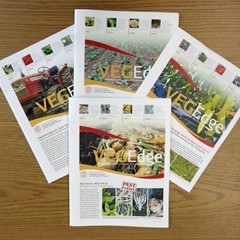 VegEdge is the award-winning newsletter produced by the Cornell Vegetable Program. It provides readers with information on upcoming meetings, pesticide updates, pest management strategies, cultural practices, marketing ideas and research results from Cornell and Cornell Cooperative Extension. VegEdge is produced every few weeks, with frequency increasing leading up to and during the growing season. Twenty-five issues of VegEdge are produced each year!

VegEdge is only available to enrollees in the Cornell Vegetable Program.

All Cornell Vegetable Program enrollees receive a complimentary electronic subscription to VegEdge with their enrollment. For more information, contact Angela Ochterski.

If you are enrolled in the Cornell Vegetable Program, log in (black panel at top of screen) to view current issues of VegEdge newsletter.

If you are not enrolled in our program, you must enroll to view current issues.

Archived issues of VegEdge (issues produced more than 6 months ago) can be found below.

Archived VegEdge Newsletters
2020 VegEdge Newsletters
2019 VegEdge Newsletters
2018 VegEdge Newsletters
2017 VegEdge Newsletters
2016 VegEdge Newsletters
2015 VegEdge Newsletters
2014 VegEdge Newsletters
2013 VegEdge Newsletters
2012 VegEdge Newsletters
2011 VegEdge Newsletters


Upcoming Events
No upcoming events at this time.
Announcements