Melons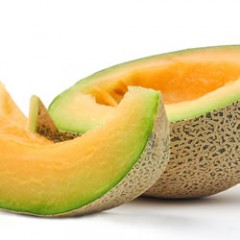 Fresh market production of melons has been an important crop for NYS growers for many years. Cantaloupe are predominantly the main type of melons grown, but Honeydew, Crenshaw, Watermelon and Gallia types can also be grown quite nicely in our climate. Recently, "personal" or "ice box" types of melons, which have been bred for individual consumer use are much smaller (2-3 pounds) and have become favorites of consumers at roadside stands and farmers markets. Nearly all the melons grown in NY are produced on raised beds mulched with black plastic and drip irrigation. Fusarium wilt, Powdery and Downy Mildew and Gummy Stem Blight remain the main disease issues with these crops. Striped Cucumber Beetles and aphids remain the major insect pests.
Relevant Events
2018 Worker Protection Standard Training & DEC Special Permit Training (Wayne County)
April 4, 2018
8:30 AM - 12:30 PM English Session / 1:00 PM - 5:00 PM Spanish Session
Newark, NY
2018 Worker Protection Standard Training & DEC Special Permit Training (Orleans County)
April 5, 2018
8:00 AM - 12:00 PM English & Spanish sessions
Albion, NY
Most Recent Melons Content
Video: New York State Produce Auctions
Last Modified: March 8, 2018


Currently, there are 8 produce auctions in New York State. These auctions are aggregation points that allow local farmers to sell their produce in wholesale lots to buyers from across the region. To document the economic impact of produce auctions on agriculture, local businesses, family farms, and produce buyers, the Cornell Vegetable Program worked with Harvest New York to survey top sellers and buyers.

A new Cornell Vegetable Program video shares general information about produce auctions, how buyers and sellers use the auctions to expand their businesses, and how local communities benefit from them.
Video: Downy Mildew
Last Modified: July 6, 2017


Downy mildew is a potentially devastating disease to cucurbits. It usually affects cucumbers and cantaloupes first; later in the season it can be found on summer squash and zucchini. During some seasons, downy mildew can spread to winter squash and watermelons. Growers need to be monitoring their fields. This short video shows the different stages of the disease and possible outcomes if it is not controlled.

2017 Cucurbit Downy Mildew Management Guidelines
Last Modified: July 5, 2017


From Margaret McGrath, Cornell
Producing a high-quality cucurbit crop necessitates effectively managing downy mildew. This foliar disease is common in the northeast because the pathogen produces a large quantity of asexual spores that are easily dispersed long distances by wind, which enables it to spread widely. There has been no evidence that the pathogen is surviving between growing seasons where winter temperatures kill cucurbit crops (outdoors above the 30th latitude); however, recently both mating types have been found, albeit typically on different cucurbit crop types, thus there is the potential for the pathogen to produce oospores (sexual spores) that could enable the pathogen to survive in northern areas of the USA. The downy mildew forecasting program has documented based on downy mildew occurrence movement of the pathogen throughout the eastern USA each year via its wind-dispersed asexual spores. The pathogen does not affect fruit directly; however, affected leaves die prematurely which results in fewer fruit and/or fruit of low quality (poor flavor, sunscald, poor storability).

The most important component of an effective management program for downy mildew is an effective, properly-timed fungicide program. And the key to that is applying mobile fungicides targeted to the pathogen starting when there is a risk of the pathogen being present. Mobile (or translaminar) fungicides are needed for control on the underside of leaves. Each year there often are changes to the fungicides recommended as the pathogen develops resistance or new products are registered. Because these fungicides have targeted activity, additional fungicides must be added to the program when there is a need to manage other diseases such as powdery mildew. Most targeted fungicides effective for downy mildew are also effective for Phytophthora blight.
More Melons Content


Upcoming Events
Season Extension with High Tunnels: Know Before You Grow
March 6 - April 10, 2018
Every Tuesday, 6:30 PM - 8:00 PM
Adding weeks to either end of your growing season can mean attaining a premium for having products available well before (or long after) other local growers. But the structures that make this possible --(unheated plastic-covered "high tunnels" or "hoop houses") can cost a lot of money, and they bring special management considerations that need to be understood in order to be profitable additions to your farm.
Offered as an online course through the Cornell Small Farms Program, this course (BF220) is meant for farmers who already have some experience successfully growing vegetables outdoors and are exploring high tunnels as a way to expand the season or improve plant quality. Information will be focused on using high tunnels in colder climates (US Climate Zones 4-6), but can be adapted to other growing regions.
Pre-Season Onion Weed Management Meeting (Elba Muck)
March 20, 2018
10:00 AM - 12:00 Noon
Elba, NY
CVP Onion Specialist Christy Hoepting will provide an informal review of the 2017 Cornell onion herbicide research trials followed by a casual roundtable discussion of weed control in 2018, improved control of problem weeds, threshold for crop injury, and identifying questions/treatments for 2018 herbicide trials.
2018 Worker Protection Standard Training & DEC Special Permit Training (Wayne County)
April 4, 2018
8:30 AM - 12:30 PM English Session / 1:00 PM - 5:00 PM Spanish Session
Newark, NY
Just like last year,
Special Permits (SP) will only be issued for 11 specific pesticide labels
and
SP trainees will have to pass a test
. This will relieve the certified pesticide applicator from "on-site within voice contact" supervision of non-certified pesticide applicators when they are handling federally-restricted-use pesticides for which they hold a Special Permit. The labels that will be covered include
Lorsban Advanced, Endigo ZC, Warrior II with Zeon Technology, Agri-Mek SC, Beseige, Gramoxone SL 2.0, Leverage 360, Danitol 2.4EC, Mustang Maxx, Asana XL, and Lannate LV.

Workers requiring general pesticide training/Agricultural Worker Protection Standard Handler training who do not need special permits are welcome to take the class; they will not be tested and will receive a course participation certificate.
Announcements
2018 NY Produce Auction Locations and Contact Info
Produce auctions in New York State have been formed so that produce growers have a way of marketing their product to quality minded buyers through open competitive bidding. Six of the eight produce auctions in NYS are in WNY! A
map of produce auction locations
across the state is provided along with auction days, times, and contact information.
Unsure how to purchase at a produce auction? The updated
How To guide
will give you some quick pointers on the auction terminology and how to make purchases at an auction.
Vegetable Sizing Templates Available
To assist farmers looking to sell into wholesale markets,
vegetable sizing templates
are now available for bell peppers, broccoli, Brussels sprouts, cauliflower, cucumbers, eggplant, potatoes, tomatoes, zucchini and summer squash. The crop templates are scaled to size (8.5 x 11 paper). They can be printed and used to create sizing templates to be used by workers on the wash and pack lines. Additional grading resources are available too.
Growing for Wholesale Guidelines Available
Grading and packing guidelines are now available for 16 commonly grown specialty crops in NYS: broccoli crowns, Brussels sprouts, corn, green peppers, cucumbers, green cabbage, red cabbage, savory cabbage, cauliflower, eggplant, green beans, jalapenos, poblanos, Hungarian hot peppers, summer squash, and zucchini.
Acceptable quality standards and common defects that should be sorted out on the grading line are depicted in these resources, both visually and in outline form. Find all of the
grading sheets here
.
Cornell Commercial Vegetable Guidelines Available
The
2018 Cornell Integrated Crop and Pest Management Guidelines for Commercial Vegetable Production are now available!
Written by Cornell University specialists, this publication is designed to offer producers, seed and chemical dealers, and crop consultants practical information on growing and managing vegetable crops in New York State. Topics include general culture, nutrient management, transplant production, postharvest handling, organic production, and managing common vegetable crop pest concerns. A
preview of the Vegetable Guidelines
can be seen online.
Highlighted changes in the 2018 Vegetable Guidelines include:
Updated pesticide options for economically important vegetable crop pests.
Significantly revised pest management practices.
New onion and sweet corn IPM scouting report forms.
Cornell Crop and Pest Management Guidelines are available as a print copy ($41), online-only access ($41), or a package combining print and online access ($57.50). Shipping charges will be added to your order. Cornell Guidelines can be obtained through your local Cornell Cooperative Extension office, or
from the Cornell Store at Cornell University
or call (844) 688-7620.
Empire State Producers EXPO Proceedings
Proceedings from the Empire State Producers EXPO
conference from 2011-2018 are available online.
Cornell Vegetable Program - Cornell Cooperative Extension
Your Trusted Source for Research-Based Knowledge