Melons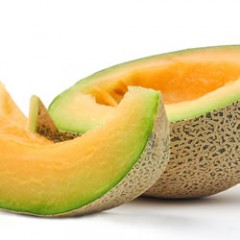 Fresh market production of melons has been an important crop for NYS growers for many years. Cantaloupe are predominantly the main type of melons grown, but Honeydew, Crenshaw, Watermelon and Gallia types can also be grown quite nicely in our climate. Recently, "personal" or "ice box" types of melons, which have been bred for individual consumer use are much smaller (2-3 pounds) and have become favorites of consumers at roadside stands and farmers markets. Nearly all the melons grown in NY are produced on raised beds mulched with black plastic and drip irrigation. Fusarium wilt, Powdery and Downy Mildew and Gummy Stem Blight remain the main disease issues with these crops. Striped Cucumber Beetles and aphids remain the major insect pests.
Relevant Event
2019 Empire State Producers EXPO

January 15 - January 17, 2019
1.25 hr sessions throughout each day
Syracuse, NY
Most Recent Melons Content
Video: New York State Produce Auctions
Last Modified: March 8, 2018


Currently, there are 8 produce auctions in New York State. These auctions are aggregation points that allow local farmers to sell their produce in wholesale lots to buyers from across the region. To document the economic impact of produce auctions on agriculture, local businesses, family farms, and produce buyers, the Cornell Vegetable Program worked with Harvest New York to survey top sellers and buyers.

A new Cornell Vegetable Program video shares general information about produce auctions, how buyers and sellers use the auctions to expand their businesses, and how local communities benefit from them.
Video: Downy Mildew
Last Modified: July 6, 2017


Downy mildew is a potentially devastating disease to cucurbits. It usually affects cucumbers and cantaloupes first; later in the season it can be found on summer squash and zucchini. During some seasons, downy mildew can spread to winter squash and watermelons. Growers need to be monitoring their fields. This short video shows the different stages of the disease and possible outcomes if it is not controlled.

2017 Cucurbit Downy Mildew Management Guidelines
Last Modified: July 5, 2017


From Margaret McGrath, Cornell
Producing a high-quality cucurbit crop necessitates effectively managing downy mildew. This foliar disease is common in the northeast because the pathogen produces a large quantity of asexual spores that are easily dispersed long distances by wind, which enables it to spread widely. There has been no evidence that the pathogen is surviving between growing seasons where winter temperatures kill cucurbit crops (outdoors above the 30th latitude); however, recently both mating types have been found, albeit typically on different cucurbit crop types, thus there is the potential for the pathogen to produce oospores (sexual spores) that could enable the pathogen to survive in northern areas of the USA. The downy mildew forecasting program has documented based on downy mildew occurrence movement of the pathogen throughout the eastern USA each year via its wind-dispersed asexual spores. The pathogen does not affect fruit directly; however, affected leaves die prematurely which results in fewer fruit and/or fruit of low quality (poor flavor, sunscald, poor storability).

The most important component of an effective management program for downy mildew is an effective, properly-timed fungicide program. And the key to that is applying mobile fungicides targeted to the pathogen starting when there is a risk of the pathogen being present. Mobile (or translaminar) fungicides are needed for control on the underside of leaves. Each year there often are changes to the fungicides recommended as the pathogen develops resistance or new products are registered. Because these fungicides have targeted activity, additional fungicides must be added to the program when there is a need to manage other diseases such as powdery mildew. Most targeted fungicides effective for downy mildew are also effective for Phytophthora blight.
More Melons Content


Upcoming Events
Finger Lakes Produce Auction Educational Meeting

January 3, 2019
8:30 AM - 3:00 PM
Penn Yan, NY
This meeting is our annual winter educational event for Finger Lakes Produce Auction growers. This year we focus on disease management in cole crops, strawberries, food safety and greenhouse flowers. 2.0 recertification credits in private vegetable category.
Ontario Produce Auction Winter Growers Meeting

January 9, 2019
9:30 AM - 2:30 PM
Stanley, NY
This meeting is our annual winter educational event for Ontario Produce Auction growers. This year we focus on disease management in high tunnel tomatoes, vine crops and greenhouse flowers. Grower and buyer panels will be presented as well irrigation and plastic mulch. DEC pesticide applicator recertification credits have been requested.
2019 Empire State Producers EXPO

January 15 - January 17, 2019
1.25 hr sessions throughout each day
Syracuse, NY
The 2019 Empire State Producers Expo combines the major fruit, flower and vegetable associations of New York State in order to provide a comprehensive trade show and educational conference for New York producers, as well as the surrounding states and Eastern Canada.
Announcements
Checklist for Cleaning a Root Barrel Washer
Don't miss those hard-to-reach places in your root barrel washer! Here is a
checklist
of areas to remember to clean to obtain an acceptable level of cleanliness completed in a reasonable about of time. Critical cleaning points are identified.
Cornell Vegetable Program - Cornell Cooperative Extension
Your Trusted Source for Research-Based Knowledge