Melons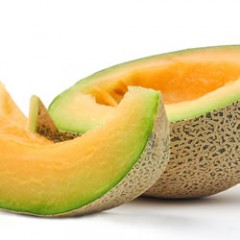 Fresh market production of melons has been an important crop for NYS growers for many years. Cantaloupe are predominantly the main type of melons grown, but Honeydew, Crenshaw, Watermelon and Gallia types can also be grown quite nicely in our climate. Recently, "personal" or "ice box" types of melons, which have been bred for individual consumer use are much smaller (2-3 pounds) and have become favorites of consumers at roadside stands and farmers markets. Nearly all the melons grown in NY are produced on raised beds mulched with black plastic and drip irrigation. Fusarium wilt, Powdery and Downy Mildew and Gummy Stem Blight remain the main disease issues with these crops. Striped Cucumber Beetles and aphids remain the major insect pests.
Relevant Event
2018 Empire State Producers EXPO

January 16 - January 18, 2018
Morning, Mid-day, and Afternoon Sessions
Syracuse, NY
Most Recent Melons Content
Video: Downy Mildew
Angela Parr, Administrative & Communications Lead
Cornell Vegetable Program
Last Modified: July 6, 2017


Downy mildew is a potentially devastating disease to cucurbits. It usually affects cucumbers and cantaloupes first; later in the season it can be found on summer squash and zucchini. During some seasons, downy mildew can spread to winter squash and watermelons. Growers need to be monitoring their fields. This short video shows the different stages of the disease and possible outcomes if it is not controlled.

2017 Cucurbit Downy Mildew Management Guidelines
Last Modified: July 5, 2017


From Margaret McGrath, Cornell
Producing a high-quality cucurbit crop necessitates effectively managing downy mildew. This foliar disease is common in the northeast because the pathogen produces a large quantity of asexual spores that are easily dispersed long distances by wind, which enables it to spread widely. There has been no evidence that the pathogen is surviving between growing seasons where winter temperatures kill cucurbit crops (outdoors above the 30th latitude); however, recently both mating types have been found, albeit typically on different cucurbit crop types, thus there is the potential for the pathogen to produce oospores (sexual spores) that could enable the pathogen to survive in northern areas of the USA. The downy mildew forecasting program has documented based on downy mildew occurrence movement of the pathogen throughout the eastern USA each year via its wind-dispersed asexual spores. The pathogen does not affect fruit directly; however, affected leaves die prematurely which results in fewer fruit and/or fruit of low quality (poor flavor, sunscald, poor storability).

The most important component of an effective management program for downy mildew is an effective, properly-timed fungicide program. And the key to that is applying mobile fungicides targeted to the pathogen starting when there is a risk of the pathogen being present. Mobile (or translaminar) fungicides are needed for control on the underside of leaves. Each year there often are changes to the fungicides recommended as the pathogen develops resistance or new products are registered. Because these fungicides have targeted activity, additional fungicides must be added to the program when there is a need to manage other diseases such as powdery mildew. Most targeted fungicides effective for downy mildew are also effective for Phytophthora blight.
Video: Flea Beetles
Last Modified: June 5, 2017


Flea beetles are a common vegetable pest affecting peppers, cucurbits, sweet potato, potato, peas, beans, beets, tomato, corn, turnip, pumpkin, melon, eggplant, and others. This short video gives you some general information about this pest.
More Melons Content


Upcoming Events
CANCELLED: Good Agricultural Practices (GAPs) / Harmonized GAPs Farm Food Safety Training
September 26 - September 27, 2017
9:30 AM - 4:00 PM
Salamanca, NY
This event has been cancelled due to low registration numbers.
Farm food safety is common-sense practices organized to assist farmers to improve their skill set to continue to grow safe and healthy food.
Day One of this training will be an educational training on farm food safety principles and practices to provide the background and information for farmers to understand how to minimize the risk of food born disease contamination. Day Two will be for those who want help with writing a farm food safety plan.
Pickle Variety Twilight Meeting
September 26, 2017
5:30 PM - 7:30 PM
Ransomville, NY
Vegetable growers are invited to tour an on-farm plot of early generation Cornell downy mildew resistant pickle breeding lines. Dr. Michael Mazourek, Professor of Plant Breeding, and lab members, will be on site to walk growers through the plot and review plant selections.
All growers that attend will be an integral part of helping make selections for the next generation of pickle varieties released!
Season Extension - Stretching Tomato Season and Winter Greens
October 4, 2017
4:00 PM - 7:00 PM
Allegany, NY
What do you need to do to stretch out your high tunnel tomato season or establish a profitable crop of winter greens? Meeting the full season's nutritional demands of tomatoes under organic management is challenging. Juggling diverse succession crops and keeping the tunnel profitable year round adds an extra level of difficulty.
Announcements
Produce Donations for Hurricane Relief
The ENY Commercial Horticulture Program is leading an effort to collect pallets of produce to send down to TX and FL for hurricane relief. Feeding American is handling the transportation. "Hard" crops accepted:
apples
onions
cabbage
potatoes
winter squash
any other crop that withstand no refrigeration for a week
Farms donating product will receive a record of donation. Dates and locations of drop off locations in our region and across the state are provided.
You must be prepared to contact them in advance with details on what crop you are donating, how many pallets, which location you will be dropping your donation off at, and when they can anticipate your products. For more information on this effort and updates on locations, visit the
ENY Commercial Horticulture's event details
.
Empire State Producers EXPO Proceedings Available
Proceedings from the Empire State Producers EXPO
conference from 2011-2017 are available online.
Cornell Vegetable Program - Cornell Cooperative Extension
Your Trusted Source for Research-Based Knowledge