Melons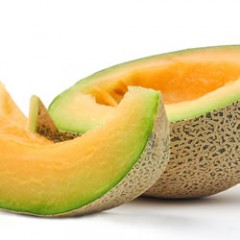 Fresh market production of melons has been an important crop for NYS growers for many years. Cantaloupe are predominantly the main type of melons grown, but Honeydew, Crenshaw, Watermelon and Gallia types can also be grown quite nicely in our climate. Recently, "personal" or "ice box" types of melons, which have been bred for individual consumer use are much smaller (2-3 pounds) and have become favorites of consumers at roadside stands and farmers markets. Nearly all the melons grown in NY are produced on raised beds mulched with black plastic and drip irrigation. Fusarium wilt, Powdery and Downy Mildew and Gummy Stem Blight remain the main disease issues with these crops. Striped Cucumber Beetles and aphids remain the major insect pests.
Video: New York State Produce Auctions
Last Modified: March 8, 2018

Currently, there are 8 produce auctions in New York State. These auctions are aggregation points that allow local farmers to sell their produce in wholesale lots to buyers from across the region. To document the economic impact of produce auctions on agriculture, local businesses, family farms, and produce buyers, the Cornell Vegetable Program worked with Harvest New York to survey top sellers and buyers.

A new Cornell Vegetable Program video shares general information about produce auctions, how buyers and sellers use the auctions to expand their businesses, and how local communities benefit from them.
Video: Downy Mildew
Last Modified: July 6, 2017


Downy mildew is a potentially devastating disease to cucurbits. It usually affects cucumbers and cantaloupes first; later in the season it can be found on summer squash and zucchini. During some seasons, downy mildew can spread to winter squash and watermelons. Growers need to be monitoring their fields. This short video shows the different stages of the disease and possible outcomes if it is not controlled.

2017 Cucurbit Downy Mildew Management Guidelines
Last Modified: July 5, 2017


From Margaret McGrath, Cornell
Producing a high-quality cucurbit crop necessitates effectively managing downy mildew. This foliar disease is common in the northeast because the pathogen produces a large quantity of asexual spores that are easily dispersed long distances by wind, which enables it to spread widely. There has been no evidence that the pathogen is surviving between growing seasons where winter temperatures kill cucurbit crops (outdoors above the 30th latitude); however, recently both mating types have been found, albeit typically on different cucurbit crop types, thus there is the potential for the pathogen to produce oospores (sexual spores) that could enable the pathogen to survive in northern areas of the USA. The downy mildew forecasting program has documented based on downy mildew occurrence movement of the pathogen throughout the eastern USA each year via its wind-dispersed asexual spores. The pathogen does not affect fruit directly; however, affected leaves die prematurely which results in fewer fruit and/or fruit of low quality (poor flavor, sunscald, poor storability).

The most important component of an effective management program for downy mildew is an effective, properly-timed fungicide program. And the key to that is applying mobile fungicides targeted to the pathogen starting when there is a risk of the pathogen being present. Mobile (or translaminar) fungicides are needed for control on the underside of leaves. Each year there often are changes to the fungicides recommended as the pathogen develops resistance or new products are registered. Because these fungicides have targeted activity, additional fungicides must be added to the program when there is a need to manage other diseases such as powdery mildew. Most targeted fungicides effective for downy mildew are also effective for Phytophthora blight.
Video: Flea Beetles
Last Modified: June 5, 2017


Flea beetles are a common vegetable pest affecting peppers, cucurbits, sweet potato, potato, peas, beans, beets, tomato, corn, turnip, pumpkin, melon, eggplant, and others. This short video gives you some general information about this pest.
Video: Produce Washing Stations - How to Use a Germicidal Bleach
Last Modified: January 26, 2016

Good Agricultural Practices or GAPs are the steps taken in produce packing areas to reduce microbial contamination. One area where reducing micro contamination is critical is in the washing and cleaning of produce. This video shows you a set of standard operating procedures for using a germicidal bleach in a produce washing station. Learn what supplies are required and how to calculate the amount of germicidal bleach needed to sanitize the water.
Guideline Tools: Weed Management in Cucurbits, 2015
Darcy Telenko, Extension Vegetable Specialist
Cornell Vegetable Program
Last Modified: June 9, 2015


This reference sheet lists the herbicides that are labeled for cucurbits in New York and which species are controlled, as well as other important considerations and photos of weeds. While this is a handy references, it is critical to read the product labels thoroughly.
Video: Farm Food Safety as if Someone's Life Depended On It
Robert Hadad, Extension Vegetable Specialist
Cornell Vegetable Program
Last Modified: April 3, 2015

This video is an overview of Good Agricultural Practices (GAPs) through on-farm risk assessment. Cornell Cooperative Extension, along with the National GAPs Program and the New York State Department of Agriculture and Markets, has developed and implemented a nationally-recognized training program in GAPs to prepare New York growers for the marketplace's increased vigilance in food safety. You can learn more about that program through this video, as well as updates on the Food Safety Modernization Act (FSMA), and economic information on the implementation of GAPs collected from growers through extensive interviews.
O-zone Injury on Vegetables
Crystal Stewart-Courtens, Extension Vegetable Specialist
Eastern New York Commercial Horticulture
Last Modified: August 22, 2012


Hot, humid weather with stagnant air masses may lead to ozone damage on crops. Ozone warnings were recently issued for much of New York. These warnings are intended for people with respiratory problems and let them know they should limit their outdoor activity and try to stay as much as possible in air-conditioned locations. These warning are also a good indicator that ozone damage may occur in plants.


Upcoming Events
SCRUB Twilight Workshop Series
September 1, 2021 : Bin Blitz
Experienced growers and UVM's Ag Engineering present new strategies and cleaning tools to increase the efficiency and efficacy of bin cleaning, sanitation and management practices. Lead growers show and tell their bin systems, with lessons learned. Participants leave with a plan to improve/implement new practices.
September 8, 2021 : Low Cost and High Value
Evaluate low-cost (either money or time) improvements that make a big difference. Experience growers show and tell the thrifty improvements they made and summarize lessons learned, including trade-offs of spending money (or not) to lower risks and increase efficiency.
September 15, 2021 : Wash/Pack Floors
Learn to improve or repair a concrete floor so that it is smooth and easy to clean. This workshop highlights concrete repair, cleaning and sanitation techniques, water management, products and resources, as well as show and tell from experienced growers, and Chris Callahan from UVM's Extension Ag Engineering.
September 22, 2021 : Wash Water Management
Experienced growers and facilitators dig into the fundamentals of managing produce wash water, including show and tell with lessons learned about wash water management, use and monitoring of sanitizers. All participants leave with a plan to improve/implement new practices.
September 29, 2021 : Tools for Employee Management and Empowerment
Develop management strategies/systems to retain and empower high-value workers, while improving crew morale and culture. Learn from experienced managers of loyal and reliable crews, the pros and cons of their current management systems, and how they came to be. Participants leave with resources and a plan to improve/implement one or more new practices or strategies.
October 6, 2021 : Bubblers/Aerators for Greens Washing
For growers wanting to install or improve a greens bubbler/aerator. Get feedback from growers who built/improved their own systems. Examine designs and DYI resources, as well as perceived quality and efficiency gains from bubblers as compared to other washing methods. This workshop features a panel of New York growers!
Announcements