Sweet Potatoes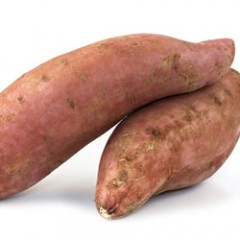 Although sweet potatoes have been grown in New York, they have received much more attention in the last couple of years due to the value of the health benefits it offers. Even though acreage is not normally recorded, we estimate that there are over 200 acres of sweet potatoes being grown throughout NYS. However, due to the long growing season that is required (100 days plus), they are generally produced on raised beds mulched with black plastic. Orange skinned, orange fleshed types are the dominant types grown here, but there are also white skinned, white fleshed and orange skinned, white fleshed varieties grown in the state. Sweet potatoes have also gained popularity with organic producers to replace winter squash production due to the fact that they have almost no disease or insect problems when grown here and can be stored longer then winter squash in many cases. The increase in winter farmer's markets or winter CSA shares has also increased sweet potato production in NY. However, deer and mice can be major vertebrate pests of sweet potatoes. Variety trials, plant density research and the use of floating rowcovers for increased production are being evaluated in the Capital District region of NY.
Video: New York State Produce Auctions
Last Modified: March 8, 2018

Currently, there are 8 produce auctions in New York State. These auctions are aggregation points that allow local farmers to sell their produce in wholesale lots to buyers from across the region. To document the economic impact of produce auctions on agriculture, local businesses, family farms, and produce buyers, the Cornell Vegetable Program worked with Harvest New York to survey top sellers and buyers.

A new Cornell Vegetable Program video shares general information about produce auctions, how buyers and sellers use the auctions to expand their businesses, and how local communities benefit from them.
Video: Flea Beetles
Last Modified: June 5, 2017


Flea beetles are a common vegetable pest affecting peppers, cucurbits, sweet potato, potato, peas, beans, beets, tomato, corn, turnip, pumpkin, melon, eggplant, and others. This short video gives you some general information about this pest.
Responding to Hailstorms
Crystal Stewart-Courtens, Extension Vegetable Specialist
Eastern New York Commercial Horticulture
Last Modified: June 26, 2013


While no one wants to think about the possibility of hail hitting their beautiful crops just as they start to respond to the heat and take off, the likelihood that we will see more hail seems pretty high. So let's talk about it.
Improving the Quality and Yield of Sweet Potatoes in New York: 2010 Results
Chuck Bornt, Team Leader, Extension Vegetable Specialist
Eastern New York Commercial Horticulture
Last Modified: April 2, 2012


The Capital District Vegetable and Small Fruit Program is actively researching how to improve the yield and quality of sweet potatoes grown in NY. In 2010, 6 different varieties, IRT vs. black plastic and different spacing configurations were evaluated. See the full pdf file for the full report.

Improving the Quality and Yield of Sweet Potatoes in New York: 2011 Results
Chuck Bornt, Team Leader, Extension Vegetable Specialist
Eastern New York Commercial Horticulture
Last Modified: April 2, 2012