Brussels Sprouts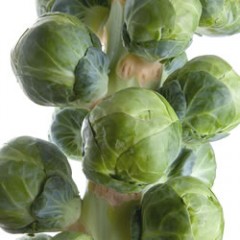 Brussels sprouts are grown on roughly 88 farms in New York, with 58 acres harvested for fresh production and 2 acres for processing (2007 Ag Census). They are members of the Brassicaceae family which includes cabbage, cauliflower and broccoli. Being cool season crops, they are well suited to the New York climate. Most cruciferous crops have similar cultural requirements and are susceptible to a common set of insects and diseases.
Seeds of Brussels sprouts are typically sown in a greenhouse or seed bed about 5-6 weeks prior to transplanting into the field beginning around mid-June. Fields are ready for harvest between 90 to 180 days after planting, depending on the variety and weather conditions. In New York, harvest occurs from September through November.
Buds or sprouts grow along the sides of long, thick stalks and mature from the base of the plant upwards. They are harvested when they are 1 to 2 inches in diameter. Individual buds may be hand harvested into baskets, with several harvests per season. Alternatively, entire stalks can be harvested and sold for processing or at the retail market.
Relevant Event
2017 WNY Winter Fresh Market Vegetable Meeting (Eastern region)

March 7, 2017
8:30 AM - 3:30 PM
Newark, NY
Most Recent Brussels Sprouts Content
Cold Storage Chart and Reference Guide to Commercial Vegetable Storage
Robert Hadad, Extension Vegetable Specialist
Cornell Vegetable Program
Last Modified: December 13, 2016


Commercial vegetable growers will find a Cold Storage Chart by crop type with temperature and relative humidity recommendations. The maximum number of weeks that the crop can be held under ideal conditions is provided as well.

Adapted from the USDA Bulletin #66, The Commercial Storage of Fruits, Vegetables, and Florist and Nursery Stock, growers will find information on quality, grading, sizes, and packaging, chilling and storage, and post-harvest pathology of vegetables.
Crop Cooling and Storage
Robert Hadad, Extension Vegetable Specialist
Cornell Vegetable Program
Last Modified: September 29, 2016


On-Farm Cold Storage of Fall-Harvested Fruit and Vegetable Crops is an in-depth look at the planning and designing cooling for late season and winter storage but it also is useful for general cooling as well. This was written by Scott Sanford, Distinguished Outreach Specialist, UW-Extension, and John Hendrickson, Outreach Program Manager, Center for Integrated Agricultural Systems, University of Wisconsin-Madison.
Organic Production Guides
Robert Hadad, Extension Vegetable Specialist
Cornell Vegetable Program
Last Modified: May 23, 2016


Organic Production Guides for fruits, vegetables and dairy are available through the NYS Integrated Pest Management (IPM) program. They outline general practices for growing vegetable and fruit crops using organic integrated pest management techniques.
More Brussels Sprouts Content


Upcoming Events
Veggie Farming Webinar Series, Part 2: From Season-Long Care to Harvest
March 1 - March 29, 2017
7:00 PM - 8:30 PM Wednesday evenings
This five-week course online (BF121) on Wednesday evenings in March covers vegetable production from transplanting to harvest, including information on in-season fertility, integrated pest management, weed control options, harvesting strategies, and tips for marketing your products. Designed for aspiring farmers and those with at least one growing season of vegetable farming experience. You should already have basic understanding of how to select crops, manage bed prep, seeding, and transplanting.
2017 NYS Dry Bean Meeting

March 6, 2017
9:30 AM - 2:30 PM
Batavia, NY
Join us for research and production updates on dry bean varieties and bean breeding, weed management, Western bean cutworm, and white mold disease. There will also be an update on food safety practices and documentation required by buyers. We will also review research priorities and gather suggestions for future educational programs.
2017 WNY Winter Fresh Market Vegetable Meeting (Eastern region)

March 7, 2017
8:30 AM - 3:30 PM
Newark, NY
Regional Fresh Market Winter Vegetable Meetings will be hosted by the Cornell Vegetable Program to discuss results from 2016 research trials and present information on pest management. Program topics will include an update on wildlife management, high tunnel nutrient management update, vegetable disease update including the new iPiPE Program in vegetables, new Climate Smart Farming Tools, cover crops and soil health, an update on Food Safety and Modernization Act and what you need to do for your farm, and other regional research and program updates.
Announcements
Student Research Internships Working with the CVP
The Cornell Vegetable Program is looking to hire two student research interns this summer to assist in scouting fresh market vegetables in western New York. This internship will start in May, working alongside Darcy Telenko, as part of the iPiPE CAP (Integrated Pest Information Platform for Extension and Education, Cooperative Agricultural Project) internship program. iPiPE is committed to investing in the coaching and development of future agricultural scientists/extension educators through a limited term internship experience in an applied environment. The purpose of the program is to learn how to scout for pests in the field and contribute observations to the iPiPE platform.
These positions are 5-month appointments (39 hours/week) and will be located in the CCE Erie County Office (East Aurora, New York).
Applicants must apply online.
View the full job description, qualifications, and application instructions.
Empire State Producers EXPO Proceedings Available
Proceedings from the Empire State Producers EXPO
conference from 2011-2017 are available online.
2017 Cornell Vegetable Guidelines Available
The 2017 edition of the

Cornell Integrated Crop and Pest Management Guidelines for Commercial Vegetable Production is now available. This annual publication provides up-to-date vegetable crop production information for New York State. It is designed as a practical guide for vegetable crop producers, crop consultants, ag chemical dealers, and others who advise vegetable crop producers.

In addition to the annually revised pesticide and crop production information, highlighted changes in this edition of the
Vegetable Guidelines
include:
Addition of Dickeya blackleg on potato as a disease of concern.
Updated regulatory considerations for organic vegetable production.
Revised European corn borer management strategies for beans and potatoes.
The Cornell Guidelines are available as a print copy ($41 plus shipping), online-only access ($41), or a package that combines print and online access ($57.50 plus shipping). Cornell Guidelines can be purchased through your local Cornell Cooperative Extension office or from the Cornell Store at Cornell University. To order from the Cornell Store, call (844) 688-7620 or
order online
.
NEW! Pesticide Product Search Online
The NYS Department of Environmental Conservation (NYSDEC) Bureau of Pest Management has released a new
pesticide product registration database
. When visiting the webpage, please select the Products icon on the right side of the page to perform product searches.
This pesticide search database is replacing the Product, Ingredient, and Manufacturer System (PIMS) product database that has been hosted by Cornell University since its inception.
The new search database includes many added features, including site and pest searches. Additionally, updates to the product data and labeling will be reflected instantaneously.
Cornell Vegetable Program - Cornell Cooperative Extension
Your Trusted Source for Research-Based Knowledge