Brussels Sprouts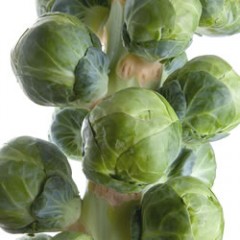 Brussels sprouts are grown on roughly 88 farms in New York, with 58 acres harvested for fresh production and 2 acres for processing (2007 Ag Census). They are members of the Brassicaceae family which includes cabbage, cauliflower and broccoli. Being cool season crops, they are well suited to the New York climate. Most cruciferous crops have similar cultural requirements and are susceptible to a common set of insects and diseases.
Seeds of Brussels sprouts are typically sown in a greenhouse or seed bed about 5-6 weeks prior to transplanting into the field beginning around mid-June. Fields are ready for harvest between 90 to 180 days after planting, depending on the variety and weather conditions. In New York, harvest occurs from September through November.
Buds or sprouts grow along the sides of long, thick stalks and mature from the base of the plant upwards. They are harvested when they are 1 to 2 inches in diameter. Individual buds may be hand harvested into baskets, with several harvests per season. Alternatively, entire stalks can be harvested and sold for processing or at the retail market.
New Crop Rotation Recommendations for Swede Midge
Christy Hoepting, Extension Vegetable Specialist
Cornell Vegetable Program
Last Modified: January 4, 2021

New Cornell research has demonstrated that brassica crop rotations of 500 ft (down from 3000 ft) and 3 months (down from 3 years) could effectively "crash" a swede midge population when fields are secluded from each other, making crop rotation a much more feasible strategy for small farms. A new fact sheet details the new crop rotation recommendations and provides information on the pest's life cycle, biology, and crop preferences in addition to real-world examples of crop rotation. The crop rotation strategies were developed to serve the needs of small organic farmers, but have utility for conventional farmers as well.
Growing for Wholesale: Grading and Packing Guidelines by Crop
Last Modified: August 29, 2019

Grading and packing guidelines are now available for 18 commonly grown specialty crops in NYS: romaine lettuce, acorn squash, broccoli crowns, Brussels sprouts, sweet corn, green peppers, cucumbers, green cabbage, red cabbage, savoy cabbage, cauliflower, eggplant, green beans, jalapenos, poblanos, Hungarian hot peppers, summer squash, and zucchini.
Growing for Wholesale: Vegetable Grading/Sizing Templates
Robert Hadad, Extension Vegetable Specialist
Cornell Vegetable Program
Last Modified: February 21, 2018

To further assist farmers looking to sell into the wholesale markets, the Cornell Vegetable Program has put together some helpful tools. The tools provided here consist of a color photo guide highlighting the grades of some of the most common vegetables grown for wholesale market in WNY. To aid in the visualization of the grading sizes, the templates are available here for you to print off. These are scaled to size and can be used to create sizing templates to be used by workers on the wash and pack lines.
Organic Production Guides
Robert Hadad, Extension Vegetable Specialist
Cornell Vegetable Program
Last Modified: July 17, 2017


Organic Production Guides for fruits, vegetables and dairy are available through the NYS Integrated Pest Management (IPM) program. They outline general practices for growing vegetable and fruit crops using organic integrated pest management techniques.
Video: Swede Midge
Last Modified: June 12, 2017


Swede midge is an invasive insect pest that is threatening the viability of broccoli, cauliflower, cabbage, Brussels sprouts, kale, kohlrabi and turnip production within the Cornell Vegetable Program region and throughout the Northeastern US. This short video will provide you with some general information about this pest and how to scout for it in your Brassicas.
Cold Storage Chart and Reference Guide to Commercial Vegetable Storage
Robert Hadad, Extension Vegetable Specialist
Cornell Vegetable Program
Last Modified: December 13, 2016

Commercial vegetable growers will find a Cold Storage Chart by crop type with temperature and relative humidity recommendations. The maximum number of weeks that the crop can be held under ideal conditions is provided as well.

Adapted from the USDA Bulletin #66, The Commercial Storage of Fruits, Vegetables, and Florist and Nursery Stock, growers will find information on quality, grading, sizes, and packaging, chilling and storage, and post-harvest pathology of vegetables.
Crop Cooling and Storage
Robert Hadad, Extension Vegetable Specialist
Cornell Vegetable Program
Last Modified: September 29, 2016

On-Farm Cold Storage of Fall-Harvested Fruit and Vegetable Crops is an in-depth look at the planning and designing cooling for late season and winter storage but it also is useful for general cooling as well. This was written by Scott Sanford, Distinguished Outreach Specialist, UW-Extension, and John Hendrickson, Outreach Program Manager, Center for Integrated Agricultural Systems, University of Wisconsin-Madison.
Video: Produce Washing Stations - How to Use a Germicidal Bleach
Last Modified: January 26, 2016

Good Agricultural Practices or GAPs are the steps taken in produce packing areas to reduce microbial contamination. One area where reducing micro contamination is critical is in the washing and cleaning of produce. This video shows you a set of standard operating procedures for using a germicidal bleach in a produce washing station. Learn what supplies are required and how to calculate the amount of germicidal bleach needed to sanitize the water.
Extending the Harvest Season with Fall Production
Robert Hadad, Extension Vegetable Specialist
Cornell Vegetable Program
Last Modified: July 11, 2013


Late season production starts in mid spring. For a successful crop, start with a detailed plan. Designate an area specific for late season production so that management can take place in one spot rather than all over the farm. This will make cultivation, pest management, using row cover, and harvesting more efficient to manage.


Swede Midge Website
Julie Kikkert, Team Leader, Extension Vegetable Specialist
Cornell Vegetable Program
Last Modified: June 29, 2010


As swede midge continues to spread to more farms and gardens across the United States, a comprehensive website is available to aid in the identification and management of this pest of cole crops.


Upcoming Events
SCRUB Twilight Workshop Series
September 1, 2021 : Bin Blitz
Experienced growers and UVM's Ag Engineering present new strategies and cleaning tools to increase the efficiency and efficacy of bin cleaning, sanitation and management practices. Lead growers show and tell their bin systems, with lessons learned. Participants leave with a plan to improve/implement new practices.
September 8, 2021 : Low Cost and High Value
Evaluate low-cost (either money or time) improvements that make a big difference. Experience growers show and tell the thrifty improvements they made and summarize lessons learned, including trade-offs of spending money (or not) to lower risks and increase efficiency.
September 15, 2021 : Wash/Pack Floors
Learn to improve or repair a concrete floor so that it is smooth and easy to clean. This workshop highlights concrete repair, cleaning and sanitation techniques, water management, products and resources, as well as show and tell from experienced growers, and Chris Callahan from UVM's Extension Ag Engineering.
September 22, 2021 : Wash Water Management
Experienced growers and facilitators dig into the fundamentals of managing produce wash water, including show and tell with lessons learned about wash water management, use and monitoring of sanitizers. All participants leave with a plan to improve/implement new practices.
September 29, 2021 : Tools for Employee Management and Empowerment
Develop management strategies/systems to retain and empower high-value workers, while improving crew morale and culture. Learn from experienced managers of loyal and reliable crews, the pros and cons of their current management systems, and how they came to be. Participants leave with resources and a plan to improve/implement one or more new practices or strategies.
October 6, 2021 : Bubblers/Aerators for Greens Washing
For growers wanting to install or improve a greens bubbler/aerator. Get feedback from growers who built/improved their own systems. Examine designs and DYI resources, as well as perceived quality and efficiency gains from bubblers as compared to other washing methods. This workshop features a panel of New York growers!
Announcements