Horseradish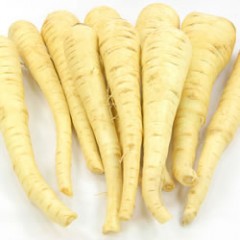 Horseradish is a minor crop in New York, with 5 acres produced on 8 farms (2007 Ag Census). Some of the smaller acreage is probably not reported. It is a member of the Brassicaceae or cabbage family which makes it related to turnips. The greens are edible and may be available at farmers markets in the spring/summer. However, the pungent root is generally what is cultivated and sold. Roots are generally harvested in the fall. They store well and are available throughout the winter.
Most Recent Horseradish Content
Crop Cooling and Storage
Robert Hadad, Extension Vegetable Specialist
Cornell Vegetable Program
Last Modified: September 29, 2016


On-Farm Cold Storage of Fall-Harvested Fruit and Vegetable Crops is an in-depth look at the planning and designing cooling for late season and winter storage but it also is useful for general cooling as well. This was written by Scott Sanford, Distinguished Outreach Specialist, UW-Extension, and John Hendrickson, Outreach Program Manager, Center for Integrated Agricultural Systems, University of Wisconsin-Madison.
Video: New York State Produce Auctions
Last Modified: April 30, 2015


Currently, there are 6 produce auctions in New York State. These auctions are aggregation points that allow local farmers to sell their produce in wholesale lots to buyers from across the region. To document the economic impact of produce auctions on agriculture, local businesses, family farms, and produce buyers, the Cornell Vegetable Program worked with HarvestNY to survey top sellers and buyers.

A new Cornell Vegetable Program video shares general information about produce auctions, how buyers and sellers use the auctions to expand their businesses, and how local communities benefit from them.
More Horseradish Content


Upcoming Events
CANCELLED: Good Agricultural Practices (GAPs) / Harmonized GAPs Farm Food Safety Training
September 26 - September 27, 2017
9:30 AM - 4:00 PM
Salamanca, NY
This event has been cancelled due to low registration numbers.
Farm food safety is common-sense practices organized to assist farmers to improve their skill set to continue to grow safe and healthy food.
Day One of this training will be an educational training on farm food safety principles and practices to provide the background and information for farmers to understand how to minimize the risk of food born disease contamination. Day Two will be for those who want help with writing a farm food safety plan.
Pickle Variety Twilight Meeting
September 26, 2017
5:30 PM - 7:30 PM
Ransomville, NY
Vegetable growers are invited to tour an on-farm plot of early generation Cornell downy mildew resistant pickle breeding lines. Dr. Michael Mazourek, Professor of Plant Breeding, and lab members, will be on site to walk growers through the plot and review plant selections.
All growers that attend will be an integral part of helping make selections for the next generation of pickle varieties released!
Season Extension - Stretching Tomato Season and Winter Greens
October 4, 2017
4:00 PM - 7:00 PM
Allegany, NY
What do you need to do to stretch out your high tunnel tomato season or establish a profitable crop of winter greens? Meeting the full season's nutritional demands of tomatoes under organic management is challenging. Juggling diverse succession crops and keeping the tunnel profitable year round adds an extra level of difficulty.
Announcements
Produce Donations for Hurricane Relief
The ENY Commercial Horticulture Program is leading an effort to collect pallets of produce to send down to TX and FL for hurricane relief. Feeding American is handling the transportation. "Hard" crops accepted:
apples
onions
cabbage
potatoes
winter squash
any other crop that withstand no refrigeration for a week
Farms donating product will receive a record of donation. Dates and locations of drop off locations in our region and across the state are provided.
You must be prepared to contact them in advance with details on what crop you are donating, how many pallets, which location you will be dropping your donation off at, and when they can anticipate your products. For more information on this effort and updates on locations, visit the
ENY Commercial Horticulture's event details
.
Empire State Producers EXPO Proceedings Available
Proceedings from the Empire State Producers EXPO
conference from 2011-2017 are available online.
Cornell Vegetable Program - Cornell Cooperative Extension
Your Trusted Source for Research-Based Knowledge