Horseradish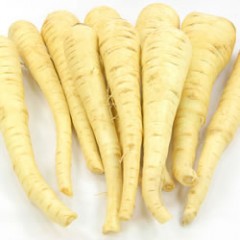 Horseradish is a minor crop in New York, with 5 acres produced on 8 farms (2007 Ag Census). Some of the smaller acreage is probably not reported. It is a member of the Brassicaceae or cabbage family which makes it related to turnips. The greens are edible and may be available at farmers markets in the spring/summer. However, the pungent root is generally what is cultivated and sold. Roots are generally harvested in the fall. They store well and are available throughout the winter.
Relevant Events
Assess and Prevent Food Safety Risks in Leafy Greens Production
March 18, 2021
2021 NYS Dry Bean Meeting

March 19, 2021
Video: New York State Produce Auctions
Last Modified: March 8, 2018

Currently, there are 8 produce auctions in New York State. These auctions are aggregation points that allow local farmers to sell their produce in wholesale lots to buyers from across the region. To document the economic impact of produce auctions on agriculture, local businesses, family farms, and produce buyers, the Cornell Vegetable Program worked with Harvest New York to survey top sellers and buyers.

A new Cornell Vegetable Program video shares general information about produce auctions, how buyers and sellers use the auctions to expand their businesses, and how local communities benefit from them.
Crop Cooling and Storage
Robert Hadad, Extension Vegetable Specialist
Cornell Vegetable Program
Last Modified: September 29, 2016

On-Farm Cold Storage of Fall-Harvested Fruit and Vegetable Crops is an in-depth look at the planning and designing cooling for late season and winter storage but it also is useful for general cooling as well. This was written by Scott Sanford, Distinguished Outreach Specialist, UW-Extension, and John Hendrickson, Outreach Program Manager, Center for Integrated Agricultural Systems, University of Wisconsin-Madison.


Upcoming Events
Managing Soil Nitrogen in Winter High Tunnels
March 5, 2021
To meet the year-round demand for locally produced food, vegetable farmers have embraced protected agriculture to extend their growing season, improve yields, and enhance crop quality. However, a statewide survey found that after several growing seasons, farmers struggle to maintain productivity due to challenges in long term soil health and fertility management. Cornell Cooperative Extension is exploring practices that high tunnel growers can adopt to better manage soil fertility and improve soil health.

Grab your lunch and join us for a virtual conversation on Friday, March 5, 2021 from 12:00pm - 1:30pm to hear our project updates and research results.
Assess and Prevent Food Safety Risks in Leafy Greens Production
March 18, 2021
This training will provide an overview of possible sources of contamination related to soil amendments, wildlife, water, post-harvest handling, transportation and more. This training will emphasize specific risks that leafy greens growers may experience, identify tangible corrective actions that can be taken, and provide participants the opportunity to work through example scenarios as a group.

2021 NYS Dry Bean Meeting

March 19, 2021
Join the us for the annual Dry Bean Meeting! There will be presentations covering the latest research in NY dry beans. Topic areas include market updates, white mold management, Western bean cutworm and soybean cyst nematode management, herbicide resistance management, dry bean variety testing, and incorporating NY dry beans into schools. This meeting is sponsored by Genesee Valley Bean Company, and Bayer CropScience.
Announcements