Horseradish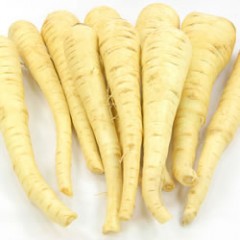 Horseradish is a minor crop in New York, with 5 acres produced on 8 farms (2007 Ag Census). Some of the smaller acreage is probably not reported. It is a member of the Brassicaceae or cabbage family which makes it related to turnips. The greens are edible and may be available at farmers markets in the spring/summer. However, the pungent root is generally what is cultivated and sold. Roots are generally harvested in the fall. They store well and are available throughout the winter.
Lorsban is Banned: How to Control Cabbage Maggot in Brassicas Now?
Christy Hoepting, Extension Vegetable Specialist
Cornell Vegetable Program
Last Modified: May 3, 2023

Cabbage maggot (CM) feeds on brassica seedlings by tunneling into the stem of the plant just below the soil line. Their feeding can result in unsightly and unmarketable produce in the case of root brassicas like turnips, and in stunting, reduced stand, and reduced yield in head and stem brassicas like cabbage and broccoli. Lorsban and other formulations containing the active ingredient chlorpyrifos were the first line of defense for control of cabbage maggot in several brassica crops, because 1) at ~$10 per acre, it was affordable, and 2) it was easy to apply and avoided worker exposure as a directed spray at the base of the plant.

Unfortunately, Lorsban and all of its generic products for food and feed uses were banned in New York as of July 31, 2021, and in the United States as of February 28, 2022. In the absence of Lorsban and other chlorpyrifos-containing insecticides, NY brassica growers have 6 products belonging to 4 chemical classes available to manage cabbage maggot. This article provides our "2022 Top Picks" to use instead of Lorsban plus results of Cornell research trial results related to application method, rate, and cabbage maggot control.

NEW: Control Options for Cabbage Maggot in Brassicas in New York for 2023!

Video: New York State Produce Auctions
Last Modified: March 8, 2018

Currently, there are 8 produce auctions in New York State. These auctions are aggregation points that allow local farmers to sell their produce in wholesale lots to buyers from across the region. To document the economic impact of produce auctions on agriculture, local businesses, family farms, and produce buyers, the Cornell Vegetable Program worked with Harvest New York to survey top sellers and buyers.

A new Cornell Vegetable Program video shares general information about produce auctions, how buyers and sellers use the auctions to expand their businesses, and how local communities benefit from them.
Crop Cooling and Storage
Robert Hadad, Extension Vegetable Specialist
Cornell Vegetable Program
Last Modified: September 29, 2016

On-Farm Cold Storage of Fall-Harvested Fruit and Vegetable Crops is an in-depth look at the planning and designing cooling for late season and winter storage but it also is useful for general cooling as well. This was written by Scott Sanford, Distinguished Outreach Specialist, UW-Extension, and John Hendrickson, Outreach Program Manager, Center for Integrated Agricultural Systems, University of Wisconsin-Madison.


Upcoming Events
No upcoming events at this time.
Announcements