Enrollment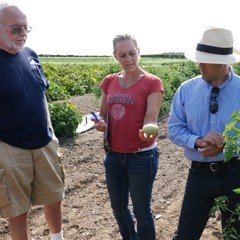 You must be enrolled in the Cornell Vegetable Program to benefit from the expertise of our Vegetable Specialists. Enrollment includes an electronic subscription to VegEdge newsletter, telephone/email consultations, direct mailings of special event notices and important crop information, reduced registration fees for our educational meetings, and on-farm educational opportunities.
In 2023, our program will be supported, in part, by 14 Cornell Cooperative Extension associations: Allegany, Cattaraugus, Chautauqua, Erie, Genesee, Monroe, Niagara, Ontario, Orleans, Oswego, Seneca, Steuben, Wayne, and Yates Counties. Enrollment discounts are given to those that live, farm, or conduct agricultural services in those counties (In-Region Enrollment). However, we still welcome those that do not live, farm or conduct ag services in those counties to enroll in our program (Satellite Enrollment). See the Enrollment Information PDF for a list of enrollment benefits covered under each type of enrollment.

You may enroll in our program online (form below) or by printing and mailing the Enrollment Form PDF below.
CVP Enrollment Info (PDF; 219KB)
CVP Enrollment Form (PDF; 273KB)


Upcoming Events
No upcoming events at this time.
Announcements