Kohlrabi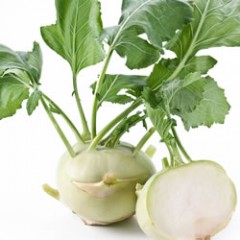 Kohlrabi is a minor crop in New York, but is popular at farmers markets and other retail stands. Its mild flavor makes it favorable to eating fresh and even young children like it when cut up and served like carrot or celery sticks. Both green and purple varieties are available. It is best grown in cooler temperatures and is typically available in June and July and then again in September and October. Kohlrabi is a member of the Brassicaceae or cabbage family which also includes broccoli, cauliflower and turnips. It can be susceptible to many of the same diseases and insects as other members of this family.
Most Recent Kohlrabi Content
Video: New York State Produce Auctions
Last Modified: March 8, 2018


Currently, there are 8 produce auctions in New York State. These auctions are aggregation points that allow local farmers to sell their produce in wholesale lots to buyers from across the region. To document the economic impact of produce auctions on agriculture, local businesses, family farms, and produce buyers, the Cornell Vegetable Program worked with Harvest New York to survey top sellers and buyers.

A new Cornell Vegetable Program video shares general information about produce auctions, how buyers and sellers use the auctions to expand their businesses, and how local communities benefit from them.
Video: Swede Midge
Last Modified: June 12, 2017


Swede midge is an invasive insect pest that is threatening the viability of broccoli, cauliflower, cabbage, Brussels sprouts, kale, kohlrabi and turnip production within the Cornell Vegetable Program region and throughout the Northeastern US. This short video will provide you with some general information about this pest and how to scout for it in your Brassicas.
Extending the Harvest Season with Fall Production
Robert Hadad, Extension Vegetable Specialist
Cornell Vegetable Program
Last Modified: July 11, 2013


Late season production starts in mid spring. For a successful crop, start with a detailed plan. Designate an area specific for late season production so that management can take place in one spot rather than all over the farm. This will make cultivation, pest management, using row cover, and harvesting more efficient to manage.


More Kohlrabi Content


Upcoming Events
Finger Lakes Produce Auction Educational Meeting

January 3, 2019
8:30 AM - 3:00 PM
Penn Yan, NY
This meeting is our annual winter educational event for Finger Lakes Produce Auction growers. This year we focus on disease management in cole crops, strawberries, food safety and greenhouse flowers. 2.0 recertification credits in private vegetable category.
Ontario Produce Auction Winter Growers Meeting

January 9, 2019
9:30 AM - 2:30 PM
Stanley, NY
This meeting is our annual winter educational event for Ontario Produce Auction growers. This year we focus on disease management in high tunnel tomatoes, vine crops and greenhouse flowers. Grower and buyer panels will be presented as well irrigation and plastic mulch. DEC pesticide applicator recertification credits have been requested.
2019 Empire State Producers EXPO

January 15 - January 17, 2019
1.25 hr sessions throughout each day
Syracuse, NY
The 2019 Empire State Producers Expo combines the major fruit, flower and vegetable associations of New York State in order to provide a comprehensive trade show and educational conference for New York producers, as well as the surrounding states and Eastern Canada.
Announcements
Checklist for Cleaning a Root Barrel Washer
Don't miss those hard-to-reach places in your root barrel washer! Here is a
checklist
of areas to remember to clean to obtain an acceptable level of cleanliness completed in a reasonable about of time. Critical cleaning points are identified.
Cornell Vegetable Program - Cornell Cooperative Extension
Your Trusted Source for Research-Based Knowledge