Kohlrabi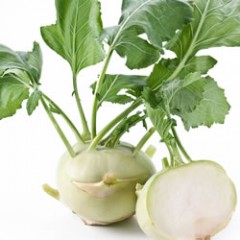 Kohlrabi is a minor crop in New York, but is popular at farmers markets and other retail stands. Its mild flavor makes it favorable to eating fresh and even young children like it when cut up and served like carrot or celery sticks. Both green and purple varieties are available. It is best grown in cooler temperatures and is typically available in June and July and then again in September and October. Kohlrabi is a member of the Brassicaceae or cabbage family which also includes broccoli, cauliflower and turnips. It can be susceptible to many of the same diseases and insects as other members of this family.
Lorsban is Banned: How to Control Cabbage Maggot in Brassicas Now?
Christy Hoepting, Extension Vegetable Specialist
Cornell Vegetable Program
Last Modified: April 6, 2022

Cabbage maggot (CM) feeds on brassica seedlings by tunneling into the stem of the plant just below the soil line. Their feeding can result in unsightly and unmarketable produce in the case of root brassicas like turnips, and in stunting, reduced stand, and reduced yield in head and stem brassicas like cabbage and broccoli. Lorsban and other formulations containing the active ingredient chlorpyrifos were the first line of defense for control of cabbage maggot in several brassica crops, because 1) at ~$10 per acre, it was affordable, and 2) it was easy to apply and avoided worker exposure as a directed spray at the base of the plant.

Unfortunately, Lorsban and all of its generic products for food and feed uses were banned in New York as of July 31, 2021, and in the United States as of February 28, 2022. In the absence of Lorsban and other chlorpyrifos-containing insecticides, NY brassica growers have 6 products belonging to 4 chemical classes available to manage cabbage maggot. This article provides our "2022 Top Picks" to use instead of Lorsban plus results of Cornell research trial results related to application method, rate, and cabbage maggot control.
New Crop Rotation Recommendations for Swede Midge
Christy Hoepting, Extension Vegetable Specialist
Cornell Vegetable Program
Last Modified: January 4, 2021

New Cornell research has demonstrated that brassica crop rotations of 500 ft (down from 3000 ft) and 3 months (down from 3 years) could effectively "crash" a swede midge population when fields are secluded from each other, making crop rotation a much more feasible strategy for small farms. A new fact sheet details the new crop rotation recommendations and provides information on the pest's life cycle, biology, and crop preferences in addition to real-world examples of crop rotation. The crop rotation strategies were developed to serve the needs of small organic farmers, but have utility for conventional farmers as well.
Video: New York State Produce Auctions
Last Modified: March 8, 2018

Currently, there are 8 produce auctions in New York State. These auctions are aggregation points that allow local farmers to sell their produce in wholesale lots to buyers from across the region. To document the economic impact of produce auctions on agriculture, local businesses, family farms, and produce buyers, the Cornell Vegetable Program worked with Harvest New York to survey top sellers and buyers.

A new Cornell Vegetable Program video shares general information about produce auctions, how buyers and sellers use the auctions to expand their businesses, and how local communities benefit from them.
Video: Swede Midge
Last Modified: June 12, 2017


Swede midge is an invasive insect pest that is threatening the viability of broccoli, cauliflower, cabbage, Brussels sprouts, kale, kohlrabi and turnip production within the Cornell Vegetable Program region and throughout the Northeastern US. This short video will provide you with some general information about this pest and how to scout for it in your Brassicas.
Extending the Harvest Season with Fall Production
Robert Hadad, Extension Vegetable Specialist
Cornell Vegetable Program
Last Modified: July 11, 2013


Late season production starts in mid spring. For a successful crop, start with a detailed plan. Designate an area specific for late season production so that management can take place in one spot rather than all over the farm. This will make cultivation, pest management, using row cover, and harvesting more efficient to manage.




Upcoming Events
No upcoming events at this time.
Announcements