Parsnips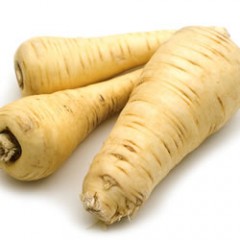 Parsnips are a minor crop in New York, but can be found at farmer's markets and retail stands. They are harvested in April and May or from October through December. Parsnips can be stored over the winter and are a good crop for winter farmers markets. Parsnips are a member of the Apiaceae or carrot family. They are grown much the same way as are carrots and are susceptible to many of the same diseases and insects. Like carrots they require a deep, well-drained soil. They can be grown on either mineral or muck soils.
A good summary of parsnip production can be found at the
Ontario Ministry of Agriculture, Food and Rural Affairs website
.
Most Recent Parsnips Content
Video: New York State Produce Auctions
Last Modified: March 8, 2018


Currently, there are 8 produce auctions in New York State. These auctions are aggregation points that allow local farmers to sell their produce in wholesale lots to buyers from across the region. To document the economic impact of produce auctions on agriculture, local businesses, family farms, and produce buyers, the Cornell Vegetable Program worked with Harvest New York to survey top sellers and buyers.

A new Cornell Vegetable Program video shares general information about produce auctions, how buyers and sellers use the auctions to expand their businesses, and how local communities benefit from them.
Crop Cooling and Storage
Robert Hadad, Extension Vegetable Specialist
Cornell Vegetable Program
Last Modified: September 29, 2016


On-Farm Cold Storage of Fall-Harvested Fruit and Vegetable Crops is an in-depth look at the planning and designing cooling for late season and winter storage but it also is useful for general cooling as well. This was written by Scott Sanford, Distinguished Outreach Specialist, UW-Extension, and John Hendrickson, Outreach Program Manager, Center for Integrated Agricultural Systems, University of Wisconsin-Madison.
O-zone Injury on Vegetables
Crystal Stewart, Extension Vegetable Specialist
Eastern New York Commercial Horticulture
Last Modified: August 22, 2012


Hot, humid weather with stagnant air masses may lead to ozone damage on crops. Ozone warnings were recently issued for much of New York. These warnings are intended for people with respiratory problems and let them know they should limit their outdoor activity and try to stay as much as possible in air-conditioned locations. These warning are also a good indicator that ozone damage may occur in plants.
More Parsnips Content


Upcoming Events
Finger Lakes Produce Auction Educational Meeting

January 3, 2019
8:30 AM - 3:00 PM
Penn Yan, NY
This meeting is our annual winter educational event for Finger Lakes Produce Auction growers. This year we focus on disease management in cole crops, strawberries, food safety and greenhouse flowers. 2.0 recertification credits in private vegetable category.
Ontario Produce Auction Winter Growers Meeting

January 9, 2019
9:30 AM - 2:30 PM
Stanley, NY
This meeting is our annual winter educational event for Ontario Produce Auction growers. This year we focus on disease management in high tunnel tomatoes, vine crops and greenhouse flowers. Grower and buyer panels will be presented as well irrigation and plastic mulch. DEC pesticide applicator recertification credits have been requested.
2019 Empire State Producers EXPO

January 15 - January 17, 2019
1.25 hr sessions throughout each day
Syracuse, NY
The 2019 Empire State Producers Expo combines the major fruit, flower and vegetable associations of New York State in order to provide a comprehensive trade show and educational conference for New York producers, as well as the surrounding states and Eastern Canada.
Announcements
Checklist for Cleaning a Root Barrel Washer
Don't miss those hard-to-reach places in your root barrel washer! Here is a
checklist
of areas to remember to clean to obtain an acceptable level of cleanliness completed in a reasonable about of time. Critical cleaning points are identified.
Cornell Vegetable Program - Cornell Cooperative Extension
Your Trusted Source for Research-Based Knowledge