Peas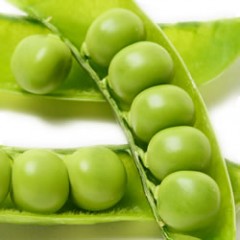 Peas are one of the first crops planted and harvested in New York. Fresh market, edible pod and processing peas are all produced. In fact, the state has a long history of processed pea production with a 10-year average of 17,689 acres grown. Processed peas are grown in fields ranging in size from 20 to 100 acres. Processors select the varieties to ensure consistent supply to the plants. The peas are machine harvested and shelled right in the field and taken to the plant for sorting, cleaning, freezing and packaging.
Fresh edible pod peas or podded peas which are shelled by the consumer are a delight in early season markets. These markets are more concerned with blemishes on the pods.
Peas are very sensitive to excess soil moisture and are susceptible to numerous soil pathogens. Weeds can quickly out-compete peas and are a special problem in late-April and May plantings when temperatures are favorable to annual weed seed germination.
Cornell Cooperative Extension Educators and Cornell faculty work together annually to conduct research on many aspects of pea production in the state. Below you will find educational information and results of our research trials.
Relevant Events
2019 Processing Vegetable Crops Advisory Meeting

December 17, 2019
9:30am - 12:10pm, 1pm - 2pm, and 2pm - 3:30pm
Batavia, NY
2020 Finger Lakes Produce Auction Education Meeting

January 2, 2020
9:00 AM - 2:00 PM
Penn Yan, NY
2020 Ontario Produce Auction Winter Growers Meeting

January 8, 2020
9:00 AM - 2:30 PM
Stanley, NY
2020 Empire State Producers EXPO

January 14 - January 16, 2020
1.25 hr sessions throughout each day
Syracuse, NY
Most Recent Peas Content
2019 Pea Herbicide Chart
Julie Kikkert, Team Leader, Extension Vegetable Specialist
Cornell Vegetable Program
Last Modified: May 14, 2019

A chart is presented that lists the herbicides labelled for use on succulent peas in New York for the year 2019. The relative effectiveness of each herbicide on different weed species is highlighted.
Video: New York State Produce Auctions
Last Modified: March 8, 2018


Currently, there are 8 produce auctions in New York State. These auctions are aggregation points that allow local farmers to sell their produce in wholesale lots to buyers from across the region. To document the economic impact of produce auctions on agriculture, local businesses, family farms, and produce buyers, the Cornell Vegetable Program worked with Harvest New York to survey top sellers and buyers.

A new Cornell Vegetable Program video shares general information about produce auctions, how buyers and sellers use the auctions to expand their businesses, and how local communities benefit from them.
Organic Production Guides
Robert Hadad, Extension Vegetable Specialist
Cornell Vegetable Program
Last Modified: July 17, 2017


Organic Production Guides for fruits, vegetables and dairy are available through the NYS Integrated Pest Management (IPM) program. They outline general practices for growing vegetable and fruit crops using organic integrated pest management techniques.
More Peas Content


Upcoming Events
2019 Processing Vegetable Crops Advisory Meeting

December 17, 2019
9:30am - 12:10pm, 1pm - 2pm, and 2pm - 3:30pm
Batavia, NY
2020 Finger Lakes Produce Auction Education Meeting

January 2, 2020
9:00 AM - 2:00 PM
Penn Yan, NY
2020 Ontario Produce Auction Winter Growers Meeting

January 8, 2020
9:00 AM - 2:30 PM
Stanley, NY
Announcements