Potatoes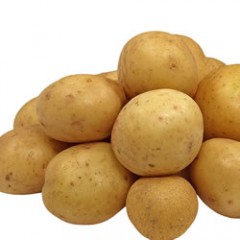 Potatoes are grown all across NYS, though the largest farms tend to be located in Western NY, the Finger Lakes Region and on Long Island, on deep, fertile, light- to medium-textured mineral soils, and on muck (organic) soils. Potatoes are grown on small, medium and large farms, for retail, wholesale (east of the Mississippi) and organic markets, for both fresh market and processing into chips, and for certified seed potatoes. Most growers store some of their crop for winter sales. Varieties include round whites, red-skinned potatoes, yellows, and a smaller acreage of a wide variety of specialty types, such as those with blue or red skin and flesh, fingerlings, etc. Potatoes are one of the highest value vegetables in NY, grown on 16,000 acres, with an average value of about $54.9 million recently (2014 Vegetable Summary).
Potatoes have many serious insect and disease pests. Late blight can be a devastating disease, capable of completely destroying an unprotected crop within 3 weeks in wet weather, and rotting the tubers. Late blight was the major cause of the Irish Potato Famine. It also affects tomatoes. New, more virulent strains of late blight fungus began showing up 20 years ago and the disease has been harder to predict and control ever since. Early blight is a common fungal disease on both potatoes and tomatoes which survives over-winter in the soil. Colorado potato beetles can cause serious defoliation if crops are not rotated up to a quarter mile from where they, tomatoes or eggplant were previously planted. They can rapidly become resistant to commonly used insecticides. Tiny, sucking leafhoppers move up from the south each June on weather systems, and can cause severe leaf burn and yield reduction. Aphids can also be a production problem as well as carrying viral diseases that can affect potatoes grown from saved seed.
Relevant Events
2019 Worker Protection Standard Training & DEC Special Permit Training (Wayne County)
April 9, 2019
8:30 AM - 12:30 PM English Session / 1:00 PM - 5:00 PM Spanish Session
Newark, NY
2019 Worker Protection Standard Training & DEC Special Permit Training (Orleans County)
April 10, 2019
8:00 AM - 12:00 PM English & Spanish sessions
Albion, NY
Most Recent Potatoes Content
Potato Variety Trial, 2017
Last Modified: April 3, 2018


The CCE Eastern NY Commercial Horticulture Program evaluated 21 varieties of potatoes in 2017 in white skin lines, red skin lines, yellow flesh lines, specialty lines, and russets.
Video: New York State Produce Auctions
Last Modified: March 8, 2018


Currently, there are 8 produce auctions in New York State. These auctions are aggregation points that allow local farmers to sell their produce in wholesale lots to buyers from across the region. To document the economic impact of produce auctions on agriculture, local businesses, family farms, and produce buyers, the Cornell Vegetable Program worked with Harvest New York to survey top sellers and buyers.

A new Cornell Vegetable Program video shares general information about produce auctions, how buyers and sellers use the auctions to expand their businesses, and how local communities benefit from them.
Growing for Wholesale: Vegetable Grading/Sizing Templates
Robert Hadad, Extension Vegetable Specialist
Cornell Vegetable Program
Last Modified: February 21, 2018

To further assist farmers looking to sell into the wholesale markets, the Cornell Vegetable Program has put together some helpful tools. The tools provided here consist of a color photo guide highlighting the grades of some of the most common vegetables grown for wholesale market in WNY. To aid in the visualization of the grading sizes, the templates are available here for you to print off. These are scaled to size and can be used to create sizing templates to be used by workers on the wash and pack lines.
More Potatoes Content


Upcoming Events
Erie/Niagara Regional Vegetable Meeting

March 26, 2019
Tues 8:30am - 12:30pm
Eden, NY
Production topics include alternaria control in broccoli, precision irrigation tools, tarping, and weed seed bank management. A special farm-to-school panel will provide grower, distributor, and school buyer insight on how to supply the increasing school demand for local produce. 1.5 DEC credits in categories 1a, 10 and 23 are available
High Tunnel Workshop for Veterans
March 26, 2019
T 10:30 AM - 2:00 PM
Honeoye Falls, NY
This workshop will help veterans interested in growing in high tunnels or greenhouses learn how to select and manage vegetable crops. Topics include varieties, nutrients, pest management and the 'nuts-and-bolts' of a high tunnel including an onsite tour.
Produce Safety School -- Sanitary Design and Practice Considerations for Your Farm
March 27, 2019
W 9:00 AM - 4:30 PM
Geneva, NY
This is a full-day program focusing on putting farm food safety into daily production practices. Participants will learn why and how to clean, sanitize, and dry produce. Hygienic designs and applications will be covered in detail. Speakers include Chris Callahan and Andrew Chamberlin from UVM Extension, Elizabeth Bihn and Elizabeth Demmings from the Produce Safety Alliance, and Robert Hadad from the CCE Cornell Vegetable Program.
Announcements
How to Take a Soil Sample
Soil sampling is an important part of managing your crops, but it's important to do it correctly. In this video created by the Eastern NY Commercial Horticulture Program, Vegetable Specialist Amy Ivy demonstrates
how to take a soil sample
.
For more information or to get soil sampling forms and supplies,
visit Agro-One online
.
Cornell Commercial Vegetable Guidelines Available
The
2019 Cornell Integrated Crop and Pest Management Guidelines for Commercial Vegetable Production are now available!
Written by Cornell University specialists, this publication is designed to offer producers, seed and chemical dealers, and crop consultants practical information on growing and managing vegetable crops in New York State. Topics include general culture, nutrient management, transplant production, postharvest handling, organic production, and managing common vegetable crop pest concerns. A
preview of the Vegetable Guidelines can be seen online
.
Highlighted changes in the 2019 Vegetable Guidelines include:
Updated pesticide options for economically important vegetable crop pests.
New pests: beet armyworm in beets; cabbage looper and tarnished plant bug in lettuce and endive; allium leafminer in onions; and Cladosporium, Cercospora, and Stemphylium leaf spots in spinach.
Cornell Crop and Pest Management Guidelines are available as a print copy ($41), online-only access ($41), or a package combining print and online access ($57.50). Shipping charges will be added to your order. Cornell Guidelines can be obtained through many local Cornell Cooperative Extension offices, or
from The Cornell Store at Cornell University
or call (844) 688-7620.
Empire State Producers EXPO Proceedings
Proceedings from the Empire State Producers EXPO
conference from 2011-2019 are available online.