Potatoes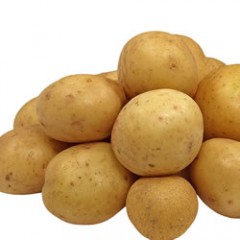 Potatoes are grown all across NYS, though the largest farms tend to be located in Western NY, the Finger Lakes Region and on Long Island, on deep, fertile, light- to medium-textured mineral soils, and on muck (organic) soils. Potatoes are grown on small, medium and large farms, for retail, wholesale (east of the Mississippi) and organic markets, for both fresh market and processing into chips, and for certified seed potatoes. Most growers store some of their crop for winter sales. Varieties include round whites, red-skinned potatoes, yellows, and a smaller acreage of a wide variety of specialty types, such as those with blue or red skin and flesh, fingerlings, etc. Potatoes are one of the highest value vegetables in NY, grown on 16,000 acres, with an average value of about $54.9 million recently (2014 Vegetable Summary).
Potatoes have many serious insect and disease pests. Late blight can be a devastating disease, capable of completely destroying an unprotected crop within 3 weeks in wet weather, and rotting the tubers. Late blight was the major cause of the Irish Potato Famine. It also affects tomatoes. New, more virulent strains of late blight fungus began showing up 20 years ago and the disease has been harder to predict and control ever since. Early blight is a common fungal disease on both potatoes and tomatoes which survives over-winter in the soil. Colorado potato beetles can cause serious defoliation if crops are not rotated up to a quarter mile from where they, tomatoes or eggplant were previously planted. They can rapidly become resistant to commonly used insecticides. Tiny, sucking leafhoppers move up from the south each June on weather systems, and can cause severe leaf burn and yield reduction. Aphids can also be a production problem as well as carrying viral diseases that can affect potatoes grown from saved seed.
Relevant Events
Western S. Tier Produce Meeting

January 28, 2020
Jamestown, NY
2020 Upper Genesee Valley Produce Growers Meeting
February 14, 2020
Freedom, NY
2020 Lake Erie Region Vegetable Meeting

February 20, 2020
North Collins, NY
2020 NYS Dry Bean Meeting

March 10, 2020
Batavia, NY
Most Recent Potatoes Content
Potato Variety Trial, 2017
Last Modified: April 3, 2018


The CCE Eastern NY Commercial Horticulture Program evaluated 21 varieties of potatoes in 2017 in white skin lines, red skin lines, yellow flesh lines, specialty lines, and russets.
Video: New York State Produce Auctions
Last Modified: March 8, 2018


Currently, there are 8 produce auctions in New York State. These auctions are aggregation points that allow local farmers to sell their produce in wholesale lots to buyers from across the region. To document the economic impact of produce auctions on agriculture, local businesses, family farms, and produce buyers, the Cornell Vegetable Program worked with Harvest New York to survey top sellers and buyers.

A new Cornell Vegetable Program video shares general information about produce auctions, how buyers and sellers use the auctions to expand their businesses, and how local communities benefit from them.
Growing for Wholesale: Vegetable Grading/Sizing Templates
Robert Hadad, Extension Vegetable Specialist
Cornell Vegetable Program
Last Modified: February 21, 2018

To further assist farmers looking to sell into the wholesale markets, the Cornell Vegetable Program has put together some helpful tools. The tools provided here consist of a color photo guide highlighting the grades of some of the most common vegetables grown for wholesale market in WNY. To aid in the visualization of the grading sizes, the templates are available here for you to print off. These are scaled to size and can be used to create sizing templates to be used by workers on the wash and pack lines.
More Potatoes Content


Upcoming Events
Western S. Tier Produce Meeting

January 28, 2020
Jamestown, NY
2020 Upper Genesee Valley Produce Growers Meeting
February 14, 2020
Freedom, NY
Precision Agriculture Series - Erie
February 19, 2020
March 4, 2020
March 25, 2020
: Erie County
East Aurora, NY
Announcements