Current Projects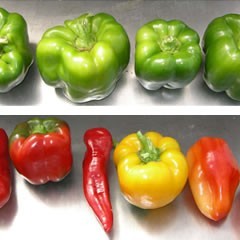 Final reports and results of our research can found throughout this site. But, because some of our work can span several years to gather information, review and summarize our findings, we want to keep you abreast of our current projects. Check back for updates on our progress.
2021 WNY Sweet Corn Pheromone Trap Monitoring
Last Modified: June 1, 2021

Again this year, the Cornell Vegetable Program will be collaborating with the NYS Integrated Pest Management Program to monitor the flights of European corn borer, Corn ear worm, fall armyworm and western bean cutworm. This information is used by NYS IPM to create weekly reports providing scouting and threshold information for fresh market sweet corn and links to resources on the major sweet corn insect and disease pests. Additionally, the information is used by the Cornell Vegetable Program to advise dry bean growers of the threat of western bean cutworm to their crop.
Muck Onion "Research Scouting" Program
Christy Hoepting, Extension Vegetable Specialist
Cornell Vegetable Program
Last Modified: May 15, 2019

To keep our fingers on the pulse of insect and disease pressure in muck onion production in Wayne County, CVP Field Technician John Gibbons scouts a handful of fields weekly counting disease lesions and onion thrips. Scouting reports are sent to grower cooperators complete with Cornell recommendations. This is a way of evaluating effectiveness of pest management programs, as well as a means of helping onion growers to implement onion IPM by spraying for pests only when they need to be.
Best Management Practices for Long-Term High Tunnel Soil Sustainability
Judson Reid, Extension Vegetable Specialist
Cornell Vegetable Program
Last Modified: April 25, 2017


A collaboration between Cornell Vegetable Program, the Cornell Student Organic Farm and NOFA-NY resulted in a $10,000 award from the Cornell Towards Sustainability Foundation. The project team worked closely with 10 high tunnel operators across Central and Western NYS, educated farmers and students, and provided technical assistance in managing soil health in high tunnels for long term productivity.


Upcoming Events
SCRUB Twilight Workshop Series
September 1, 2021 : Bin Blitz
Experienced growers and UVM's Ag Engineering present new strategies and cleaning tools to increase the efficiency and efficacy of bin cleaning, sanitation and management practices. Lead growers show and tell their bin systems, with lessons learned. Participants leave with a plan to improve/implement new practices.
September 8, 2021 : Low Cost and High Value
Evaluate low-cost (either money or time) improvements that make a big difference. Experience growers show and tell the thrifty improvements they made and summarize lessons learned, including trade-offs of spending money (or not) to lower risks and increase efficiency.
September 15, 2021 : Wash/Pack Floors
Learn to improve or repair a concrete floor so that it is smooth and easy to clean. This workshop highlights concrete repair, cleaning and sanitation techniques, water management, products and resources, as well as show and tell from experienced growers, and Chris Callahan from UVM's Extension Ag Engineering.
September 22, 2021 : Wash Water Management
Experienced growers and facilitators dig into the fundamentals of managing produce wash water, including show and tell with lessons learned about wash water management, use and monitoring of sanitizers. All participants leave with a plan to improve/implement new practices.
September 29, 2021 : Tools for Employee Management and Empowerment
Develop management strategies/systems to retain and empower high-value workers, while improving crew morale and culture. Learn from experienced managers of loyal and reliable crews, the pros and cons of their current management systems, and how they came to be. Participants leave with resources and a plan to improve/implement one or more new practices or strategies.
October 6, 2021 : Bubblers/Aerators for Greens Washing
For growers wanting to install or improve a greens bubbler/aerator. Get feedback from growers who built/improved their own systems. Examine designs and DYI resources, as well as perceived quality and efficiency gains from bubblers as compared to other washing methods. This workshop features a panel of New York growers!
Announcements