Current Projects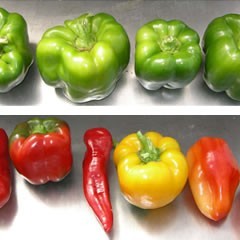 Final reports and results of our research can found throughout this site. But, because some of our work can span several years to gather information, review and summarize our findings, we want to keep you abreast of our current projects. Check back for updates on our progress.
Muck Onion "Research Scouting" Program
Christy Hoepting, Extension Vegetable Specialist
Cornell Vegetable Program
Last Modified: May 15, 2019

To keep our fingers on the pulse of insect and disease pressure in muck onion production in Wayne County, CVP Field Technician John Gibbons scouts a handful of fields weekly counting disease lesions and onion thrips. Scouting reports are sent to grower cooperators complete with Cornell recommendations. This is a way of evaluating effectiveness of pest management programs, as well as a means of helping onion growers to implement onion IPM by spraying for pests only when they need to be.
2019 WNY Sweet Corn Pheromone Trap Monitoring
Last Modified: May 1, 2019

Again this year, the Cornell Vegetable Program will be collaborating with the NYS Integrated Pest Management Program to monitor the flights of European corn borer, Corn ear worm, fall armyworm and western bean cutworm. This information is used by NYS IPM to create weekly reports providing scouting and threshold information for fresh market sweet corn and links to resources on the major sweet corn insect and disease pests. Additionally, the information is used by the Cornell Vegetable Program to advise dry bean growers of the threat of western bean cutworm to their crop.
Best Management Practices for Long-Term High Tunnel Soil Sustainability
Judson Reid, Extension Vegetable Specialist
Cornell Vegetable Program
Last Modified: April 25, 2017


A collaboration between Cornell Vegetable Program, the Cornell Student Organic Farm and NOFA-NY resulted in a $10,000 award from the Cornell Towards Sustainability Foundation. The project team worked closely with 10 high tunnel operators across Central and Western NYS, educated farmers and students, and provided technical assistance in managing soil health in high tunnels for long term productivity.


Upcoming Events
Managing Soil Nitrogen in Winter High Tunnels
March 5, 2021
To meet the year-round demand for locally produced food, vegetable farmers have embraced protected agriculture to extend their growing season, improve yields, and enhance crop quality. However, a statewide survey found that after several growing seasons, farmers struggle to maintain productivity due to challenges in long term soil health and fertility management. Cornell Cooperative Extension is exploring practices that high tunnel growers can adopt to better manage soil fertility and improve soil health.

Grab your lunch and join us for a virtual conversation on Friday, March 5, 2021 from 12:00pm - 1:30pm to hear our project updates and research results.
Assess and Prevent Food Safety Risks in Leafy Greens Production
March 18, 2021
This training will provide an overview of possible sources of contamination related to soil amendments, wildlife, water, post-harvest handling, transportation and more. This training will emphasize specific risks that leafy greens growers may experience, identify tangible corrective actions that can be taken, and provide participants the opportunity to work through example scenarios as a group.

2021 NYS Dry Bean Meeting

March 19, 2021
Join the us for the annual Dry Bean Meeting! There will be presentations covering the latest research in NY dry beans. Topic areas include market updates, white mold management, Western bean cutworm and soybean cyst nematode management, herbicide resistance management, dry bean variety testing, and incorporating NY dry beans into schools. This meeting is sponsored by Genesee Valley Bean Company, and Bayer CropScience.
Announcements