Leeks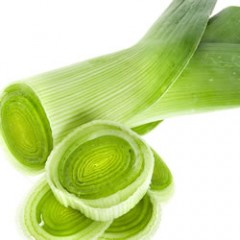 There are roughly 30 acres of leeks grown in New York annually. They are an edible member of the Liliaceae or lily family. They are tender and have a mild onion flavor with a slightly sweet edge. Leeks may be planted in late February to March for harvest in early- to mid-summer. Alternatively, they may be planted in July for harvest in late fall/early winter.
Leek is an expensive crop to grow, because it is labor intensive. Hand labor is required for all stages of production including: transplanting, weeding, harvesting, washing and packing.
Information on cultural practices and pests of leeks can be found in the
Leek Pest Management Strategic Plan
.
Video: New York State Produce Auctions
Last Modified: March 8, 2018

Currently, there are 8 produce auctions in New York State. These auctions are aggregation points that allow local farmers to sell their produce in wholesale lots to buyers from across the region. To document the economic impact of produce auctions on agriculture, local businesses, family farms, and produce buyers, the Cornell Vegetable Program worked with Harvest New York to survey top sellers and buyers.

A new Cornell Vegetable Program video shares general information about produce auctions, how buyers and sellers use the auctions to expand their businesses, and how local communities benefit from them.
Crop Cooling and Storage
Robert Hadad, Extension Vegetable Specialist
Cornell Vegetable Program
Last Modified: September 29, 2016

On-Farm Cold Storage of Fall-Harvested Fruit and Vegetable Crops is an in-depth look at the planning and designing cooling for late season and winter storage but it also is useful for general cooling as well. This was written by Scott Sanford, Distinguished Outreach Specialist, UW-Extension, and John Hendrickson, Outreach Program Manager, Center for Integrated Agricultural Systems, University of Wisconsin-Madison.
Video: Farm Food Safety as if Someone's Life Depended On It
Robert Hadad, Extension Vegetable Specialist
Cornell Vegetable Program
Last Modified: April 3, 2015

This video is an overview of Good Agricultural Practices (GAPs) through on-farm risk assessment. Cornell Cooperative Extension, along with the National GAPs Program and the New York State Department of Agriculture and Markets, has developed and implemented a nationally-recognized training program in GAPs to prepare New York growers for the marketplace's increased vigilance in food safety. You can learn more about that program through this video, as well as updates on the Food Safety Modernization Act (FSMA), and economic information on the implementation of GAPs collected from growers through extensive interviews.
Extending the Harvest Season with Fall Production
Robert Hadad, Extension Vegetable Specialist
Cornell Vegetable Program
Last Modified: July 11, 2013


Late season production starts in mid spring. For a successful crop, start with a detailed plan. Designate an area specific for late season production so that management can take place in one spot rather than all over the farm. This will make cultivation, pest management, using row cover, and harvesting more efficient to manage.


Leek Moth Control and Information
Christy Hoepting, Extension Vegetable Specialist
Cornell Vegetable Program
Last Modified: May 24, 2012

Leek Moth was detected in four home gardens in Plattsburg, NY in 2009. It was first detected in Ontario, Canada in 1997 where it has become problematic especially to small-scale, organic growers in eastern Ontario and to commercial producers in western Quebec, who have limited insecticides available to them.
Leek Moth continues its spread to more farms and gardens across the U.S., a new comprehensive website is available to aid in the identification and management of this pest. This Cornell website features maps of the distribution of leek moth, protocols on insect monitoring and identification, best management practices for farms and home gardens, a photo gallery of damage symptoms and a comprehensive resource section.
Visit the Leek Moth website.


Upcoming Events
SCRUB Twilight Workshop Series
September 1, 2021 : Bin Blitz
Experienced growers and UVM's Ag Engineering present new strategies and cleaning tools to increase the efficiency and efficacy of bin cleaning, sanitation and management practices. Lead growers show and tell their bin systems, with lessons learned. Participants leave with a plan to improve/implement new practices.
September 8, 2021 : Low Cost and High Value
Evaluate low-cost (either money or time) improvements that make a big difference. Experience growers show and tell the thrifty improvements they made and summarize lessons learned, including trade-offs of spending money (or not) to lower risks and increase efficiency.
September 15, 2021 : Wash/Pack Floors
Learn to improve or repair a concrete floor so that it is smooth and easy to clean. This workshop highlights concrete repair, cleaning and sanitation techniques, water management, products and resources, as well as show and tell from experienced growers, and Chris Callahan from UVM's Extension Ag Engineering.
September 22, 2021 : Wash Water Management
Experienced growers and facilitators dig into the fundamentals of managing produce wash water, including show and tell with lessons learned about wash water management, use and monitoring of sanitizers. All participants leave with a plan to improve/implement new practices.
September 29, 2021 : Tools for Employee Management and Empowerment
Develop management strategies/systems to retain and empower high-value workers, while improving crew morale and culture. Learn from experienced managers of loyal and reliable crews, the pros and cons of their current management systems, and how they came to be. Participants leave with resources and a plan to improve/implement one or more new practices or strategies.
October 6, 2021 : Bubblers/Aerators for Greens Washing
For growers wanting to install or improve a greens bubbler/aerator. Get feedback from growers who built/improved their own systems. Examine designs and DYI resources, as well as perceived quality and efficiency gains from bubblers as compared to other washing methods. This workshop features a panel of New York growers!
Announcements