Sweet Corn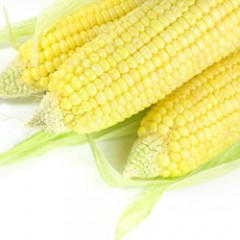 Sweet corn is popular with consumers and growers alike. New York typically ranks in the top 5 producing states with over 19,000 acres of fresh market (2014 Vegetable Summary) and approximately 10,000 acres of processed product grown annually.
A range of varieties are available to cover the growing season and needs of each market. Fresh market corn may be planted in March under plastic or later on bare ground. Planting of processing sweet corn in New York begins around May 1st with varieties selected to maintain a steady supply into mid-September.
Cornell Cooperative Extension Educators and Cornell faculty work together annually to conduct research on many aspects of sweet corn production in the state. Below you will find educational information and results of our research trials.
Relevant Event
2017 WNY Winter Fresh Market Vegetable Meeting (Eastern region)

March 7, 2017
8:30 AM - 3:30 PM
Newark, NY
Most Recent Sweet Corn Content
2016 Weed Research in Vegetable Crops, Cornell University
Darcy Telenko, Extension Vegetable Specialist
Cornell Vegetable Program
Last Modified: January 11, 2017


Twelve weed science research plots were established at the Homer C. Thompson Vegetable Research Farm in Freeville and with on-farm collaborators. Research trials included: herbicide evaluation trials in dry bean, snap bean, lima bean, beets, carrots, peas, and sweet corn; a NYFVI support trial in collaboration with Sarah Pethybridge and Julie Kikkert on evaluation of ethofumesate rates for beets; and an industry sponsored evaluation of a new products for potential use in carrot, rosemary, rhubarb, bell pepper and broccoli.
Northern Corn Leaf Blight in Sweet Corn
Julie Kikkert, Team Leader, Extension Vegetable Specialist
Cornell Vegetable Program
Last Modified: August 8, 2016


Over the past 5 years, Northern Corn Leaf Blight (NCLB) has become a common occurrence in field and sweet corn in New York State. Researchers at Cornell University are working to determine why this disease has become more prevalent. Current hypotheses include: 1) new races of the fungus, 2) new corn hybrids may be more susceptible, 3) weather patterns that favor disease, and 4) changes in the larger cropping picture. There may be a sort of an "arms race" between new races of the fungus and new corn hybrids. Western NY has seen an increase in field corn being grown and increased disease in field corn creates additional inoculum for sweet corn in the region. If NCLB becomes severe, yields may be reduced. Fresh market sweet corn growers may also be concerned with lesions that appear on the husks, as the corn may be less marketable.
2016 WNY Sweet Corn Pheromone Trap Monitoring
Last Modified: June 1, 2016


Again this year, the Cornell Vegetable Program will be collaborating with the NYS Integrated Pest Management Program to monitor the flights of European corn borer, Corn ear worm, fall armyworm and western bean cutworm. This information is used by NYS IPM to create weekly reports providing scouting and threshold information for fresh market sweet corn and links to resources on the major sweet corn insect and disease pests. Additionally, the information is used by the Cornell Vegetable Program to advise dry bean growers of the threat of western bean cutworm to their crop.



More Sweet Corn Content


Upcoming Events
Veggie Farming Webinar Series, Part 2: From Season-Long Care to Harvest
March 1 - March 29, 2017
7:00 PM - 8:30 PM Wednesday evenings
This five-week course online (BF121) on Wednesday evenings in March covers vegetable production from transplanting to harvest, including information on in-season fertility, integrated pest management, weed control options, harvesting strategies, and tips for marketing your products. Designed for aspiring farmers and those with at least one growing season of vegetable farming experience. You should already have basic understanding of how to select crops, manage bed prep, seeding, and transplanting.
2017 NYS Dry Bean Meeting

March 6, 2017
9:30 AM - 2:30 PM
Batavia, NY
Join us for research and production updates on dry bean varieties and bean breeding, weed management, Western bean cutworm, and white mold disease. There will also be an update on food safety practices and documentation required by buyers. We will also review research priorities and gather suggestions for future educational programs.
2017 WNY Winter Fresh Market Vegetable Meeting (Eastern region)

March 7, 2017
8:30 AM - 3:30 PM
Newark, NY
Regional Fresh Market Winter Vegetable Meetings will be hosted by the Cornell Vegetable Program to discuss results from 2016 research trials and present information on pest management. Program topics will include an update on wildlife management, high tunnel nutrient management update, vegetable disease update including the new iPiPE Program in vegetables, new Climate Smart Farming Tools, cover crops and soil health, an update on Food Safety and Modernization Act and what you need to do for your farm, and other regional research and program updates.
Announcements
Student Research Internships Working with the CVP
The Cornell Vegetable Program is looking to hire two student research interns this summer to assist in scouting fresh market vegetables in western New York. This internship will start in May, working alongside Darcy Telenko, as part of the iPiPE CAP (Integrated Pest Information Platform for Extension and Education, Cooperative Agricultural Project) internship program. iPiPE is committed to investing in the coaching and development of future agricultural scientists/extension educators through a limited term internship experience in an applied environment. The purpose of the program is to learn how to scout for pests in the field and contribute observations to the iPiPE platform.
These positions are 5-month appointments (39 hours/week) and will be located in the CCE Erie County Office (East Aurora, New York).
Applicants must apply online.
View the full job description, qualifications, and application instructions.
Empire State Producers EXPO Proceedings Available
Proceedings from the Empire State Producers EXPO
conference from 2011-2017 are available online.
2017 Cornell Vegetable Guidelines Available
The 2017 edition of the

Cornell Integrated Crop and Pest Management Guidelines for Commercial Vegetable Production is now available. This annual publication provides up-to-date vegetable crop production information for New York State. It is designed as a practical guide for vegetable crop producers, crop consultants, ag chemical dealers, and others who advise vegetable crop producers.

In addition to the annually revised pesticide and crop production information, highlighted changes in this edition of the
Vegetable Guidelines
include:
Addition of Dickeya blackleg on potato as a disease of concern.
Updated regulatory considerations for organic vegetable production.
Revised European corn borer management strategies for beans and potatoes.
The Cornell Guidelines are available as a print copy ($41 plus shipping), online-only access ($41), or a package that combines print and online access ($57.50 plus shipping). Cornell Guidelines can be purchased through your local Cornell Cooperative Extension office or from the Cornell Store at Cornell University. To order from the Cornell Store, call (844) 688-7620 or
order online
.
NEW! Pesticide Product Search Online
The NYS Department of Environmental Conservation (NYSDEC) Bureau of Pest Management has released a new
pesticide product registration database
. When visiting the webpage, please select the Products icon on the right side of the page to perform product searches.
This pesticide search database is replacing the Product, Ingredient, and Manufacturer System (PIMS) product database that has been hosted by Cornell University since its inception.
The new search database includes many added features, including site and pest searches. Additionally, updates to the product data and labeling will be reflected instantaneously.
Cornell Vegetable Program - Cornell Cooperative Extension
Your Trusted Source for Research-Based Knowledge