Sweet Corn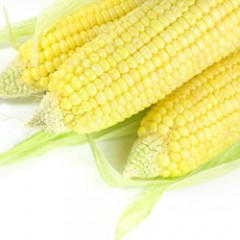 Sweet corn is popular with consumers and growers alike. New York typically ranks in the top 5 producing states with over 19,000 acres of fresh market (2014 Vegetable Summary) and approximately 10,000 acres of processed product grown annually.
A range of varieties are available to cover the growing season and needs of each market. Fresh market corn may be planted in March under plastic or later on bare ground. Planting of processing sweet corn in New York begins around May 1st with varieties selected to maintain a steady supply into mid-September.
Cornell Cooperative Extension Educators and Cornell faculty work together annually to conduct research on many aspects of sweet corn production in the state. Below you will find educational information and results of our research trials.
Relevant Events
2019 Processing Vegetable Crops Advisory Meeting

December 17, 2019
9:30am - 12:10pm, 1pm - 2pm, and 2pm - 3:30pm
Batavia, NY
2020 Finger Lakes Produce Auction Education Meeting

January 2, 2020
9:00 AM - 2:00 PM
Penn Yan, NY
2020 Ontario Produce Auction Winter Growers Meeting

January 8, 2020
9:00 AM - 2:30 PM
Stanley, NY
2020 Empire State Producers EXPO

January 14 - January 16, 2020
1.25 hr sessions throughout each day
Syracuse, NY
Most Recent Sweet Corn Content
Growing for Wholesale: Grading and Packing Guidelines by Crop
Last Modified: August 29, 2019

Grading and packing guidelines are now available for 18 commonly grown specialty crops in NYS: romaine lettuce, acorn squash, broccoli crowns, Brussels sprouts, sweet corn, green peppers, cucumbers, green cabbage, red cabbage, savoy cabbage, cauliflower, eggplant, green beans, jalapenos, poblanos, Hungarian hot peppers, summer squash, and zucchini.
2019 WNY Sweet Corn Pheromone Trap Monitoring
Last Modified: May 1, 2019

Again this year, the Cornell Vegetable Program will be collaborating with the NYS Integrated Pest Management Program to monitor the flights of European corn borer, Corn ear worm, fall armyworm and western bean cutworm. This information is used by NYS IPM to create weekly reports providing scouting and threshold information for fresh market sweet corn and links to resources on the major sweet corn insect and disease pests. Additionally, the information is used by the Cornell Vegetable Program to advise dry bean growers of the threat of western bean cutworm to their crop.
Video and Final Report: Managing Wildlife Damage in Sweet Corn
Last Modified: July 19, 2018

Learn more about the on-farm evaluations of new tools -- chemical control, air dancers, scare-eye balloons, and detasseling -- for managing bird damage in sweet corn fields conducted by the CCE Cornell Vegetable Program in 2017 in this video and newly released final report.
More Sweet Corn Content


Upcoming Events
2019 Processing Vegetable Crops Advisory Meeting

December 17, 2019
9:30am - 12:10pm, 1pm - 2pm, and 2pm - 3:30pm
Batavia, NY
2020 Finger Lakes Produce Auction Education Meeting

January 2, 2020
9:00 AM - 2:00 PM
Penn Yan, NY
2020 Ontario Produce Auction Winter Growers Meeting

January 8, 2020
9:00 AM - 2:30 PM
Stanley, NY
Announcements