Dry Beans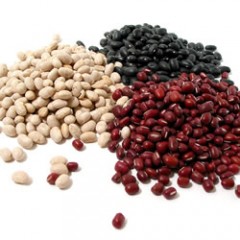 Dry edible beans are grown almost exclusively in Western NY (such as Genesee, Livingston, Monroe and Wyoming counties) and in Central NY (such as Ontario, Yates, Seneca and Cayuga counties), where soils are deep, fertile and light- to medium-textured. New York produces edible dry beans on up to 16,000 acres for local, regional (east of the Mississippi), export and organic markets. Those beans marketed regionally are either processed into canned product or packaged for the dry pack market. Value of the crop in the state varies but has averaged around $7 million/year recently.
Major types include varieties of black turtle soup and light/dark red kidney beans. Adoption of reduced, zone tillage has been occurring on a number of farms as a time and fuel-savings measure. Insect, disease and weed pests are similar to those seen on snap beans and are managed similarly. Because dry beans must mature on the plant they are out in the field much longer than snap beans, however, so there is more opportunity for diseases such as white mold to develop. Weeds must also be controlled for a much longer period.
Most Recent Dry Beans Content
2016 Weed Research in Vegetable Crops, Cornell University
Darcy Telenko, Extension Vegetable Specialist
Cornell Vegetable Program
Last Modified: January 11, 2017


Twelve weed science research plots were established at the Homer C. Thompson Vegetable Research Farm in Freeville and with on-farm collaborators. Research trials included: herbicide evaluation trials in dry bean, snap bean, lima bean, beets, carrots, peas, and sweet corn; a NYFVI support trial in collaboration with Sarah Pethybridge and Julie Kikkert on evaluation of ethofumesate rates for beets; and an industry sponsored evaluation of a new products for potential use in carrot, rosemary, rhubarb, bell pepper and broccoli.
The Magnitude and Distribution of Western Bean Cutworm: The Risk to Dry Bean
Carol MacNeil, Extension Vegetable Specialist
Cornell Vegetable Program
Last Modified: June 13, 2016


Western bean cutworm (WBC) is a bean and corn pest of the Western United States which has moved east, first reaching New York in 2009. It has reduced dry bean yield and quality in Michigan in past years. In 2014/15 trace levels of suspected WBC damage was found at three elevators in New York during cleaning of red kidney beans. The beans were from Livingston and Steuben Counties. Moth counts have continued to increase, reaching the threshold of concern in a number of fields in 2015. This is the first year that dry bean pods with WBC feeding damage were seen in the field. Some growers have begun to apply an insecticide just after the time of peak moth emergence.
2015 Herbicides for Weed Control in Snap and Dry Beans
Julie Kikkert, Team Leader, Extension Vegetable Specialist
Cornell Vegetable Program
Last Modified: April 29, 2016


Have you had problem weeds slipping through your snap or dry bean weed control program? Have lambsquarters, ragweed, hairy or Eastern black nightshade, nutsedge, etc, been. escaping? Have you tried any of the newer materials or expanded application timings to try to improve your results? The 2015 update to the Herbicide for Snap and Dry Bean Weed Control chart will help you choose the best herbicide programs for your fields.

More Dry Beans Content


Upcoming Events
NY Veterans in Agriculture Summit
November 29, 2017
8:30 AM - 4:30 PM
Syracuse, NY
Come gather for a day of education and networking. Learn about resources that are available to farmer veterans in New York and participate in educational sessions on topics including animal health, financial management, high tunnels, and business planning.
Second Annual Cut Flower Conference
December 1, 2017
8:00 AM - 4:00 PM
Rensselaerville, NY
Cornell Cooperative Extension's Capital Area Agriculture and Horticulture Program, announces their upcoming Second Annual Cut Flower Conference. The initial Cut Flower Conference, held in 2016, was very popular with established and beginning cut flower growers and growers considering adding cut flowers to their diversified farms.
2017 Processing Vegetable Crops Advisory Meeting

December 13, 2017
9:30 AM - 2:30 PM
Batavia, NY
All processing vegetable growers and industry members are invited to attend. Discuss the 2017 growing season and management concerns. Reports and discussion of the 2017 Projects funded by the New York Vegetable Research Council/Association. Review priorities and the role of the advisory group in applications for state and federal grants. Give your input on the format of future advisory meetings and future educational programs.
Announcements
Available: 2017 Certified Seed Potato Directory
The
2017 NYS Certified Seed Potato Crop Directory
is now available. There is a wealth of information on NYS potato seed certification, as well as on the varieties grown for certification in 2017. The varieties include standards for processing and tablestock, newer varieties and numbered lines, and specialty/heirloom varieties. Brief summaries of the varieties' maturity, appearance, yield potential, and major disease susceptibility are included. Contact info for the growers with seed supplies of each variety is included. There is also a listing of the inspectors from the NYS Department of Agriculture and Markets in Albany and Syracuse.
Growing for Wholesale Guidelines Available
Grading and packing guidelines are now available for 16 commonly grown specialty crops in NYS: broccoli crowns, Brussels sprouts, corn, green peppers, cucumbers, green cabbage, red cabbage, savory cabbage, cauliflower, eggplant, green beans, jalapenos, poblanos, Hungarian hot peppers, summer squash, and zucchini.
Acceptable quality standards and common defects that should be sorted out on the grading line are depicted in these resources, both visually and in outline form. Find all of the
grading sheets here
.
Cornell Vegetable Program - Cornell Cooperative Extension
Your Trusted Source for Research-Based Knowledge