Dry Beans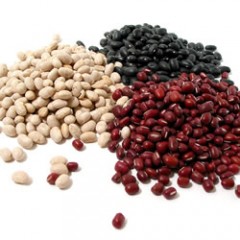 Dry edible beans are grown almost exclusively in Western NY (such as Genesee, Livingston, Monroe and Wyoming counties) and in Central NY (such as Ontario, Yates, Seneca and Cayuga counties), where soils are deep, fertile and light- to medium-textured. New York produces edible dry beans on up to 16,000 acres for local, regional (east of the Mississippi), export and organic markets. Those beans marketed regionally are either processed into canned product or packaged for the dry pack market. Value of the crop in the state varies but has averaged around $7 million/year recently.
Major types include varieties of black turtle soup and light/dark red kidney beans. Adoption of reduced, zone tillage has been occurring on a number of farms as a time and fuel-savings measure. Insect, disease and weed pests are similar to those seen on snap beans and are managed similarly. Because dry beans must mature on the plant they are out in the field much longer than snap beans, however, so there is more opportunity for diseases such as white mold to develop. Weeds must also be controlled for a much longer period.
Relevant Events
Assess and Prevent Food Safety Risks in Leafy Greens Production
March 18, 2021
2021 NYS Dry Bean Meeting

March 19, 2021
2015 Herbicides for Weed Control in Snap and Dry Beans
Julie Kikkert, Team Leader, Extension Vegetable Specialist
Cornell Vegetable Program
Last Modified: April 29, 2016


Have you had problem weeds slipping through your snap or dry bean weed control program? Have lambsquarters, ragweed, hairy or Eastern black nightshade, nutsedge, etc, been. escaping? Have you tried any of the newer materials or expanded application timings to try to improve your results? The 2015 update to the Herbicide for Snap and Dry Bean Weed Control chart will help you choose the best herbicide programs for your fields.



Upcoming Events
Managing Soil Nitrogen in Winter High Tunnels
March 5, 2021
To meet the year-round demand for locally produced food, vegetable farmers have embraced protected agriculture to extend their growing season, improve yields, and enhance crop quality. However, a statewide survey found that after several growing seasons, farmers struggle to maintain productivity due to challenges in long term soil health and fertility management. Cornell Cooperative Extension is exploring practices that high tunnel growers can adopt to better manage soil fertility and improve soil health.

Grab your lunch and join us for a virtual conversation on Friday, March 5, 2021 from 12:00pm - 1:30pm to hear our project updates and research results.
Assess and Prevent Food Safety Risks in Leafy Greens Production
March 18, 2021
This training will provide an overview of possible sources of contamination related to soil amendments, wildlife, water, post-harvest handling, transportation and more. This training will emphasize specific risks that leafy greens growers may experience, identify tangible corrective actions that can be taken, and provide participants the opportunity to work through example scenarios as a group.

2021 NYS Dry Bean Meeting

March 19, 2021
Join the us for the annual Dry Bean Meeting! There will be presentations covering the latest research in NY dry beans. Topic areas include market updates, white mold management, Western bean cutworm and soybean cyst nematode management, herbicide resistance management, dry bean variety testing, and incorporating NY dry beans into schools. This meeting is sponsored by Genesee Valley Bean Company, and Bayer CropScience.
Announcements