Rutabaga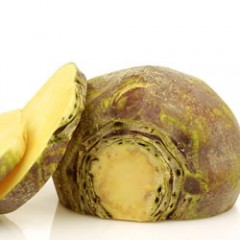 A minor crop in New York, rutabaga can sometimes be found in farmers markets or retail stands. It is harvested from August through November. Rutabaga is thought to have originated from a cross between a turnip and cabbage. All cruciferous crops share a common set of diseases and insects. Rutabaga is grown in much the same way as turnips.
Most Recent Rutabaga Content
Video: New York State Produce Auctions
Last Modified: March 8, 2018


Currently, there are 8 produce auctions in New York State. These auctions are aggregation points that allow local farmers to sell their produce in wholesale lots to buyers from across the region. To document the economic impact of produce auctions on agriculture, local businesses, family farms, and produce buyers, the Cornell Vegetable Program worked with Harvest New York to survey top sellers and buyers.

A new Cornell Vegetable Program video shares general information about produce auctions, how buyers and sellers use the auctions to expand their businesses, and how local communities benefit from them.
Cold Storage Chart and Reference Guide to Commercial Vegetable Storage
Robert Hadad, Extension Vegetable Specialist
Cornell Vegetable Program
Last Modified: December 13, 2016


Commercial vegetable growers will find a Cold Storage Chart by crop type with temperature and relative humidity recommendations. The maximum number of weeks that the crop can be held under ideal conditions is provided as well.

Adapted from the USDA Bulletin #66, The Commercial Storage of Fruits, Vegetables, and Florist and Nursery Stock, growers will find information on quality, grading, sizes, and packaging, chilling and storage, and post-harvest pathology of vegetables.
Crop Cooling and Storage
Robert Hadad, Extension Vegetable Specialist
Cornell Vegetable Program
Last Modified: September 29, 2016


On-Farm Cold Storage of Fall-Harvested Fruit and Vegetable Crops is an in-depth look at the planning and designing cooling for late season and winter storage but it also is useful for general cooling as well. This was written by Scott Sanford, Distinguished Outreach Specialist, UW-Extension, and John Hendrickson, Outreach Program Manager, Center for Integrated Agricultural Systems, University of Wisconsin-Madison.
More Rutabaga Content


Upcoming Events
Fresh Market Vegetable Grower Meeting

February 21, 2019
Th 1:00 - 3:30 PM
Newark, NY
This course will educate fresh market growers on current pest management, food safety, and marketing issues in fresh market crops. Specific topics covered include: managing the weed seedbank, Farm to School marketing opportunities, Late Blight updates, FSMA On-Farm Readiness Reviews, biopesticides and biostimulants and how they work, wash line equipment cleaning checklist, and a discussion of production problems throughout the 2018 growing season.
Designing a Safe and Sanitizable Packing Line
March 6, 2019
W 9:00 AM - 12:00 PM
Branchport, NY
Join Robert Hadad, CVP vegetable specialist, to learn about how to design a produce packing line that fits your budget and maximizes efficiency and food safety. This workshop will cover what you need to take into account when designing your line, along with how you can modify an existing system to for increased sanitation and efficiency. Robert will also discuss how packing line and packing house design fits in with the new Food Safety Modernization Act requirements.
Produce Safety Alliance Grower Training

March 11 - March 12, 2019
M 9:00 AM - 5:00 PM; T 9:00 AM - 3:00 PM
Binghamton, NY
Are you a farmer interested in produce safety? Are your markets asking for food safety plans or third party verification? Do you want to understand produce safety issues as they relate to the Food Safety Modernization Act (FSMA) Food Safety Rule, third party audits and Good Agricultural Practices (GAPs)? Participation in this training, hosted by CCE Broome County, will give you the tools to create an on-farm food safety plan and complete one of the requirements of either FSMA OR the New York State Grown and Certified branding program. We will also discuss potential funding streams to make infrastructure upgrades to your farm related to food safety!
Announcements
Cornell Commercial Vegetable Guidelines Available
The
2019 Cornell Integrated Crop and Pest Management Guidelines for Commercial Vegetable Production are now available!
Written by Cornell University specialists, this publication is designed to offer producers, seed and chemical dealers, and crop consultants practical information on growing and managing vegetable crops in New York State. Topics include general culture, nutrient management, transplant production, postharvest handling, organic production, and managing common vegetable crop pest concerns. A
preview of the Vegetable Guidelines can be seen online
.
Highlighted changes in the 2019 Vegetable Guidelines include:
Updated pesticide options for economically important vegetable crop pests.
New pests: beet armyworm in beets; cabbage looper and tarnished plant bug in lettuce and endive; allium leafminer in onions; and Cladosporium, Cercospora, and Stemphylium leaf spots in spinach.
Cornell Crop and Pest Management Guidelines are available as a print copy ($41), online-only access ($41), or a package combining print and online access ($57.50). Shipping charges will be added to your order. Cornell Guidelines can be obtained through many local Cornell Cooperative Extension offices, or
from The Cornell Store at Cornell University
or call (844) 688-7620.
Empire State Producers EXPO Proceedings
Proceedings from the Empire State Producers EXPO
conference from 2011-2019 are available online.
2018 Cornell Vegetable Program Year in Review
2018 is behind us but we hope that our team's efforts to enhance New York vegetable production continues well beyond! This year, our Specialists gave presentations at 119 events, sharing our knowledge with 3,535 people.
We continue to conduct on-farm research to help answer the questions of our growers. The Cornell Vegetable Program managed 50 research grants and projects in 2018. We extend our gratitude to the 65 farms and organizations that offered us land, labor, and supplies to support our trials! We also want to thank those farmers that gave generous financial contributions to support our work as well.
We cannot forget to thank the 13 Cooperative Extension Associations that partnered with us this year too. We're excited to be adding Steuben County to our list of participating counties in 2019!
Our
2018 Year in Review brochure
highlights our research and educational projects.