Cabbage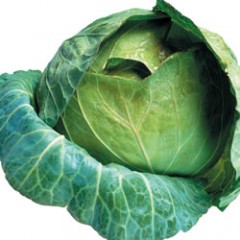 Fertile soils and favorable climate contribute to the impressive production of cabbage in New York State. With more than 12,000 acres grown annually, New York ranks in the top three states nationally for both fresh market and kraut cabbage. Fresh cabbage is sold in retail and wholesale markets and is used for cole slaw, egg rolls and other products. Under the proper conditions, cabbage can be stored through April, making it available nearly year round. There are two large processors in Western, NY (Seneca Foods and Great Lakes Kraut). Kraut cabbage is harvested late in the fall. It is trimmed, shredded, mixed with salt and then fermented in huge vats. The product is then packed in cans, glass jars or sealed plastic bags.
Many varieties are available for fresh market, storage and kraut cabbage. Varieties also differ in their susceptibility to insects and diseases. Cornell Cooperative Extension Educators and Cornell faculty work together annually to conduct research on many aspects of cabbage production in the state. Below you will find educational information and results of our research trials.
Lorsban is Banned: How to Control Cabbage Maggot in Brassicas Now?
Christy Hoepting, Extension Vegetable Specialist
Cornell Vegetable Program
Last Modified: April 6, 2022

Cabbage maggot (CM) feeds on brassica seedlings by tunneling into the stem of the plant just below the soil line. Their feeding can result in unsightly and unmarketable produce in the case of root brassicas like turnips, and in stunting, reduced stand, and reduced yield in head and stem brassicas like cabbage and broccoli. Lorsban and other formulations containing the active ingredient chlorpyrifos were the first line of defense for control of cabbage maggot in several brassica crops, because 1) at ~$10 per acre, it was affordable, and 2) it was easy to apply and avoided worker exposure as a directed spray at the base of the plant.

Unfortunately, Lorsban and all of its generic products for food and feed uses were banned in New York as of July 31, 2021, and in the United States as of February 28, 2022. In the absence of Lorsban and other chlorpyrifos-containing insecticides, NY brassica growers have 6 products belonging to 4 chemical classes available to manage cabbage maggot. This article provides our "2022 Top Picks" to use instead of Lorsban plus results of Cornell research trial results related to application method, rate, and cabbage maggot control.
New Crop Rotation Recommendations for Swede Midge
Christy Hoepting, Extension Vegetable Specialist
Cornell Vegetable Program
Last Modified: January 4, 2021

New Cornell research has demonstrated that brassica crop rotations of 500 ft (down from 3000 ft) and 3 months (down from 3 years) could effectively "crash" a swede midge population when fields are secluded from each other, making crop rotation a much more feasible strategy for small farms. A new fact sheet details the new crop rotation recommendations and provides information on the pest's life cycle, biology, and crop preferences in addition to real-world examples of crop rotation. The crop rotation strategies were developed to serve the needs of small organic farmers, but have utility for conventional farmers as well.
Understanding Nitrogen Use in Cabbage: New York Study, 2014-2016
Christy Hoepting, Extension Vegetable Specialist
Cornell Vegetable Program
Last Modified: February 24, 2020
The Cabbage Research and Development Program (CRDP) funded a three-year project to investigate various aspects of nitrogen dynamics in cabbage from 2014 to 2016. Following are highlights from this work.
The project involved two on-farm small-plot trials, a grower survey and four case studies. Nitrogen application rate, application timing, crop use and nitrogen left in the field at harvest were all investigated. It appears that 150 lb per acre of total nitrogen applied in a split application is the most appropriate and efficient use of nitrogen fertilization in cabbage.
Growing for Wholesale: Grading and Packing Guidelines by Crop
Last Modified: August 29, 2019

Grading and packing guidelines are now available for 18 commonly grown specialty crops in NYS: romaine lettuce, acorn squash, broccoli crowns, Brussels sprouts, sweet corn, green peppers, cucumbers, green cabbage, red cabbage, savoy cabbage, cauliflower, eggplant, green beans, jalapenos, poblanos, Hungarian hot peppers, summer squash, and zucchini.
Organic Production Guides
Robert Hadad, Extension Vegetable Specialist
Cornell Vegetable Program
Last Modified: July 17, 2017


Organic Production Guides for fruits, vegetables and dairy are available through the NYS Integrated Pest Management (IPM) program. They outline general practices for growing vegetable and fruit crops using organic integrated pest management techniques.
Video: Swede Midge
Last Modified: June 12, 2017


Swede midge is an invasive insect pest that is threatening the viability of broccoli, cauliflower, cabbage, Brussels sprouts, kale, kohlrabi and turnip production within the Cornell Vegetable Program region and throughout the Northeastern US. This short video will provide you with some general information about this pest and how to scout for it in your Brassicas.
Video: Flea Beetles
Last Modified: June 5, 2017


Flea beetles are a common vegetable pest affecting peppers, cucurbits, sweet potato, potato, peas, beans, beets, tomato, corn, turnip, pumpkin, melon, eggplant, and others. This short video gives you some general information about this pest.
Cold Storage Chart and Reference Guide to Commercial Vegetable Storage
Robert Hadad, Extension Vegetable Specialist
Cornell Vegetable Program
Last Modified: December 13, 2016

Commercial vegetable growers will find a Cold Storage Chart by crop type with temperature and relative humidity recommendations. The maximum number of weeks that the crop can be held under ideal conditions is provided as well.

Adapted from the USDA Bulletin #66, The Commercial Storage of Fruits, Vegetables, and Florist and Nursery Stock, growers will find information on quality, grading, sizes, and packaging, chilling and storage, and post-harvest pathology of vegetables.
Crop Cooling and Storage
Robert Hadad, Extension Vegetable Specialist
Cornell Vegetable Program
Last Modified: September 29, 2016

On-Farm Cold Storage of Fall-Harvested Fruit and Vegetable Crops is an in-depth look at the planning and designing cooling for late season and winter storage but it also is useful for general cooling as well. This was written by Scott Sanford, Distinguished Outreach Specialist, UW-Extension, and John Hendrickson, Outreach Program Manager, Center for Integrated Agricultural Systems, University of Wisconsin-Madison.
Video: Produce Washing Stations - How to Use a Germicidal Bleach
Last Modified: January 26, 2016

Good Agricultural Practices or GAPs are the steps taken in produce packing areas to reduce microbial contamination. One area where reducing micro contamination is critical is in the washing and cleaning of produce. This video shows you a set of standard operating procedures for using a germicidal bleach in a produce washing station. Learn what supplies are required and how to calculate the amount of germicidal bleach needed to sanitize the water.
Feasibility of Reducing Slug Damage in Cabbage
Christy Hoepting, Extension Vegetable Specialist
Cornell Vegetable Program
Last Modified: March 17, 2014

Slugs are an increasing threat to cabbage production: The board of the New York Cabbage Research and Development Program made slug control one of their highest research priorities for the first time in 2009. Slugs are considered a sporadic pest in cabbage and are favored by cool and moist conditions, especially where crop residues are left on the soil surface. In conventional production of cabbage, slugs tend to be a problem later in the growing season along tree lines and hedgerows and in weedy patches within the field. Slugs leave large holes in the leaves with the veins intact, and can be a contaminant in the heads when they squeeze between the leaves. During the cool wet growing season of 2009, slug contaminants were the cause of several rejected loads of cabbage in New York. It is predicted that the frequency of slug problems in cabbage will increase, because more cabbage is being grown in rotation following field corn. The newer varieties of field corn are Bt-tolerant and have tougher stalks that take longer to break down, thus, these fields have more crop residue and are more favorable for slugs. It is worthwhile to investigate whether there are cost effective means for growers to manage sporadic infestations of slugs in cabbage.
View the exciting results from our 2010 trial in the final report that follows.
Extending the Harvest Season with Fall Production
Robert Hadad, Extension Vegetable Specialist
Cornell Vegetable Program
Last Modified: July 11, 2013


Late season production starts in mid spring. For a successful crop, start with a detailed plan. Designate an area specific for late season production so that management can take place in one spot rather than all over the farm. This will make cultivation, pest management, using row cover, and harvesting more efficient to manage.


Swede Midge Website
Julie Kikkert, Team Leader, Extension Vegetable Specialist
Cornell Vegetable Program
Last Modified: June 29, 2010


As swede midge continues to spread to more farms and gardens across the United States, a comprehensive website is available to aid in the identification and management of this pest of cole crops.


Upcoming Events
No upcoming events at this time.
Announcements