Garlic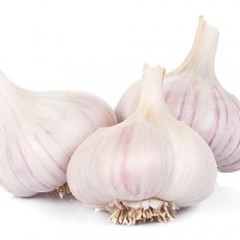 Garlic production has increased significantly in New York over the last few decades, and garlic is now considered to be an important niche crop. In 1992, only 11 acres of garlic were reported in New York, but by 1997 the number grew to 153 acres and by 2007 it again doubled to 306 acres. Garlic is currently estimated to be a $20 million dollar crop. New York is the fifth largest garlic producing state in the country, and ten percent of all New York vegetable farms report growing garlic. That is a higher percentage of growers than for broccoli, cabbage, carrots, lettuce, or onions.
Garlic is sold at farmers' markets from mid-summer to the fall throughout the state. Garlic is also sold at festivals which take place throughout the Northeast from August through October. New York's largest festival is in Saugerties, in September. Festivals are important outlets for growers and important agrotourism events for the cities that host them.
Varieties of garlic grown in New York tend to be different from those you will find in the grocery store. New York is known for excellent 'hardneck' garlic, which has a hard stalk running through the center of the bulb. The flavor of our hardneck garlic is often considered to be stronger and more unique than the flavor of 'softneck' varieties found in the grocery store and grown primarily on the West Coast or in China.
Relevant Events
2019 Worker Protection Standard Training & DEC Special Permit Training (Wayne County)
April 9, 2019
8:30 AM - 12:30 PM English Session / 1:00 PM - 5:00 PM Spanish Session
Newark, NY
2019 Worker Protection Standard Training & DEC Special Permit Training (Orleans County)
April 10, 2019
8:00 AM - 12:00 PM English & Spanish sessions
Albion, NY
Most Recent Garlic Content
Be on the Lookout for Southern Blight
Ethan Grundberg, Vegetable Specialist
Eastern New York Commercial Horticulture
Last Modified: April 27, 2018
Southern Blight (Sclerotium rolfsii) was found on golden storage beets this winter in Dutchess County. The fungal pathogen is fairly new to New York and poses a threat to a wide range of vegetable crops. Early detection and proper diagnosis are key to managing this disease.
Video: New York State Produce Auctions
Last Modified: March 8, 2018


Currently, there are 8 produce auctions in New York State. These auctions are aggregation points that allow local farmers to sell their produce in wholesale lots to buyers from across the region. To document the economic impact of produce auctions on agriculture, local businesses, family farms, and produce buyers, the Cornell Vegetable Program worked with Harvest New York to survey top sellers and buyers.

A new Cornell Vegetable Program video shares general information about produce auctions, how buyers and sellers use the auctions to expand their businesses, and how local communities benefit from them.
Crop Cooling and Storage
Robert Hadad, Extension Vegetable Specialist
Cornell Vegetable Program
Last Modified: September 29, 2016


On-Farm Cold Storage of Fall-Harvested Fruit and Vegetable Crops is an in-depth look at the planning and designing cooling for late season and winter storage but it also is useful for general cooling as well. This was written by Scott Sanford, Distinguished Outreach Specialist, UW-Extension, and John Hendrickson, Outreach Program Manager, Center for Integrated Agricultural Systems, University of Wisconsin-Madison.
More Garlic Content


Upcoming Events
Erie/Niagara Regional Vegetable Meeting

March 26, 2019
Tues 8:30am - 12:30pm
Eden, NY
Production topics include alternaria control in broccoli, precision irrigation tools, tarping, and weed seed bank management. A special farm-to-school panel will provide grower, distributor, and school buyer insight on how to supply the increasing school demand for local produce. 1.5 DEC credits in categories 1a, 10 and 23 are available
High Tunnel Workshop for Veterans
March 26, 2019
T 10:30 AM - 2:00 PM
Honeoye Falls, NY
This workshop will help veterans interested in growing in high tunnels or greenhouses learn how to select and manage vegetable crops. Topics include varieties, nutrients, pest management and the 'nuts-and-bolts' of a high tunnel including an onsite tour.
Produce Safety School -- Sanitary Design and Practice Considerations for Your Farm
March 27, 2019
W 9:00 AM - 4:30 PM
Geneva, NY
This is a full-day program focusing on putting farm food safety into daily production practices. Participants will learn why and how to clean, sanitize, and dry produce. Hygienic designs and applications will be covered in detail. Speakers include Chris Callahan and Andrew Chamberlin from UVM Extension, Elizabeth Bihn and Elizabeth Demmings from the Produce Safety Alliance, and Robert Hadad from the CCE Cornell Vegetable Program.
Announcements
How to Take a Soil Sample
Soil sampling is an important part of managing your crops, but it's important to do it correctly. In this video created by the Eastern NY Commercial Horticulture Program, Vegetable Specialist Amy Ivy demonstrates
how to take a soil sample
.
For more information or to get soil sampling forms and supplies,
visit Agro-One online
.
Cornell Commercial Vegetable Guidelines Available
The
2019 Cornell Integrated Crop and Pest Management Guidelines for Commercial Vegetable Production are now available!
Written by Cornell University specialists, this publication is designed to offer producers, seed and chemical dealers, and crop consultants practical information on growing and managing vegetable crops in New York State. Topics include general culture, nutrient management, transplant production, postharvest handling, organic production, and managing common vegetable crop pest concerns. A
preview of the Vegetable Guidelines can be seen online
.
Highlighted changes in the 2019 Vegetable Guidelines include:
Updated pesticide options for economically important vegetable crop pests.
New pests: beet armyworm in beets; cabbage looper and tarnished plant bug in lettuce and endive; allium leafminer in onions; and Cladosporium, Cercospora, and Stemphylium leaf spots in spinach.
Cornell Crop and Pest Management Guidelines are available as a print copy ($41), online-only access ($41), or a package combining print and online access ($57.50). Shipping charges will be added to your order. Cornell Guidelines can be obtained through many local Cornell Cooperative Extension offices, or
from The Cornell Store at Cornell University
or call (844) 688-7620.
Empire State Producers EXPO Proceedings
Proceedings from the Empire State Producers EXPO
conference from 2011-2019 are available online.