Garlic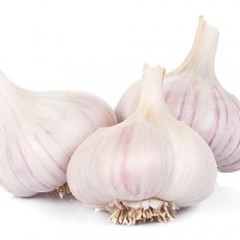 Garlic production has increased significantly in New York over the last few decades, and garlic is now considered to be an important niche crop. In 1992, only 11 acres of garlic were reported in New York, but by 1997 the number grew to 153 acres and by 2007 it again doubled to 306 acres. Garlic is currently estimated to be a $20 million dollar crop. New York is the fifth largest garlic producing state in the country, and ten percent of all New York vegetable farms report growing garlic. That is a higher percentage of growers than for broccoli, cabbage, carrots, lettuce, or onions.
Garlic is sold at farmers' markets from mid-summer to the fall throughout the state. Garlic is also sold at festivals which take place throughout the Northeast from August through October. New York's largest festival is in Saugerties, in September. Festivals are important outlets for growers and important agrotourism events for the cities that host them.
Varieties of garlic grown in New York tend to be different from those you will find in the grocery store. New York is known for excellent 'hardneck' garlic, which has a hard stalk running through the center of the bulb. The flavor of our hardneck garlic is often considered to be stronger and more unique than the flavor of 'softneck' varieties found in the grocery store and grown primarily on the West Coast or in China.
Relevant Events
Fresh Market Minutes - Ransomville
June 27, 2017
9:00 AM - 10:00 AM
Ransomville, NY
Muck Donut Hour Every Tuesday
June 27, 2017
8:30 - 9:30 AM
Elba, NY
Fresh Market Minutes - Eden Valley - Rescheduled due to holiday
July 6, 2017
9:00 AM - 10:00 AM
Eden, NY
Fresh Market Minutes - Ransomville
July 11, 2017
9:00 AM - 10:00 AM
Ransomville, NY
Muck Donut Hour Every Tuesday
July 11, 2017
8:30 - 9:30 AM
Elba, NY
Most Recent Garlic Content
Crop Cooling and Storage
Robert Hadad, Extension Vegetable Specialist
Cornell Vegetable Program
Last Modified: September 29, 2016


On-Farm Cold Storage of Fall-Harvested Fruit and Vegetable Crops is an in-depth look at the planning and designing cooling for late season and winter storage but it also is useful for general cooling as well. This was written by Scott Sanford, Distinguished Outreach Specialist, UW-Extension, and John Hendrickson, Outreach Program Manager, Center for Integrated Agricultural Systems, University of Wisconsin-Madison.
White Rot Fact Sheet for Garlic
Last Modified: August 31, 2016


White rot is a worldwide problem in allium production, and has resurfaced in the New York garlic industry after a long period of eradication. Positive samples were collected in 2016 from the Hudson Valley, Central and Western New York, indicating that the disease is widespread. As with other soilborne diseases, white rot can be persistent and devastating. However, careful management can reduce inoculum, and because the disease is spread by seed and soil, it is also possible to prevent its spread into uninfested fields.

Garlic Bloat Nematode Testing Services for 2016
Robert Hadad, Extension Vegetable Specialist
Cornell Vegetable Program
Last Modified: August 8, 2016


In the wake of Dr. George Abawi's retirement and a reduction in staffing, the Bloat Nematode Testing Lab in Geneva has deferred testing to the lab at Michigan State University for the time being. Samples sent to Michigan will cost $75 dollars each.

More Garlic Content


Upcoming Events
2017 Fresh Market Vegetable Field Day

June 26, 2017
9:30 AM - 4:00 PM
Batavia, NY
View demonstration plots to exemplify sustainable pest management options for fresh market vegetable production. In addition to the demonstration plots, sessions will be offered throughout the day on weed and disease identification and biology, resistance management, and GAPs/FSMA updates by CVP team members. Regional equipment dealers and industry representatives will be onsite to display equipment and new technology. CCA and 3.0 DEC credits (categories 10, 1a, and 23) will be available.
Muck Donut Hour Every Tuesday
June 27, 2017
8:30 - 9:30 AM
Elba, NY
Meet with Cornell Vegetable Program Specialist Christy Hoepting every Tuesday morning to ask questions and share your observations. Grower experience is combined with research and scouting information for a whole lot of talk about growing ONIONS!
Fresh Market Minutes - Ransomville
June 27, 2017
9:00 AM - 10:00 AM
Ransomville, NY
Meet with the Cornell Vegetable Program Specialist Darcy Telenko every other Tuesday morning to ask questions and share your observations in fresh market vegetables.
Announcements
Better Know a Pest Video Series
The CCE Cornell Vegetable Program has created 2 new, short videos about common vegetable pests: flea beetles and swede midge. The videos are part of a series called
Better Know a Pest
. Watch for more videos as the season progresses.
Precision Ag Specialist Position Available
Cornell Cooperative Extension seeks a qualified candidate to provide leadership and educational programming to advance precision agriculture and new technology applications to production and management practices that will sustain and enhance the profitability of the field crops and vegetable industries in Western New York.
The position is a joint appointment with two Cornell Cooperative Extension regional agriculture teams, the Cornell Vegetable Program and the
Northwest New York Dairy, Livestock & Field Crops Team
. With this position, we are adding capacity to our Extension program. We hope to find a candidate who will bring additional skills in crop management to complement our respective teams as well.
More information and application instructions are available at
Cornell Careers
. Questions may be directed to CVP Team Leader,
Julie Kikkert
.
2017 Cornell Vegetable Guidelines Available
The 2017 edition of the

Cornell Integrated Crop and Pest Management Guidelines for Commercial Vegetable Production is now available. This annual publication provides up-to-date vegetable crop production information for New York State. It is designed as a practical guide for vegetable crop producers, crop consultants, ag chemical dealers, and others who advise vegetable crop producers.

In addition to the annually revised pesticide and crop production information, highlighted changes in this edition of the
Vegetable Guidelines
include:
Addition of Dickeya blackleg on potato as a disease of concern.
Updated regulatory considerations for organic vegetable production.
Revised European corn borer management strategies for beans and potatoes.
The Cornell Guidelines are available as a print copy ($41 plus shipping), online-only access ($41), or a package that combines print and online access ($57.50 plus shipping). Cornell Guidelines can be purchased through your local Cornell Cooperative Extension office or from the Cornell Store at Cornell University. To order from the Cornell Store, call (844) 688-7620 or
order online
.
Cornell Vegetable Program - Cornell Cooperative Extension
Your Trusted Source for Research-Based Knowledge