Garlic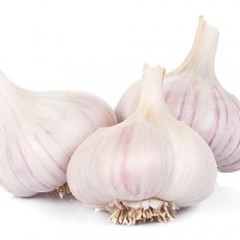 Garlic production has increased significantly in New York over the last few decades, and garlic is now considered to be an important niche crop. In 1992, only 11 acres of garlic were reported in New York, but by 1997 the number grew to 153 acres and by 2007 it again doubled to 306 acres. Garlic is currently estimated to be a $20 million dollar crop. New York is the fifth largest garlic producing state in the country, and ten percent of all New York vegetable farms report growing garlic. That is a higher percentage of growers than for broccoli, cabbage, carrots, lettuce, or onions.
Garlic is sold at farmers' markets from mid-summer to the fall throughout the state. Garlic is also sold at festivals which take place throughout the Northeast from August through October. New York's largest festival is in Saugerties, in September. Festivals are important outlets for growers and important agrotourism events for the cities that host them.
Varieties of garlic grown in New York tend to be different from those you will find in the grocery store. New York is known for excellent 'hardneck' garlic, which has a hard stalk running through the center of the bulb. The flavor of our hardneck garlic is often considered to be stronger and more unique than the flavor of 'softneck' varieties found in the grocery store and grown primarily on the West Coast or in China.
Most Recent Garlic Content
2019 Garlic School: Fusarium Management, Eriophyid Mite Trial, Bloat Nematode
Christy Hoepting, Extension Vegetable Specialist
Cornell Vegetable Program
Last Modified: April 11, 2019

The 2019 Garlic School featured final results from a 2-year study which focused on understanding and managing Fusarium disease of garlic. CVP Specialists, Christy Hoepting and Robert Hadad participated in this project, along with Dr. Frank Hay, Plant Pathologist at AgriTech, and CCE Vegetable Specialists, Crystal Stewart (ENYCHP) and Sandy Menasha (CCE Suffolk Co.). Presentations from the meeting are now available!
Be on the Lookout for Southern Blight
Ethan Grundberg, Vegetable Specialist
Eastern New York Commercial Horticulture
Last Modified: April 27, 2018
Southern Blight (Sclerotium rolfsii) was found on golden storage beets this winter in Dutchess County. The fungal pathogen is fairly new to New York and poses a threat to a wide range of vegetable crops. Early detection and proper diagnosis are key to managing this disease.
Video: New York State Produce Auctions
Last Modified: March 8, 2018


Currently, there are 8 produce auctions in New York State. These auctions are aggregation points that allow local farmers to sell their produce in wholesale lots to buyers from across the region. To document the economic impact of produce auctions on agriculture, local businesses, family farms, and produce buyers, the Cornell Vegetable Program worked with Harvest New York to survey top sellers and buyers.

A new Cornell Vegetable Program video shares general information about produce auctions, how buyers and sellers use the auctions to expand their businesses, and how local communities benefit from them.
More Garlic Content


Upcoming Events
CANCELED: Women in Agriculture (WAVES) Discussion Group: Auxiliary Farm Income
November 11, 2019
M 6:00pm - 7:30pm
Warsaw, NY
Due to the inclement weather, we have had to cancel tonight's discussion group meeting. Stay warm out there! CVP will repost the event if we are able to reschedule for a different date - check back soon!

The final Women in Agriculture (WAVES) meeting, focused on auxiliary farm income, will be held Monday, November 11, 2019 at Burley's Berries and Blooms in Warsaw.
Our host, Megan Burley, runs a creative and diversified farm that uses the existing farm infrastructure and landscape assets to augment her business's primary strawberry and cut flower income. Megan will teach participants how to use farm products to craft unique, value added fall and winter wreaths to extend your marketing season and supplement your farm product offerings. Megan can also discuss how social media helps promote her auxiliary farm products to a broader audience.
Additionally, we will be discussing Christmas Tree Production as an alternative use of farmland. Katherine Humphrey of All Western Evergreen Nursery and Christmas Tree Farm in Springwater, NY will be present to discuss Christmas tree/tree production.
Farm Food Safety 2-Day Training with GAPs
December 3 - December 4, 2019
Tues-Weds, 8:30am - 4:30pm
East Aurora, NY
This training is geared for fresh produce farms looking to learn and implement food safety practices into their operations. If you are looking to find new markets, many buyers are requiring food safety training. Under the GAPs (Good Agricultural Practices) program this training will help prepare you for implementing food safety practices and move you forward for audit/certification through NY State Dept of Agriculture. If you are looking to sell to farm to school programs, many school districts require a training course.
2019 Processing Vegetable Crops Advisory Meeting

December 17, 2019
9:30am - 12:10pm, 1pm - 2pm, and 2pm - 3:30pm
Batavia, NY
All are invited to attend and discuss the 2019 season for each crop, meet the new Cornell Weed Scientist and discuss weed management concerns, and receive updates on research conducted during 2019. Separate DEC and CCA credits will be available for each of the 3 crop meetings. The meeting is free of charge and there is no registration required.
Announcements