Squash- Winter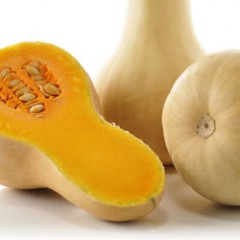 New York State has a strong industry growing winter and summer squash with over 4,000 acres produced in 2014 with a value of over 31 million dollars. There are many different types of winter squash that are grown including hubbard, buttercup and spaghetti, but butternut and acorn types are the two dominant ones for production. Winter squash is also sold for wholesale and fresh market use. There is also a significant amount of butternut squash that is cut and peeled and repacked and sold through grocery stores. Powdery and Downy Mildew, and Phytopthroa blight are the major diseases we are concerned with.
Relevant Events
2019 Processing Vegetable Crops Advisory Meeting

December 17, 2019
9:30am - 12:10pm, 1pm - 2pm, and 2pm - 3:30pm
Batavia, NY
2020 Finger Lakes Produce Auction Education Meeting

January 2, 2020
9:00 AM - 2:00 PM
Penn Yan, NY
2020 Ontario Produce Auction Winter Growers Meeting

January 8, 2020
9:00 AM - 2:30 PM
Stanley, NY
2020 Empire State Producers EXPO

January 14 - January 16, 2020
1.25 hr sessions throughout each day
Syracuse, NY
Most Recent Squash- Winter Content
Video: New York State Produce Auctions
Last Modified: March 8, 2018


Currently, there are 8 produce auctions in New York State. These auctions are aggregation points that allow local farmers to sell their produce in wholesale lots to buyers from across the region. To document the economic impact of produce auctions on agriculture, local businesses, family farms, and produce buyers, the Cornell Vegetable Program worked with Harvest New York to survey top sellers and buyers.

A new Cornell Vegetable Program video shares general information about produce auctions, how buyers and sellers use the auctions to expand their businesses, and how local communities benefit from them.
Organic Production Guides
Robert Hadad, Extension Vegetable Specialist
Cornell Vegetable Program
Last Modified: July 17, 2017


Organic Production Guides for fruits, vegetables and dairy are available through the NYS Integrated Pest Management (IPM) program. They outline general practices for growing vegetable and fruit crops using organic integrated pest management techniques.
Video: Downy Mildew
Last Modified: July 6, 2017


Downy mildew is a potentially devastating disease to cucurbits. It usually affects cucumbers and cantaloupes first; later in the season it can be found on summer squash and zucchini. During some seasons, downy mildew can spread to winter squash and watermelons. Growers need to be monitoring their fields. This short video shows the different stages of the disease and possible outcomes if it is not controlled.

More Squash- Winter Content


Upcoming Events
2019 Processing Vegetable Crops Advisory Meeting

December 17, 2019
9:30am - 12:10pm, 1pm - 2pm, and 2pm - 3:30pm
Batavia, NY
2020 Finger Lakes Produce Auction Education Meeting

January 2, 2020
9:00 AM - 2:00 PM
Penn Yan, NY
2020 Ontario Produce Auction Winter Growers Meeting

January 8, 2020
9:00 AM - 2:30 PM
Stanley, NY
Announcements