Asparagus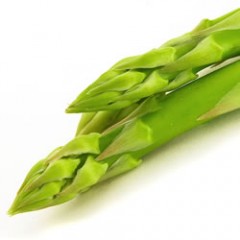 Asparagus is a popular early-season vegetable. There are approximately 200 acres grown on 129 New York farms annually (2007 Census of Ag). The majority is sold for fresh-market, but a small amount (18 acres) goes for processing. Asparagus is available from the beginning of May through mid-June in New York. It is a popular vegetable at farmer's markets, U-pick operations, retail stands and is also grown for wholesale markets.
Commercial asparagus fields are generally planted with one-year old crowns; however, transplants can also be used. Fields take two years to establish, but afterwards can remain in production for 10 to 20 years.
Video: New York State Produce Auctions
Last Modified: March 8, 2018

Currently, there are 8 produce auctions in New York State. These auctions are aggregation points that allow local farmers to sell their produce in wholesale lots to buyers from across the region. To document the economic impact of produce auctions on agriculture, local businesses, family farms, and produce buyers, the Cornell Vegetable Program worked with Harvest New York to survey top sellers and buyers.

A new Cornell Vegetable Program video shares general information about produce auctions, how buyers and sellers use the auctions to expand their businesses, and how local communities benefit from them.
Cold Storage Chart and Reference Guide to Commercial Vegetable Storage
Robert Hadad, Extension Vegetable Specialist
Cornell Vegetable Program
Last Modified: December 13, 2016

Commercial vegetable growers will find a Cold Storage Chart by crop type with temperature and relative humidity recommendations. The maximum number of weeks that the crop can be held under ideal conditions is provided as well.

Adapted from the USDA Bulletin #66, The Commercial Storage of Fruits, Vegetables, and Florist and Nursery Stock, growers will find information on quality, grading, sizes, and packaging, chilling and storage, and post-harvest pathology of vegetables.


Upcoming Events
No upcoming events at this time.
Announcements