Asparagus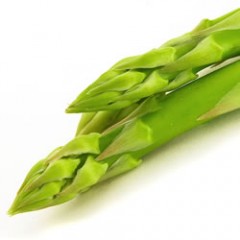 Asparagus is a popular early-season vegetable. There are approximately 200 acres grown on 129 New York farms annually (2007 Census of Ag). The majority is sold for fresh-market, but a small amount (18 acres) goes for processing. Asparagus is available from the beginning of May through mid-June in New York. It is a popular vegetable at farmer's markets, U-pick operations, retail stands and is also grown for wholesale markets.
Commercial asparagus fields are generally planted with one-year old crowns; however, transplants can also be used. Fields take two years to establish, but afterwards can remain in production for 10 to 20 years.
Most Recent Asparagus Content
Cold Storage Chart and Reference Guide to Commercial Vegetable Storage
Robert Hadad, Extension Vegetable Specialist
Cornell Vegetable Program
Last Modified: December 13, 2016


Commercial vegetable growers will find a Cold Storage Chart by crop type with temperature and relative humidity recommendations. The maximum number of weeks that the crop can be held under ideal conditions is provided as well.

Adapted from the USDA Bulletin #66, The Commercial Storage of Fruits, Vegetables, and Florist and Nursery Stock, growers will find information on quality, grading, sizes, and packaging, chilling and storage, and post-harvest pathology of vegetables.
How to Sign the Waiver for the Indemnified Dual Magnum Label
Christy Hoepting, Extension Vegetable Specialist
Cornell Vegetable Program
Last Modified: May 4, 2016


The DUAL MAGNUM Special Local Needs (SLN) herbicide, EPA No. 100-816/SLN No. NY-110004; a.i. metolachlor; Syngenta), label has expanded. Added Brussels sprouts (transplanted), cauliflower (transplanted), lettuce (head and leaf) and summer squash.

Note, all these uses require signing a waiver/indemnification. Instructions on how to access the waiver follow.
Video: New York State Produce Auctions
Last Modified: April 30, 2015


Currently, there are 6 produce auctions in New York State. These auctions are aggregation points that allow local farmers to sell their produce in wholesale lots to buyers from across the region. To document the economic impact of produce auctions on agriculture, local businesses, family farms, and produce buyers, the Cornell Vegetable Program worked with HarvestNY to survey top sellers and buyers.

A new Cornell Vegetable Program video shares general information about produce auctions, how buyers and sellers use the auctions to expand their businesses, and how local communities benefit from them.
More Asparagus Content


Upcoming Events
2018 Empire State Producers EXPO

January 16 - January 18, 2018
1.25 hr sessions throughout each day
Syracuse, NY
The 2018 Empire State Producers Expo combines the major fruit, flower and vegetable associations of New York State in order to provide a comprehensive trade show and educational conference for New York producers, as well as the surrounding states and Eastern Canada.
Growing, Washing and Packing High Tunnel Winter Greens: Doing It and Doing It Well
January 18, 2018
9:00 AM - 4:00 PM
Saratoga Springs, NY
NOFA-NY 2018 Winter Conference: Pre-Conference Event
This event promises to help growers bring their winter greens production to the next level -- both in the high tunnel and in the packshed. There will be an emphasis on best management practices in the high tunnel, especially practices which support long term soil health and fertility. In the packshed, processing efficiency and food safety will both be stressed.
The day will begin at 9:00 am in conference room Broadway 1, with workshops on issues and opportunities in winter high tunnel production and best practices for postharvest handling, including food safety concerns.
Upon completion of the workshops at 10:30 am, everyone will board a bus and travel to Paul and Sandy Arnold's Pleasant Valley Farm in Argyle, NY for a farm tour and farmer-led discussions in the high tunnel and packshed. A farm to table lunch, with a vegetarian option, will be served at the farm. After lunch, the tours and discussions will continue and then everyone will come together for a Q&A session with hot cider and light snacks. The bus will leave the farm at about 3:15 pm and should be back at the hotel by 4:00 pm.
Produce Grower Food Safety Training - FSMA and GAPs/HGAPs
January 30, 2018 : FSMA and GAPs/HGAPs Produce Safety Alliance Training Course
January 31, 2018 : Workshop on Farm Food Safety Plan Writing
This program is for fruit and vegetable growers who need Food Safety Modernization Act (FSMA) certification or GAPs/HGAPs (Good Agricultural Practices/ Harmonized Good Agricultural Practices) training required by buyers (i.e. 3rd-party food safety audits based on a written food safety plan) or if you are just interested in learning about produce safety.


Over the course of the training, certified Produce Safety Alliance trainers will cover content contained in these seven modules:
Introduction to Produce Safety
Worker Health, Hygiene, and Training
Soil Amendments
Wildlife, Domesticated Animals, and Land Use
Agricultural Water (Part I: Production Water; Part II: Postharvest Water)
Postharvest Handling and Sanitation
How to Develop a Farm Food Safety Plan

An optional farm food safety plan writing workshop is offered on January 31. Separate registration required.
Announcements
Cornell Commercial Vegetable Guidelines Available
The
2018 Cornell Integrated Crop and Pest Management Guidelines for Commercial Vegetable Production are now available!
Written by Cornell University specialists, this publication is designed to offer producers, seed and chemical dealers, and crop consultants practical information on growing and managing vegetable crops in New York State. Topics include general culture, nutrient management, transplant production, postharvest handling, organic production, and managing common vegetable crop pest concerns. A
preview of the Vegetable Guidelines
can be seen online.
Highlighted changes in the 2018 Vegetable Guidelines include:
Updated pesticide options for economically important vegetable crop pests.
Significantly revised pest management practices.
New onion and sweet corn IPM scouting report forms.
Cornell Crop and Pest Management Guidelines are available as a print copy ($41), online-only access ($41), or a package combining print and online access ($57.50). Shipping charges will be added to your order. Cornell Guidelines can be obtained through your local Cornell Cooperative Extension office, or
from the Cornell Store at Cornell University
or call (844) 688-7620.
Available: 2017 Certified Seed Potato Directory
The
2017 NYS Certified Seed Potato Crop Directory
is now available. There is a wealth of information on NYS potato seed certification, as well as on the varieties grown for certification in 2017. The varieties include standards for processing and tablestock, newer varieties and numbered lines, and specialty/heirloom varieties. Brief summaries of the varieties' maturity, appearance, yield potential, and major disease susceptibility are included. Contact info for the growers with seed supplies of each variety is included. There is also a listing of the inspectors from the NYS Department of Agriculture and Markets in Albany and Syracuse.
Growing for Wholesale Guidelines Available
Grading and packing guidelines are now available for 16 commonly grown specialty crops in NYS: broccoli crowns, Brussels sprouts, corn, green peppers, cucumbers, green cabbage, red cabbage, savory cabbage, cauliflower, eggplant, green beans, jalapenos, poblanos, Hungarian hot peppers, summer squash, and zucchini.
Acceptable quality standards and common defects that should be sorted out on the grading line are depicted in these resources, both visually and in outline form. Find all of the
grading sheets here
.
Cornell Vegetable Program - Cornell Cooperative Extension
Your Trusted Source for Research-Based Knowledge