Pumpkins / Gourds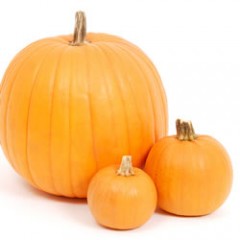 New York State ranks among the top 3 states (Illinois and Pennsylvania are the other two) in pumpkin production in the country with over 5,500 acres of production with an estimated value of $20.5 million each year (2014 Vegetable Summary). Nearly all of these are for fresh market use for either decorating or eating. The pumpkin industry is highly variable with fruit ranging from quarter pound to several hundred pounds each. Pumpkins are grown throughout NYS and are marketed through roadside stands, nursery centers and farmers markets and are also important in areas that have lots of agri-tourism. Included in this group are also other fall ornamentals such as gourds and ornamental squash. Pumpkins are susceptible to many different diseases, the most prevalent of those being Powdery Mildew, Downey Mildew and Phytopthroa blight. In the last eight years, plant breeders and seed companies have released a multitude of varieties resistant to Powdery Mildew and are widely used by growers. Another concern for growers are several different viruses which can cause plants to not produce fruit at all or results in poor fruit quality (size, color etc.). Striped Cucumber Beetles and Squash bugs remain the main insect pests. Aphids are also important because they are the primary vectors of those viruses mentioned above.
Relevant Event
Fresh Market Vegetable Grower Meeting

February 21, 2019
Th 1:00 - 3:30 PM
Newark, NY
Most Recent Pumpkins / Gourds Content
Video: New York State Produce Auctions
Last Modified: March 8, 2018


Currently, there are 8 produce auctions in New York State. These auctions are aggregation points that allow local farmers to sell their produce in wholesale lots to buyers from across the region. To document the economic impact of produce auctions on agriculture, local businesses, family farms, and produce buyers, the Cornell Vegetable Program worked with Harvest New York to survey top sellers and buyers.

A new Cornell Vegetable Program video shares general information about produce auctions, how buyers and sellers use the auctions to expand their businesses, and how local communities benefit from them.
2017 Cucurbit Downy Mildew Management Guidelines
Last Modified: July 5, 2017


From Margaret McGrath, Cornell
Producing a high-quality cucurbit crop necessitates effectively managing downy mildew. This foliar disease is common in the northeast because the pathogen produces a large quantity of asexual spores that are easily dispersed long distances by wind, which enables it to spread widely. There has been no evidence that the pathogen is surviving between growing seasons where winter temperatures kill cucurbit crops (outdoors above the 30th latitude); however, recently both mating types have been found, albeit typically on different cucurbit crop types, thus there is the potential for the pathogen to produce oospores (sexual spores) that could enable the pathogen to survive in northern areas of the USA. The downy mildew forecasting program has documented based on downy mildew occurrence movement of the pathogen throughout the eastern USA each year via its wind-dispersed asexual spores. The pathogen does not affect fruit directly; however, affected leaves die prematurely which results in fewer fruit and/or fruit of low quality (poor flavor, sunscald, poor storability).

The most important component of an effective management program for downy mildew is an effective, properly-timed fungicide program. And the key to that is applying mobile fungicides targeted to the pathogen starting when there is a risk of the pathogen being present. Mobile (or translaminar) fungicides are needed for control on the underside of leaves. Each year there often are changes to the fungicides recommended as the pathogen develops resistance or new products are registered. Because these fungicides have targeted activity, additional fungicides must be added to the program when there is a need to manage other diseases such as powdery mildew. Most targeted fungicides effective for downy mildew are also effective for Phytophthora blight.
Video: Flea Beetles
Last Modified: June 5, 2017


Flea beetles are a common vegetable pest affecting peppers, cucurbits, sweet potato, potato, peas, beans, beets, tomato, corn, turnip, pumpkin, melon, eggplant, and others. This short video gives you some general information about this pest.
More Pumpkins / Gourds Content


Upcoming Events
Fresh Market Vegetable Grower Meeting

February 21, 2019
Th 1:00 - 3:30 PM
Newark, NY
This course will educate fresh market growers on current pest management, food safety, and marketing issues in fresh market crops. Specific topics covered include: managing the weed seedbank, Farm to School marketing opportunities, Late Blight updates, FSMA On-Farm Readiness Reviews, biopesticides and biostimulants and how they work, wash line equipment cleaning checklist, and a discussion of production problems throughout the 2018 growing season.
Designing a Safe and Sanitizable Packing Line
March 6, 2019
W 9:00 AM - 12:00 PM
Branchport, NY
Join Robert Hadad, CVP vegetable specialist, to learn about how to design a produce packing line that fits your budget and maximizes efficiency and food safety. This workshop will cover what you need to take into account when designing your line, along with how you can modify an existing system to for increased sanitation and efficiency. Robert will also discuss how packing line and packing house design fits in with the new Food Safety Modernization Act requirements.
Produce Safety Alliance Grower Training

March 11 - March 12, 2019
M 9:00 AM - 5:00 PM; T 9:00 AM - 3:00 PM
Binghamton, NY
Are you a farmer interested in produce safety? Are your markets asking for food safety plans or third party verification? Do you want to understand produce safety issues as they relate to the Food Safety Modernization Act (FSMA) Food Safety Rule, third party audits and Good Agricultural Practices (GAPs)? Participation in this training, hosted by CCE Broome County, will give you the tools to create an on-farm food safety plan and complete one of the requirements of either FSMA OR the New York State Grown and Certified branding program. We will also discuss potential funding streams to make infrastructure upgrades to your farm related to food safety!
Announcements
Cornell Commercial Vegetable Guidelines Available
The
2019 Cornell Integrated Crop and Pest Management Guidelines for Commercial Vegetable Production are now available!
Written by Cornell University specialists, this publication is designed to offer producers, seed and chemical dealers, and crop consultants practical information on growing and managing vegetable crops in New York State. Topics include general culture, nutrient management, transplant production, postharvest handling, organic production, and managing common vegetable crop pest concerns. A
preview of the Vegetable Guidelines can be seen online
.
Highlighted changes in the 2019 Vegetable Guidelines include:
Updated pesticide options for economically important vegetable crop pests.
New pests: beet armyworm in beets; cabbage looper and tarnished plant bug in lettuce and endive; allium leafminer in onions; and Cladosporium, Cercospora, and Stemphylium leaf spots in spinach.
Cornell Crop and Pest Management Guidelines are available as a print copy ($41), online-only access ($41), or a package combining print and online access ($57.50). Shipping charges will be added to your order. Cornell Guidelines can be obtained through many local Cornell Cooperative Extension offices, or
from The Cornell Store at Cornell University
or call (844) 688-7620.
Empire State Producers EXPO Proceedings
Proceedings from the Empire State Producers EXPO
conference from 2011-2019 are available online.
2018 Cornell Vegetable Program Year in Review
2018 is behind us but we hope that our team's efforts to enhance New York vegetable production continues well beyond! This year, our Specialists gave presentations at 119 events, sharing our knowledge with 3,535 people.
We continue to conduct on-farm research to help answer the questions of our growers. The Cornell Vegetable Program managed 50 research grants and projects in 2018. We extend our gratitude to the 65 farms and organizations that offered us land, labor, and supplies to support our trials! We also want to thank those farmers that gave generous financial contributions to support our work as well.
We cannot forget to thank the 13 Cooperative Extension Associations that partnered with us this year too. We're excited to be adding Steuben County to our list of participating counties in 2019!
Our
2018 Year in Review brochure
highlights our research and educational projects.