Ethnic Vegetables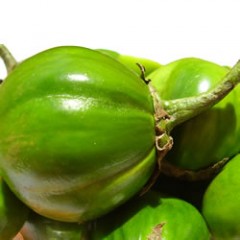 Production of ethnic vegetables is a growing trend on many New York farms. A large assortment of exotic vegetable types while unfamiliar to many Americans may be a taste of home to foreign nationals, immigrants and ethnically-based communities. Most of these ethnic vegetables can be successfully grown in New York. The key to marketing is to select varieties that are familiar to the consumer group. Many immigrants are excited to be able to purchase fresh produce grown locally that would be readily available in their country of origin. Producing ethnic vegetables can be rewarding, but should be properly researched and tried on a small scale to begin.
Video: New York State Produce Auctions
Last Modified: March 8, 2018

Currently, there are 8 produce auctions in New York State. These auctions are aggregation points that allow local farmers to sell their produce in wholesale lots to buyers from across the region. To document the economic impact of produce auctions on agriculture, local businesses, family farms, and produce buyers, the Cornell Vegetable Program worked with Harvest New York to survey top sellers and buyers.

A new Cornell Vegetable Program video shares general information about produce auctions, how buyers and sellers use the auctions to expand their businesses, and how local communities benefit from them.
Evaluations of Specialty Crop Vegetables
Robert Hadad, Extension Vegetable Specialist
Cornell Vegetable Program
Last Modified: April 18, 2016


Each year, the Cornell Vegetable Program will be evaluating new and different vegetable varieties suited for the specialty crop or ethnic markets. Growers are encouraged to check them out here to see how they have performed in Western NY.
Ethnic Greens Trial, 2012
Robert Hadad, Extension Vegetable Specialist
Cornell Vegetable Program
Last Modified: January 23, 2013


Interest in growing ethnic vegetables has been increasing in our region. In response, the Cornell Vegetable Program conducted a two-year ethnic vegetable variety and marketing trial. The focus of the trial was to see how well assortments of vegetables that represent some different nationalities perform in WNY under our wildly fluctuating weather conditions and also to see how growers can market these new vegetables, how customers respond to them at the market, and what is needed to reach targeted communities perhaps. Funding was provided by the Western NY CCE Association group.

Exploring Ethnic Vegetables
Robert Hadad, Extension Vegetable Specialist
Cornell Vegetable Program
Last Modified: April 2, 2012


In and around our larger cities and increasingly out in suburban areas, ethnic communities are expanding. This presentation was made to a small farmers' meeting sponsored by the Cornell Vegetable Program, Ontario County CCE, and through funding by GVRMA. The presentation covered discovering what communities are out there, vegetable varieties available, and marketing. Future work will focus on reporting results from variety trials and marketing economics.

Ethnic Vegetable Workshop Receives Media Coverage
Robert Hadad, Extension Vegetable Specialist
Cornell Vegetable Program
Last Modified: January 11, 2012


The Cornell Chronicle Online covered a recent Ethnic Vegetable Workshop hosted by the Cornell Vegetable Program and CCE Ontario County.


Upcoming Events
SCRUB Twilight Workshop Series
September 1, 2021 : Bin Blitz
Experienced growers and UVM's Ag Engineering present new strategies and cleaning tools to increase the efficiency and efficacy of bin cleaning, sanitation and management practices. Lead growers show and tell their bin systems, with lessons learned. Participants leave with a plan to improve/implement new practices.
September 8, 2021 : Low Cost and High Value
Evaluate low-cost (either money or time) improvements that make a big difference. Experience growers show and tell the thrifty improvements they made and summarize lessons learned, including trade-offs of spending money (or not) to lower risks and increase efficiency.
September 15, 2021 : Wash/Pack Floors
Learn to improve or repair a concrete floor so that it is smooth and easy to clean. This workshop highlights concrete repair, cleaning and sanitation techniques, water management, products and resources, as well as show and tell from experienced growers, and Chris Callahan from UVM's Extension Ag Engineering.
September 22, 2021 : Wash Water Management
Experienced growers and facilitators dig into the fundamentals of managing produce wash water, including show and tell with lessons learned about wash water management, use and monitoring of sanitizers. All participants leave with a plan to improve/implement new practices.
September 29, 2021 : Tools for Employee Management and Empowerment
Develop management strategies/systems to retain and empower high-value workers, while improving crew morale and culture. Learn from experienced managers of loyal and reliable crews, the pros and cons of their current management systems, and how they came to be. Participants leave with resources and a plan to improve/implement one or more new practices or strategies.
October 6, 2021 : Bubblers/Aerators for Greens Washing
For growers wanting to install or improve a greens bubbler/aerator. Get feedback from growers who built/improved their own systems. Examine designs and DYI resources, as well as perceived quality and efficiency gains from bubblers as compared to other washing methods. This workshop features a panel of New York growers!
Announcements