Ethnic Vegetables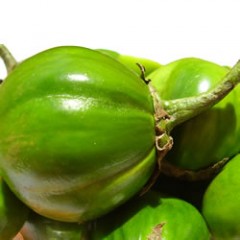 Production of ethnic vegetables is a growing trend on many New York farms. A large assortment of exotic vegetable types while unfamiliar to many Americans may be a taste of home to foreign nationals, immigrants and ethnically-based communities. Most of these ethnic vegetables can be successfully grown in New York. The key to marketing is to select varieties that are familiar to the consumer group. Many immigrants are excited to be able to purchase fresh produce grown locally that would be readily available in their country of origin. Producing ethnic vegetables can be rewarding, but should be properly researched and tried on a small scale to begin.
Relevant Event
2018 Empire State Producers EXPO

January 16 - January 18, 2018
1.25 hr sessions throughout each day
Syracuse, NY
Most Recent Ethnic Vegetables Content
Evaluations of Specialty Crop Vegetables
Robert Hadad, Extension Vegetable Specialist
Cornell Vegetable Program
Last Modified: April 18, 2016


Each year, the Cornell Vegetable Program will be evaluating new and different vegetable varieties suited for the specialty crop or ethnic markets. Growers are encouraged to check them out here to see how they have performed in Western NY.
Video: New York State Produce Auctions
Last Modified: April 30, 2015


Currently, there are 6 produce auctions in New York State. These auctions are aggregation points that allow local farmers to sell their produce in wholesale lots to buyers from across the region. To document the economic impact of produce auctions on agriculture, local businesses, family farms, and produce buyers, the Cornell Vegetable Program worked with HarvestNY to survey top sellers and buyers.

A new Cornell Vegetable Program video shares general information about produce auctions, how buyers and sellers use the auctions to expand their businesses, and how local communities benefit from them.
Ethnic Greens Trial, 2012
Robert Hadad, Extension Vegetable Specialist
Cornell Vegetable Program
Last Modified: January 23, 2013


Interest in growing ethnic vegetables has been increasing in our region. In response, the Cornell Vegetable Program conducted a two-year ethnic vegetable variety and marketing trial. The focus of the trial was to see how well assortments of vegetables that represent some different nationalities perform in WNY under our wildly fluctuating weather conditions and also to see how growers can market these new vegetables, how customers respond to them at the market, and what is needed to reach targeted communities perhaps. Funding was provided by the Western NY CCE Association group.

More Ethnic Vegetables Content


Upcoming Events
NY Veterans in Agriculture Summit
November 29, 2017
8:30 AM - 4:30 PM
Syracuse, NY
Come gather for a day of education and networking. Learn about resources that are available to farmer veterans in New York and participate in educational sessions on topics including animal health, financial management, high tunnels, and business planning.
Second Annual Cut Flower Conference
December 1, 2017
8:00 AM - 4:00 PM
Rensselaerville, NY
Cornell Cooperative Extension's Capital Area Agriculture and Horticulture Program, announces their upcoming Second Annual Cut Flower Conference. The initial Cut Flower Conference, held in 2016, was very popular with established and beginning cut flower growers and growers considering adding cut flowers to their diversified farms.
2017 Processing Vegetable Crops Advisory Meeting

December 13, 2017
9:30 AM - 2:30 PM
Batavia, NY
All processing vegetable growers and industry members are invited to attend. Discuss the 2017 growing season and management concerns. Reports and discussion of the 2017 Projects funded by the New York Vegetable Research Council/Association. Review priorities and the role of the advisory group in applications for state and federal grants. Give your input on the format of future advisory meetings and future educational programs.
Announcements
Available: 2017 Certified Seed Potato Directory
The
2017 NYS Certified Seed Potato Crop Directory
is now available. There is a wealth of information on NYS potato seed certification, as well as on the varieties grown for certification in 2017. The varieties include standards for processing and tablestock, newer varieties and numbered lines, and specialty/heirloom varieties. Brief summaries of the varieties' maturity, appearance, yield potential, and major disease susceptibility are included. Contact info for the growers with seed supplies of each variety is included. There is also a listing of the inspectors from the NYS Department of Agriculture and Markets in Albany and Syracuse.
Growing for Wholesale Guidelines Available
Grading and packing guidelines are now available for 16 commonly grown specialty crops in NYS: broccoli crowns, Brussels sprouts, corn, green peppers, cucumbers, green cabbage, red cabbage, savory cabbage, cauliflower, eggplant, green beans, jalapenos, poblanos, Hungarian hot peppers, summer squash, and zucchini.
Acceptable quality standards and common defects that should be sorted out on the grading line are depicted in these resources, both visually and in outline form. Find all of the
grading sheets here
.
Cornell Vegetable Program - Cornell Cooperative Extension
Your Trusted Source for Research-Based Knowledge