About Program
The Cornell Vegetable Program is one of the premier regional agricultural Cornell Cooperative Extension programs in New York, serving a large multi-county region in the western and central parts of the state. The team's Vegetable Specialists work together with Cornell faculty and Extension Educators statewide to address the issues that impact the industry. The Cornell Vegetable Program provides educational programs and information to growers, processors and agri-business professionals, arming them with the knowledge to profitably produce and market safe and healthful vegetable crops, contributing to the viability of farms and the economic wellbeing of New York State. Specifically, our program focuses on food safety, variety evaluation, market development, pest management, and cultural practices.
Watch a video to learn more about the Cornell Vegetable Program.
Growers and agri-business professionals must enroll in our program to benefit from many of our educational offerings including our newsletter, direct mailings, and pest alerts.
The Cornell Vegetable Program is supported, in part, by thirteen
county Cornell Cooperative Extensions of Western New York:
Allegany, Cattaraugus, Chautauqua, Erie, Genesee, Monroe, Niagara,
Ontario, Orleans, Oswego, Seneca, Wayne and Yates Counties.

To visit one of these Cornell Cooperative Extension's web sites,
simply click on a county within the map.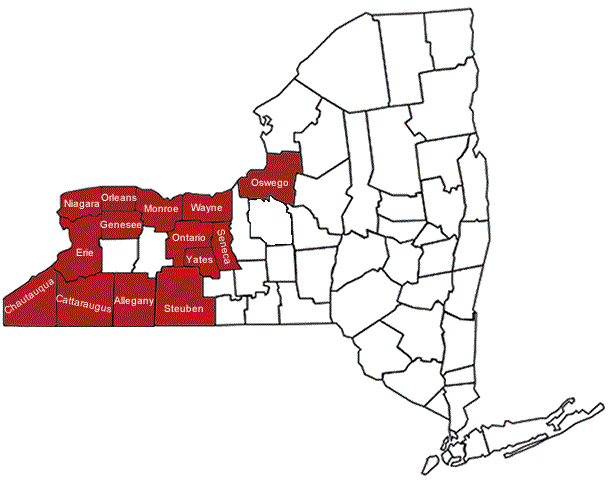 Upcoming Events
Muck Donut Hour Every Tuesday
August 1, 2017
8:30 - 9:30 AM
Elba, NY
Meet with Cornell Vegetable Program Specialist Christy Hoepting every Tuesday morning to ask questions and share your observations.
Fresh Market Minutes - Eden Valley
August 1, 2017
9:00 AM - 10:00 AM
Eden, NY
Meet with the Cornell Vegetable Program Specialist Darcy Telenko every other Tuesday morning to ask questions and share your observations in fresh market vegetables.
2017 Vegetable Pest and Cultural Management Field Meeting - Chautauqua County

August 8, 2017
6:00 PM
Frewsburg, NY
This course will demonstrate pest management in fresh market vegetables in both field and greenhouse (high tunnel) vegetables; primarily for those growing for wholesale auction. A hands-on demonstration of weed, insect and disease identification in vegetables including management options such as inter-row cover crops, grafting and where appropriate, spray options will be used to educate growers. CVP Specialists Judson Reid, DarcyTelenko, and Robert Hadad will instruct participants and facilitate peer-based learning. Details on each topic will focus on field observations at the farm.
Announcements
Late Blight Spreading Across WNY Counties
7/19/17 -
Late blight (LB) was confirmed in Livingston County on potato this week (the genotype is still being determined). The sample from Erie County from last week was determined to be US-23 which is sensitive to metalaxyl.
All of Western NY is at risk for Late Blight infection.
Severity values continue build at all stations. The frequent and continuing rainfall has been extremely favorable for the development of LB. Scout fields twice a week. All tomato and potato growers, conventional and organic, should be applying a protectant fungicides and monitoring the DSS to determine spray intervals. Remember to rotate fungicide F
RAC groups and use contact fungicides in your program to minimize the chances of fungicides resistance.
If late blight is suspected act immediately!
Under favorable environmental conditions late blight develops very rapidly and can spread many miles in a short period. Please take a sample for isolate identification. It is very important to track disease movement. Contact CCE Cornell Vegetable Program Specialists for assistance.
Cucurbit Downy Mildew Confirmed in WNY
Cucurbit downy mildew has been confirmed in Erie County. There have also been confirmed reports from OH, PA and Ontario Canada. If you're planning on spraying cucumbers to control downy mildew, now is the time to do it!
Characteristic disease symptoms are angular, pale green areas bounded by the leaf veins. They will turn yellow and later necrotic. Under high humidity conditions sporulation will occur on the lower leaf surface. Apply targeted fungicides tank-mixed with protectant fungicides weekly and alternated among available modes of action (FRAC code), starting when there is risk for a specific crop based on forecasting program. Refer to the Cornell Vegetable Guidelines for a complete list of products available.
For more information about the disease,
watch our new video Better Know a Pest: Downy Mildew
or contact
Robert Hadad
or
Darcy Telenko
.
Better Know a Pest Video Series
The CCE Cornell Vegetable Program has created 3 new, short videos about common vegetable pests: flea beetles, swede midge, and downy mildew. The videos are part of a series called
Better Know a Pest
. Watch for more videos as the season progresses.
2017 Cornell Vegetable Guidelines Available
The 2017 edition of the

Cornell Integrated Crop and Pest Management Guidelines for Commercial Vegetable Production is now available. This annual publication provides up-to-date vegetable crop production information for New York State. It is designed as a practical guide for vegetable crop producers, crop consultants, ag chemical dealers, and others who advise vegetable crop producers.

In addition to the annually revised pesticide and crop production information, highlighted changes in this edition of the
Vegetable Guidelines
include:
Addition of Dickeya blackleg on potato as a disease of concern.
Updated regulatory considerations for organic vegetable production.
Revised European corn borer management strategies for beans and potatoes.
The Cornell Guidelines are available as a print copy ($41 plus shipping), online-only access ($41), or a package that combines print and online access ($57.50 plus shipping). Cornell Guidelines can be purchased through your local Cornell Cooperative Extension office or from the Cornell Store at Cornell University. To order from the Cornell Store, call (844) 688-7620 or
order online
.
Cornell Vegetable Program - Cornell Cooperative Extension
Your Trusted Source for Research-Based Knowledge