About Program
The Cornell Vegetable Program is one of the premier regional agricultural teams in NYS:
a Cornell Cooperative Extension partnership between Cornell University and the CCE Associations in a large multi-county region in the western and central parts of the state.
The team's Vegetable Specialists work together with Cornell faculty and Extension Educators statewide to address the issues that impact the commercial vegetable industry. The Cornell Vegetable Program provides educational programs and information to growers, processors and agri-business professionals, arming them with the knowledge to profitably produce and market safe and healthful vegetable crops, contributing to the viability of farms and the economic wellbeing of New York State. Specifically, our program focuses on food safety, variety evaluation, market development, pest management, and cultural practices.
Watch a video to learn more about the Cornell Vegetable Program.
Growers and agri-business professionals must enroll in our program to benefit from many of our educational offerings including our newsletter, direct mailings, and pest alerts.
The Cornell Vegetable Program is supported, in part, by fourteen
county Cornell Cooperative Extensions of Western New York:
Allegany, Cattaraugus, Chautauqua, Erie, Genesee, Monroe, Niagara,
Ontario, Orleans, Oswego, Seneca, Steuben, Wayne and Yates Counties.

To visit one of these Cornell Cooperative Extension's web sites,
simply click on a county within the map.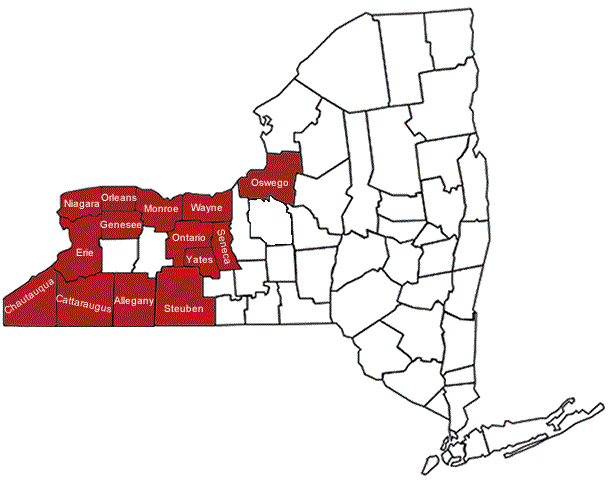 Upcoming Events
Women in Agriculture Discussion Group: Apples and Vegetables
September 30, 2019
Monday, 6:00 - 7:30 PM
Lockport, NY
Each monthly Women in Ag discussion group meeting will feature an established, innovative Farm-her leading the group on a tour of her operation and sharing her expertise on business management and production. Several guest speakers, as well as Cornell Vegetable Program staff, will be brought in to act as resource people for developing solutions to common production challenges.

The September 30 meeting will cover season extension, managing CSAs and tarping led by Liz Tee, CCE Lake Ontario Fruit Program, and Elizabeth Buck, CCE Cornell Vegetable Program. The meeting will be hosted by Bree Bacon (McCollum Orchards & Gardens). Bree will share her experience in social media marketing and passive farm income.

Announcements