About Program
The Cornell Vegetable Program is one of the premier regional agricultural teams in NYS:
a Cornell Cooperative Extension partnership between Cornell University and the CCE Associations in a large multi-county region in the western and central parts of the state.
The team's Vegetable Specialists work together with Cornell faculty and Extension Educators statewide to address the issues that impact the commercial vegetable industry. The Cornell Vegetable Program provides educational programs and information to growers, processors and agri-business professionals, arming them with the knowledge to profitably produce and market safe and healthful vegetable crops, contributing to the viability of farms and the economic wellbeing of New York State. Specifically, our program focuses on food safety, variety evaluation, market development, pest management, and cultural practices.
Watch a video to learn more about the Cornell Vegetable Program.
Growers and agri-business professionals must enroll in our program to benefit from many of our educational offerings including our newsletter, direct mailings, and pest alerts.
The Cornell Vegetable Program is supported, in part, by fourteen
county Cornell Cooperative Extensions of Western New York:
Allegany, Cattaraugus, Chautauqua, Erie, Genesee, Monroe, Niagara,
Ontario, Orleans, Oswego, Seneca, Steuben, Wayne and Yates Counties.

To visit one of these Cornell Cooperative Extension's web sites,
simply click on a county within the map.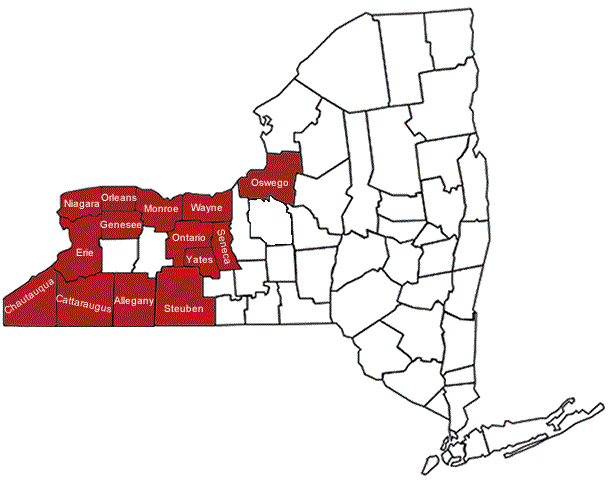 Upcoming Events
2019 Processing Vegetable Crops Advisory Meeting

December 17, 2019
9:30am - 12:10pm, 1pm - 2pm, and 2pm - 3:30pm
Batavia, NY
All are invited to attend and discuss the 2019 season for each crop, meet the new Cornell Weed Scientist and discuss weed management concerns, and receive updates on research conducted during 2019. Separate DEC and CCA credits will be available for each of the 3 crop meetings. The meeting is free of charge and there is no registration required.
2020 Finger Lakes Produce Auction Education Meeting

January 2, 2020
9:00 AM - 2:00 PM
Penn Yan, NY
This meeting is our annual winter educational event for Finger Lakes Produce Auction growers. This year we will focus on farm food safety clarifications, soil health, pepper pests, strawberries, and control of tomato and vine crop diseases through use of biopesticides. 2.5 DEC recertification credits will be available in category 23, and 0.5 credits in category 22.
2020 Ontario Produce Auction Winter Growers Meeting

January 8, 2020
9:00 AM - 2:30 PM
Stanley, NY
This course will educate growers on disease and pest management, varieties and marketing issues in vegetables and small fruit. Topics such as disease resistant varieties, pest/disease, cultural management and appropriate spray options. An anticipated 1.0 hours of content is eligible for re-certification credits.
Announcements