Onions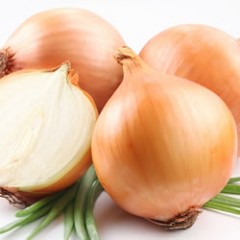 Onions are one of the most important vegetable crops in New York State with annual sales of approximately $52 million. New York accounts for 97% of the onion production in the North Eastern United States and ranks sixth in the nation. Approximately 12,000 acres of yellow pungent cooking onions are grown from direct seed, predominantly on organically rich muck soils. This crop is stored and marketed until April. Sweet and red varieties are also grown, mostly from transplants. Hundreds of small-scale diversified farms grow onions intensively on plastic beds on less than an acre. These onions can grow very large and be lucrative in the market place where they are sold through produce auctions, farmer's markets, roadside stands and CSAs.
Continued intensive production of onions in New York has led to an array of perennial pest challenges, as well as the introduction of new pests, so that management of the onion complex in New York requires a very strategic research-based approach. Cornell Cooperative Educators and Cornell faculty work together to conduct research on many aspects of onion production in the state. Below you will find educational information and results of our research trials.
Relevant Events
2019 Processing Vegetable Crops Advisory Meeting

December 17, 2019
9:30am - 12:10pm, 1pm - 2pm, and 2pm - 3:30pm
Batavia, NY
2020 Finger Lakes Produce Auction Education Meeting

January 2, 2020
9:00 AM - 2:00 PM
Penn Yan, NY
2020 Ontario Produce Auction Winter Growers Meeting

January 8, 2020
9:00 AM - 2:30 PM
Stanley, NY
2020 Empire State Producers EXPO

January 14 - January 16, 2020
1.25 hr sessions throughout each day
Syracuse, NY
Most Recent Onions Content
Guidelines for 2019 Onion Thrips Management in Onion
Christy Hoepting, Extension Vegetable Specialist
Cornell Vegetable Program
Last Modified: July 17, 2019

New York has a variety of registered insecticide products that can successfully control onion thrips. This flowchart provides several different insecticide sequence options for controlling onion thrips in 2019.

Cornell Onion Fungicide "Cheat Sheet" for Leaf Diseases, 2019
Christy Hoepting, Extension Vegetable Specialist
Cornell Vegetable Program
Last Modified: July 10, 2019

This chart provides information on fungicides available for use in New York in 2019 in onions for control of leaf diseases including Botrytis Leaf Blight (BLB), Stemphylium Leaf Blight (SLB), and Downy Mildew (DM). Rotation restrictions and maximum allowable per season are provided.
Revised EPA and NYS DEC Registration for Surchlor for Use on Onions
Last Modified: June 28, 2018
From Steve Beer, Department of Plant Pathology and Plant-Microbe Biology, Cornell:

EPA and NYSDEC revised the registration and required label for Surchlor to reduce bacterial rot. The revision provides for separate sprays of Surchlor, rather than mixes with other materials that likely would inactivate the anti-bacterial activity of sodium hypochlorite.
More Onions Content


Upcoming Events
2019 Processing Vegetable Crops Advisory Meeting

December 17, 2019
9:30am - 12:10pm, 1pm - 2pm, and 2pm - 3:30pm
Batavia, NY
2020 Finger Lakes Produce Auction Education Meeting

January 2, 2020
9:00 AM - 2:00 PM
Penn Yan, NY
2020 Ontario Produce Auction Winter Growers Meeting

January 8, 2020
9:00 AM - 2:30 PM
Stanley, NY
Announcements