Onions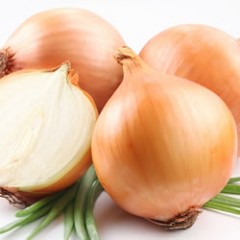 Onions are one of the most important vegetable crops in New York State with annual sales of approximately $52 million. New York accounts for 97% of the onion production in the North Eastern United States and ranks sixth in the nation. Approximately 12,000 acres of yellow pungent cooking onions are grown from direct seed, predominantly on organically rich muck soils. This crop is stored and marketed until April. Sweet and red varieties are also grown, mostly from transplants. Hundreds of small-scale diversified farms grow onions intensively on plastic beds on less than an acre. These onions can grow very large and be lucrative in the market place where they are sold through produce auctions, farmer's markets, roadside stands and CSAs.
Continued intensive production of onions in New York has led to an array of perennial pest challenges, as well as the introduction of new pests, so that management of the onion complex in New York requires a very strategic research-based approach. Cornell Cooperative Educators and Cornell faculty work together to conduct research on many aspects of onion production in the state. Below you will find educational information and results of our research trials.
Relevant Event
Oswego Onion Growers Twilight Meeting

August 22, 2018
4:00 PM registration, 4:30-6:30 PM educational program, 7:00 PM dinner
Oswego, NY
Most Recent Onions Content
Cornell Onion Fungicide "Cheat Sheet" for Leaf Diseases, 2018
Christy Hoepting, Extension Vegetable Specialist
Cornell Vegetable Program
Last Modified: July 5, 2018

This chart provides information on fungicides available for use in New York in 2018 in onions for control of leaf diseases including Botrytis Leaf Blight (BLB), Stemphylium Leaf Blight (SLB), and Downy Mildew (DM). Rotation restrictions and maximum allowable per season are provided.
Revised EPA and NYS DEC Registration for Surchlor for Use on Onions
Last Modified: June 28, 2018
From Steve Beer, Department of Plant Pathology and Plant-Microbe Biology, Cornell:

EPA and NYSDEC revised the registration and required label for Surchlor to reduce bacterial rot. The revision provides for separate sprays of Surchlor, rather than mixes with other materials that likely would inactivate the anti-bacterial activity of sodium hypochlorite.
Guidelines for 2018 Onion Thrips Management in Onion
Christy Hoepting, Extension Vegetable Specialist
Cornell Vegetable Program
Last Modified: June 12, 2018

New York has a variety of registered insecticide products that can successfully control onion thrips. This flowchart provides several different insecticide sequence options for controlling onion thrips in 2018.

More Onions Content


Upcoming Events
Fresh Market Vegetable Grading & Packing Workshop
August 21, 2018
2:00 PM - 5:00 PM
Deposit, NY
Are you interested in farm to school or selling to institutional markets? Maybe you'd like to know more about grading and packing your fresh market produce right in the field? CCE Broome County, in partnership with the CCE Cornell Vegetable Program and the Cornell Baskets to Pallets program, is offering a hands-on, on-farm experience designed to prepare farms in NY, both beginning and experienced, to enter new markets.
Oswego Onion Growers Twilight Meeting

August 22, 2018
4:00 PM registration, 4:30-6:30 PM educational program, 7:00 PM dinner
Oswego, NY
This in-field twilight meeting will feature a tour of Christy Hoepting's fungicide trial for Stemphylium leaf blight and Botrytis leaf blight. Hoepting will share head to head comparisons of FRAC groups, alternatives to FRAC 3 and 7, reduced rates, and fungicide programs. A first look at 2018 results from onion thrips research trials will be presented by Brian Nault and Ashley Leach, Cornell University. Hear about the 2018 onion maggot research trial results and new research initiative with Brian Nault and Erica Moretti. Hoepting will also provide information about a new seed treatment for onion smut control.
3rd Annual Vegetable Pest Management Field Day

August 23, 2018
4:00 PM - 7:00 PM plus light supper and networking
Portland, NY
Research trial results, cultural technique showcases, and effective varieties and treatments for organic and IPM production are the meeting focus. We will highlight current disease issues, their detection & spread based on this season's climate conditions, and management tools available to reduce yield impacts. Sessions will also be offered on pest identification and control options. Regional equipment dealers and industry representatives will be invited to display equipment and new technology.
2.25 DEC credits available in categories 1a, 10 and 23
Announcements
Growing for Wholesale Guidelines Available
Grading and packing guidelines are available for 17 commonly grown specialty crops in NYS: acorn squash, broccoli crowns, Brussels sprouts, corn, green peppers, cucumbers, green cabbage, red cabbage, savory cabbage, cauliflower, eggplant, green beans, jalapenos, poblanos, Hungarian hot peppers, summer squash, and zucchini.
Acceptable quality standards and common defects that should be sorted out on the grading line are depicted in these resources, both visually and in outline form. Find all of the
grading sheets here
.
Vegetable Sizing Templates Available
To assist farmers looking to sell into wholesale markets,
vegetable sizing templates
are now available for bell peppers, broccoli, Brussels sprouts, cauliflower, cucumbers, eggplant, potatoes, tomatoes, zucchini and summer squash. The crop templates are scaled to size (8.5 x 11 paper). They can be printed and used to create sizing templates to be used by workers on the wash and pack lines. Additional grading resources are available too.
Managing Bird Damage in Sweet Corn
Former CCE Cornell Vegetable Program Specialist Darcy Telenko shares information on her on-farm research of bird management options to minimize damage to sweet corn in this video and final report. Learn more about the tools she evaluated -- chemical control, air dancers, scare-eye balloons, and detasseling.
Watch the video now!
Read the final report now!
This research was supported by a Northeast SARE Partnership Grant and the New York Farm Viability Institute.
Empire State Producers EXPO Proceedings
Proceedings from the Empire State Producers EXPO
conference from 2011-2018 are available online.
Cornell Vegetable Program - Cornell Cooperative Extension
Your Trusted Source for Research-Based Knowledge