Peppers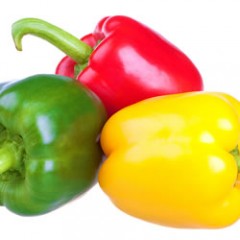 Bell, or sweet, peppers are an important crop on New York fresh market vegetable farms, worth in aggregate close to $10 million according to the most recent data (2011 Vegetable Summary). Hot peppers, such as jalapenos and habaneros, can be important specialty items for direct sales. Peppers are grown in commercial fields with floating row covers, plastic mulch and drip irrigation. For colored peppers early maturing varieties are a good choice for NY growers. Resistance to the soil-borne pathogen Phytothphora capsici is another important attribute. Greenhouse and high tunnel production of peppers is on the rise among CSA, produce auction and market farmers. The Cornell Vegetable Program conducts a number of research projects on peppers such as variety trials and organic fertility.
Relevant Events
2019 Processing Vegetable Crops Advisory Meeting

December 17, 2019
9:30am - 12:10pm, 1pm - 2pm, and 2pm - 3:30pm
Batavia, NY
2020 Finger Lakes Produce Auction Education Meeting

January 2, 2020
9:00 AM - 2:00 PM
Penn Yan, NY
2020 Ontario Produce Auction Winter Growers Meeting

January 8, 2020
9:00 AM - 2:30 PM
Stanley, NY
2020 Empire State Producers EXPO

January 14 - January 16, 2020
1.25 hr sessions throughout each day
Syracuse, NY
Most Recent Peppers Content
Growing for Wholesale: Grading and Packing Guidelines by Crop
Last Modified: August 29, 2019

Grading and packing guidelines are now available for 18 commonly grown specialty crops in NYS: romaine lettuce, acorn squash, broccoli crowns, Brussels sprouts, sweet corn, green peppers, cucumbers, green cabbage, red cabbage, savoy cabbage, cauliflower, eggplant, green beans, jalapenos, poblanos, Hungarian hot peppers, summer squash, and zucchini.
Recording of High Tunnel Veg Research Webinar 11/29/18
Amy Ivy, Vegetable Specialist
Eastern New York Commercial Horticulture
Last Modified: November 29, 2018

This is a recording of an hour long webinar held by Amy Ivy of the Eastern NY Commercial Horticulture Program, Judson Reid of the Cornell Vegetable Program and Mike Davis of the Cornell University Willsboro Research Farm on Nov 29, 2018.
A copy of the PowerPoint is included in the 'read details' section below. With funding from the Northern NY Agricultural Development Program.
Be on the Lookout for Southern Blight
Ethan Grundberg, Vegetable Specialist
Eastern New York Commercial Horticulture
Last Modified: April 27, 2018
Southern Blight (Sclerotium rolfsii) was found on golden storage beets this winter in Dutchess County. The fungal pathogen is fairly new to New York and poses a threat to a wide range of vegetable crops. Early detection and proper diagnosis are key to managing this disease.
More Peppers Content


Upcoming Events
2019 Processing Vegetable Crops Advisory Meeting

December 17, 2019
9:30am - 12:10pm, 1pm - 2pm, and 2pm - 3:30pm
Batavia, NY
2020 Finger Lakes Produce Auction Education Meeting

January 2, 2020
9:00 AM - 2:00 PM
Penn Yan, NY
2020 Ontario Produce Auction Winter Growers Meeting

January 8, 2020
9:00 AM - 2:30 PM
Stanley, NY
Announcements