Rhubarb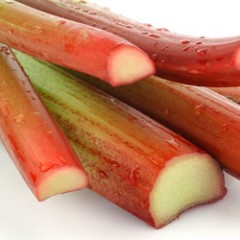 A minor crop in New York, 24 acres of rhubarb are grown on 57 farms in New York (2007 Census of Agriculture). Rhubarb is a perennial crop which grows well in the cool climate of New York. Growth begins when temperatures warm in the spring. The typical harvest season is May through July. Rhubarb plantings can remain productive for eight or more years. Rhubarb is relatively free of insect and disease problems, but perennial weeds can become problematic.
Relevant Events
2019 Processing Vegetable Crops Advisory Meeting

December 17, 2019
9:30am - 12:10pm, 1pm - 2pm, and 2pm - 3:30pm
Batavia, NY
2020 Finger Lakes Produce Auction Education Meeting

January 2, 2020
9:00 AM - 2:00 PM
Penn Yan, NY
2020 Ontario Produce Auction Winter Growers Meeting

January 8, 2020
9:00 AM - 2:30 PM
Stanley, NY
2020 Empire State Producers EXPO

January 14 - January 16, 2020
1.25 hr sessions throughout each day
Syracuse, NY
Most Recent Rhubarb Content
Video: New York State Produce Auctions
Last Modified: March 8, 2018


Currently, there are 8 produce auctions in New York State. These auctions are aggregation points that allow local farmers to sell their produce in wholesale lots to buyers from across the region. To document the economic impact of produce auctions on agriculture, local businesses, family farms, and produce buyers, the Cornell Vegetable Program worked with Harvest New York to survey top sellers and buyers.

A new Cornell Vegetable Program video shares general information about produce auctions, how buyers and sellers use the auctions to expand their businesses, and how local communities benefit from them.
2016 Weed Research in Vegetable Crops, Cornell University
Darcy Telenko, Extension Vegetable Specialist
Cornell Vegetable Program
Last Modified: January 11, 2017


Twelve weed science research plots were established at the Homer C. Thompson Vegetable Research Farm in Freeville and with on-farm collaborators. Research trials included: herbicide evaluation trials in dry bean, snap bean, lima bean, beets, carrots, peas, and sweet corn; a NYFVI support trial in collaboration with Sarah Pethybridge and Julie Kikkert on evaluation of ethofumesate rates for beets; and an industry sponsored evaluation of a new products for potential use in carrot, rosemary, rhubarb, bell pepper and broccoli.
Video: Farm Food Safety as if Someone's Life Depended On It
Robert Hadad, Extension Vegetable Specialist
Cornell Vegetable Program
Last Modified: April 3, 2015


This video is an overview of Good Agricultural Practices (GAPs) through on-farm risk assessment. Cornell Cooperative Extension, along with the National GAPs Program and the New York State Department of Agriculture and Markets, has developed and implemented a nationally-recognized training program in GAPs to prepare New York growers for the marketplace's increased vigilance in food safety. You can learn more about that program through this video, as well as updates on the Food Safety Modernization Act (FSMA), and economic information on the implementation of GAPs collected from growers through extensive interviews.
More Rhubarb Content


Upcoming Events
2019 Processing Vegetable Crops Advisory Meeting

December 17, 2019
9:30am - 12:10pm, 1pm - 2pm, and 2pm - 3:30pm
Batavia, NY
2020 Finger Lakes Produce Auction Education Meeting

January 2, 2020
9:00 AM - 2:00 PM
Penn Yan, NY
2020 Ontario Produce Auction Winter Growers Meeting

January 8, 2020
9:00 AM - 2:30 PM
Stanley, NY
Announcements