Snap Beans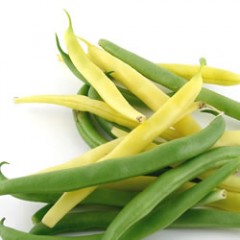 Snap beans are grown on a variety of farms throughout New York State. They are sold at roadside stands and other retail markets, wholesale markets and for processing. Snap beans come in many varieties to meet the needs of various markets and growers should consult seed suppliers and markets to select appropriate varieties. New York typically ranks 2nd or 3rd in the nation for processing snap bean production with 20,610 acres grown in 2014 (2014 Vegetable Summary). Similarly, the production of nearly 10,200 acres of fresh market beans consistently places New York in the top five producing states.
All snap beans share a general group of insects, diseases and abiotic disorders. While weed control strategies may vary with farm type and size of plantings, herbicides labeled for production are consistent for all types. Cornell Cooperative Extension Educators and Cornell faculty work together annually to conduct research on many aspects of snap bean production in the state. Below you will find educational information and results of our research trials.
Most Recent Snap Beans Content
Growing for Wholesale: Grading and Packing Guidelines by Crop
Last Modified: August 7, 2018

Grading and packing guidelines are now available for 17 commonly grown specialty crops in NYS: acorn squash, broccoli crowns, Brussels sprouts, corn, green peppers, cucumbers, green cabbage, red cabbage, savory cabbage, cauliflower, eggplant, green beans, jalapenos, poblanos, Hungarian hot peppers, summer squash, and zucchini.
Video: New York State Produce Auctions
Last Modified: March 8, 2018


Currently, there are 8 produce auctions in New York State. These auctions are aggregation points that allow local farmers to sell their produce in wholesale lots to buyers from across the region. To document the economic impact of produce auctions on agriculture, local businesses, family farms, and produce buyers, the Cornell Vegetable Program worked with Harvest New York to survey top sellers and buyers.

A new Cornell Vegetable Program video shares general information about produce auctions, how buyers and sellers use the auctions to expand their businesses, and how local communities benefit from them.
Organic Production Guides
Robert Hadad, Extension Vegetable Specialist
Cornell Vegetable Program
Last Modified: July 17, 2017


Organic Production Guides for fruits, vegetables and dairy are available through the NYS Integrated Pest Management (IPM) program. They outline general practices for growing vegetable and fruit crops using organic integrated pest management techniques.
More Snap Beans Content


Upcoming Events
Fresh Market Vegetable Grading & Packing Workshop
August 21, 2018
2:00 PM - 5:00 PM
Deposit, NY
Are you interested in farm to school or selling to institutional markets? Maybe you'd like to know more about grading and packing your fresh market produce right in the field? CCE Broome County, in partnership with the CCE Cornell Vegetable Program and the Cornell Baskets to Pallets program, is offering a hands-on, on-farm experience designed to prepare farms in NY, both beginning and experienced, to enter new markets.
Oswego Onion Growers Twilight Meeting

August 22, 2018
4:00 PM registration, 4:30-6:30 PM educational program, 7:00 PM dinner
Oswego, NY
This in-field twilight meeting will feature a tour of Christy Hoepting's fungicide trial for Stemphylium leaf blight and Botrytis leaf blight. Hoepting will share head to head comparisons of FRAC groups, alternatives to FRAC 3 and 7, reduced rates, and fungicide programs. A first look at 2018 results from onion thrips research trials will be presented by Brian Nault and Ashley Leach, Cornell University. Hear about the 2018 onion maggot research trial results and new research initiative with Brian Nault and Erica Moretti. Hoepting will also provide information about a new seed treatment for onion smut control.
3rd Annual Vegetable Pest Management Field Day

August 23, 2018
4:00 PM - 7:00 PM plus light supper and networking
Portland, NY
Research trial results, cultural technique showcases, and effective varieties and treatments for organic and IPM production are the meeting focus. We will highlight current disease issues, their detection & spread based on this season's climate conditions, and management tools available to reduce yield impacts. Sessions will also be offered on pest identification and control options. Regional equipment dealers and industry representatives will be invited to display equipment and new technology.
2.25 DEC credits available in categories 1a, 10 and 23
Announcements
Growing for Wholesale Guidelines Available
Grading and packing guidelines are available for 17 commonly grown specialty crops in NYS: acorn squash, broccoli crowns, Brussels sprouts, corn, green peppers, cucumbers, green cabbage, red cabbage, savory cabbage, cauliflower, eggplant, green beans, jalapenos, poblanos, Hungarian hot peppers, summer squash, and zucchini.
Acceptable quality standards and common defects that should be sorted out on the grading line are depicted in these resources, both visually and in outline form. Find all of the
grading sheets here
.
Vegetable Sizing Templates Available
To assist farmers looking to sell into wholesale markets,
vegetable sizing templates
are now available for bell peppers, broccoli, Brussels sprouts, cauliflower, cucumbers, eggplant, potatoes, tomatoes, zucchini and summer squash. The crop templates are scaled to size (8.5 x 11 paper). They can be printed and used to create sizing templates to be used by workers on the wash and pack lines. Additional grading resources are available too.
Managing Bird Damage in Sweet Corn
Former CCE Cornell Vegetable Program Specialist Darcy Telenko shares information on her on-farm research of bird management options to minimize damage to sweet corn in this video and final report. Learn more about the tools she evaluated -- chemical control, air dancers, scare-eye balloons, and detasseling.
Watch the video now!
Read the final report now!
This research was supported by a Northeast SARE Partnership Grant and the New York Farm Viability Institute.
Empire State Producers EXPO Proceedings
Proceedings from the Empire State Producers EXPO
conference from 2011-2018 are available online.
Cornell Vegetable Program - Cornell Cooperative Extension
Your Trusted Source for Research-Based Knowledge