How to Prune and Train Cherry Tomatoes in High Tunnel Production
April 23, 2018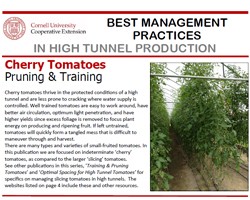 Cherry tomatoes thrive in the protected conditions of a high tunnel and are less prone to cracking where water supply is controlled. If left untrained, tomatoes will quickly form a tangled mess that is difficult to maneuver through and harvest. This fact sheet developed by Amy Ivy, Vegetable Specialist with the CCE Eastern NY Commercial Horticulture Program with editing provided by Judson Reid of the CCE Cornell Vegetable Program, provides information on how to prune and train cherry tomatoes in high tunnels.
BMPs in High Tunnel Production: Cherry Tomatoes Pruning & Training (pdf; 826KB)


Upcoming Events
Chipping Potato Twilight Meeting

August 25, 2022
Dansville, NY
View the chipping potato variety trial and hear updates from Walter De Jong of Cornell! Mike Mager of Arctic Refrigeration will provide updates in potato storage. Brian Nault, Cornell, and Margie Lund, CCE, will talk about insecticidal rotations for Colorado potato beetle and other potato insect updates. 1.0 DEC (categories 1a, 10, 23) recertification credits are available.
Announcements