Event Details
Date
August 7, 2013
Time
5:30 PM, immediately following Empire Farm Days
Location
Fred Jensen's Farm
1073 Marshall Road
Waterloo, NY 13165
Cost
This event is free.
Host
NWNY Dairy, Livestock & Field Crops Team and CVP
Bill Verbeten
585-313-4457
email Bill Verbeten
Reduced Tillage Farm Tour
August 7, 2013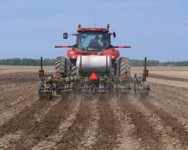 Grab dinner and a beverage at
Empire Farm Days
and then join us for a free tour of local farms to view reduced tillage crops and equipment and a comparison of production practices. The tour will start at Fred
Jensen's Farm
*. Whether you're already an established reduced tiller, thinking of trying it, or a relatively new adopter fine-tuning your reduced tilling, you'll learn a lot at this tour.
Reduced Tillage Tour plantings and equipment:
- Deep placement of ammonia preplant vs. liquid N applied at planting
- Strip tiller with N applicator configured from various components
- Strip till soybeans planted with and without auto guidance
- No till soybeans drilled vs. planted in 30 inch rows
- Crops in fields with effective tile vs. insufficient tile
- Auto steer on an articulated tractor, and auto guidance that failed
- Ammonia applied on a bias to corn planting
For more information about this event, contact
Bill Verbeten
of the NWNY Dairy, Livestock & Field Crops Team.
For more information on reduced till vegetables, contact
Carol MacNeil
.
* Directions: Fred Jensen's Farm, 1073 Marshall Rd, Waterloo, NY -
From EFD, go ~5 miles, west on County House Rd, crossing Rt. 96, then left onto Marshall Rd.
From Rt. 96A south of Geneva, go east 0.2 miles on Boody's Hill/W. River Rd, then right onto Marshall Rd. for 2 miles.


Upcoming Events
2014 Processing Beet and Carrot Advisory Meeting

December 8, 2014
12:30 PM - 2:30 PM
Batavia, NY
All are invited to discuss the 2014 processing beet and carrot season in New York. Hear ideas and concerns from fellow growers and industry members. Your input is needed to set future research priorities.
2014 Processing Pea Advisory Meeting

December 8, 2014
10:00 AM - 12:00 PM
Batavia, NY
Come discuss the 2014 processing pea season with industry colleagues. Your input is needed to set priorities for future research.
2014 Processing Snap and Lima Bean Advisory Meeting

December 17, 2014
12:30 PM - 3:00 PM
Geneva, NY
The processing snap and lima bean industry will meet to discuss the 2014 growing season and to set priorities for future research. Your input is needed!
Announcements
Cornell Vegetable Program Receives Award
The Cornell Vegetable Program has been awarded the 2014 Cornell University College of Agriculture and Life Sciences'
Research and Extension
Award for Outstanding Accomplishments in Extension/Outreach.
This award recognizes individuals/teams who have demonstrated leadership in developing a highly innovative and responsive extension/outreach program that addresses stakeholder needs. The Awards Committee cited the excellent synergy among members of the Cornell Vegetable Program team in addressing the needs of New York's vegetable production operations and the many activities our team collectively organize to successfully connect Cornell faculty and their research with the real-world needs of vegetable producers. Our team will be recognized at an awards ceremony on November 10.
Send a congratulatory message to the Cornell Vegetable Program.
Include a message about how our team has helped your organization. We hope to hear from you!
Funding Available for Soil Health Practices
New funding opportunities are available to assist growers in adoption of reduced tillage and cover cropping practices. Contact NRCS at your local USDA Service Center, and/or county Soil & Water Conservation District staff as soon as possible, to be eligible for assistance in 2015.
Read more
about the State and Federal program opportunities to improve soil health for vegetable producers.
Cornell Vegetable Program - Cornell Cooperative Extension
Your Trusted Source for Research-Based Knowledge