Event Details
Date
August 7, 2013
Time
5:30 PM, immediately following Empire Farm Days
Location
Fred Jensen's Farm
1073 Marshall Road
Waterloo, NY 13165
Cost
This event is free.
Host
NWNY Dairy, Livestock & Field Crops Team and CVP
Bill Verbeten
585-313-4457
email Bill Verbeten
Reduced Tillage Farm Tour
August 7, 2013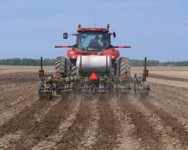 Grab dinner and a beverage at
Empire Farm Days
and then join us for a free tour of local farms to view reduced tillage crops and equipment and a comparison of production practices. The tour will start at Fred
Jensen's Farm
*. Whether you're already an established reduced tiller, thinking of trying it, or a relatively new adopter fine-tuning your reduced tilling, you'll learn a lot at this tour.
Reduced Tillage Tour plantings and equipment:
- Deep placement of ammonia preplant vs. liquid N applied at planting
- Strip tiller with N applicator configured from various components
- Strip till soybeans planted with and without auto guidance
- No till soybeans drilled vs. planted in 30 inch rows
- Crops in fields with effective tile vs. insufficient tile
- Auto steer on an articulated tractor, and auto guidance that failed
- Ammonia applied on a bias to corn planting
For more information about this event, contact
Bill Verbeten
of the NWNY Dairy, Livestock & Field Crops Team.
For more information on reduced till vegetables, contact
Carol MacNeil
.
* Directions: Fred Jensen's Farm, 1073 Marshall Rd, Waterloo, NY -
From EFD, go ~5 miles, west on County House Rd, crossing Rt. 96, then left onto Marshall Rd.
From Rt. 96A south of Geneva, go east 0.2 miles on Boody's Hill/W. River Rd, then right onto Marshall Rd. for 2 miles.


Upcoming Events
August Walk & Talk
August 20, 2014
6:00 PM
Freedom, NY
This August crop walk will highlight pest and disease controls, with an emphasis on pro-active management. Cultural practices, as well as topics of interest to the group, will be discussed.
Fresh Market Potato Varieties, Disease & Insect Management Meeting

August 28, 2014
5:30 PM - 8:30 PM
Marion, NY
This meeting will include updates on late blight and other potato diseases, management of Colorado potato beetle and other insects, and the opportunity to see the 2014 Cornell fresh market muck variety and breeding line trial.
Research Updates: Grafting, Living Mulch & More
August 29, 2014
6:00 PM - 8:00 PM
Penn Yan, NY
Jud Reid will give updates on his fresh market research program, with a major focus on grafting in tomatoes, the use of living mulch in a variety of crops, and varietal resistance to brown leaf mold of tomatoes.
Announcements
Late Blight Confirmed in Many NY Counties
Late blight (LB) has been confirmed now in Erie, Wyoming, Allegany, Wayne, Yates, Livingston and Genesee Counties, and is suspected in a couple other Western NY/Finger Lakes counties. It was confirmed in Ontario, Canada, this past week, and is spreading across MI. The continued wet weather has been very favorable for development. The disease has spread rapidly where growers havenít been able to maintain a tight spray schedule due to excessive rain. A new LB strain, Mating Type B, has shown up on two small farms 25 miles apart in Allegany Co. All other LB strains for the past 40+ years have been Type A1 or Type A2. Nothing is known about where this new strain came from, or its sensitivity to specific fungicides, so it must be assumed that it is not sensitive to mefenoxam fungicides (Ridomil and other products). Fortunately, the majority of LB samples from the area that were tested have been US23, sensitive to mefenoxam fungicides.
If you think you might have LB contact
Carol MacNeil
,
John Gibbons
, or another Cornell Vegetable Program staff member. LB DSS users: If you need assistance contact
Ian Small
or
Carol MacNeil
.
Cornell Vegetable Program - Cornell Cooperative Extension
Your Trusted Source for Research-Based Knowledge