Event Details
Date
August 7, 2013
Time
5:30 PM, immediately following Empire Farm Days
Location
Fred Jensen's Farm
1073 Marshall Road
Waterloo, NY 13165
Cost
This event is free.
Host
NWNY Dairy, Livestock & Field Crops Team and CVP
Bill Verbeten
585-313-4457
email Bill Verbeten
Reduced Tillage Farm Tour
August 7, 2013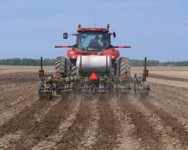 Grab dinner and a beverage at
Empire Farm Days
and then join us for a free tour of local farms to view reduced tillage crops and equipment and a comparison of production practices. The tour will start at Fred
Jensen's Farm
*. Whether you're already an established reduced tiller, thinking of trying it, or a relatively new adopter fine-tuning your reduced tilling, you'll learn a lot at this tour.
Reduced Tillage Tour plantings and equipment:
- Deep placement of ammonia preplant vs. liquid N applied at planting
- Strip tiller with N applicator configured from various components
- Strip till soybeans planted with and without auto guidance
- No till soybeans drilled vs. planted in 30 inch rows
- Crops in fields with effective tile vs. insufficient tile
- Auto steer on an articulated tractor, and auto guidance that failed
- Ammonia applied on a bias to corn planting
For more information about this event, contact
Bill Verbeten
of the NWNY Dairy, Livestock & Field Crops Team.
For more information on reduced till vegetables, contact
Carol MacNeil
.
* Directions: Fred Jensen's Farm, 1073 Marshall Rd, Waterloo, NY -
From EFD, go ~5 miles, west on County House Rd, crossing Rt. 96, then left onto Marshall Rd.
From Rt. 96A south of Geneva, go east 0.2 miles on Boody's Hill/W. River Rd, then right onto Marshall Rd. for 2 miles.


Upcoming Events
Organic Dry Bean Discussion Group
December 1, 2015
9:00 AM - 1:00 PM
Canandaigua, NY
We will continue our discussion and networking on the potential opportunities and challenges of increased organic dry bean production in New York State. The demand for organic dry beans continues to increase. While there are a number of growers producing organic dry beans in NY it is a very small percentage of the total dry bean production in the state. The interest in this topic is broad based, and includes growers, shippers, processors, brokers, NY Certified Organic, and NOFA-NY.
Finger Lakes Soil Health Grower Discussion Group
December 9, 2015
9:00 AM - 1:00 PM
Stanley, NY
GROWERS interested in improving their soil health for improved farm profitability and soil resilience with changing weather are invited to attend. This discussion group focuses on discussing options and sharing experiences related to reducing tillage, increasing cover crops, improving crop rotations, using manure/compost, and choosing/modifying equipment.
2015 Processing Sweet Corn Advisory Meeting

December 14, 2015
10:00 AM - 12:00 Noon
Geneva, NY
Your input is needed to set future research priorities. Come discuss the 2015 growing season with your industry peers and hear the latest research results. Complimentary lunch provided following the meeting with invited speaker Dr. Paul Mitchell, University of Wisconsin - Madison providing an update on the Specialty Crops Research Initiative Multistate Project "Building Market Foundations for Sustainable Vegetable Production and Processing."
Announcements
Final Produce Safety Rule to be Published 11/27/15
The Final Produce Safety Rule was made publicly available in mid-November. The rule officially goes into effect 60 days after publication in the Federal Register on November 27, 2015. To read more about the Standards for the Growing, Harvesting, Packing, and Holding of Produce for Human Consumption, visit the
FDA website
. Cornell University and CVP staff members will be assessing these new rules in detail and will be offering training programs for growers in the near future. Updates will also be posted on the
Produce Safety Alliance (PSA) website
. The PSA is collaboration between Cornell University, FDA, and USDA to prepare fresh produce growers to meet the regulatory requirements included in the United States Food and Drug Administration's proposed Food Safety Modernization Act (FSMA) Produce Safety Rule.
New Fungicide to Combat Early Blight and SLS
Priaxor is labeled for disease control and plant health in the following crops: barley, corn (all types), dried shelled peas and beans, edible-podded legume vegetables, fruiting vegetables (including tomato), oats, oilseed crops (flax seed, rapeseed, safflower, and sunflower), peanut, rye, sorghum and millet, soybean, succulent shelled peas and beans, sugar beet, sugarcane, tuberous and corm vegetable (potato), wheat and triticale.
Early blight in tomato and potato is one of the most important uses for Priaxor.
QoI fungicides are no longer recommended used alone for this disease because resistance is becoming widespread.
Having a QoI component in Priaxor is important for managing Septoria leaf spot, another important disease in NY.
Priaxor is classified for restricted use in NY. Use is prohibited in Suffolk and Nassau counties on Long Island. REI is 12 hours. PHI is 0 days for tomato. It is as long as 21 days for some other crops.
Read more...
Cornell Vegetable Program - Cornell Cooperative Extension
Your Trusted Source for Research-Based Knowledge