Event Details
Date
August 7, 2013
Time
5:30 PM, immediately following Empire Farm Days
Location
Fred Jensen's Farm
1073 Marshall Road
Waterloo, NY 13165
Cost
This event is free.
Host
NWNY Dairy, Livestock & Field Crops Team and CVP
Bill Verbeten
585-313-4457
email Bill Verbeten
Reduced Tillage Farm Tour
August 7, 2013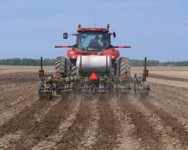 Grab dinner and a beverage at
Empire Farm Days
and then join us for a free tour of local farms to view reduced tillage crops and equipment and a comparison of production practices. The tour will start at Fred
Jensen's Farm
*. Whether you're already an established reduced tiller, thinking of trying it, or a relatively new adopter fine-tuning your reduced tilling, you'll learn a lot at this tour.
Reduced Tillage Tour plantings and equipment:
- Deep placement of ammonia preplant vs. liquid N applied at planting
- Strip tiller with N applicator configured from various components
- Strip till soybeans planted with and without auto guidance
- No till soybeans drilled vs. planted in 30 inch rows
- Crops in fields with effective tile vs. insufficient tile
- Auto steer on an articulated tractor, and auto guidance that failed
- Ammonia applied on a bias to corn planting
For more information about this event, contact
Bill Verbeten
of the NWNY Dairy, Livestock & Field Crops Team.
For more information on reduced till vegetables, contact
Carol MacNeil
.
* Directions: Fred Jensen's Farm, 1073 Marshall Rd, Waterloo, NY -
From EFD, go ~5 miles, west on County House Rd, crossing Rt. 96, then left onto Marshall Rd.
From Rt. 96A south of Geneva, go east 0.2 miles on Boody's Hill/W. River Rd, then right onto Marshall Rd. for 2 miles.


Upcoming Events
2015 Finger Lakes Produce Auction Growers Meeting

January 8, 2015
9:00 AM - 2:30 PM
Penn Yan, NY
(NOTE new start time of this event – now 9:00 AM.)
This course will educate produce growers on pest management, varieties and marketing issues in vegetables grown for auction. Topics such as disease resistant varieties, pest ID, responsible spray options, food safety and attributes of successful auction growers will be presented. 2.25 DEC Category Credits in 10, 1a and 23.
Updated Farm Food Safety (GAPs) Training for Produce Growers
January 12 - January 13, 2015
8:30 am registration & refreshments; 9:00 am - 3:30 pm training
Geneva, NY
Are you a farmer interested in produce safety? Are your markets asking for food safety plans or third party verification? Do you want to understand produce safety issues and Good Agricultural Practices as well as the FSMA proposed Produce Rule and third party audits? If so, join us for this multi-day workshop on Good Agricultural Practices (GAPs) and leave with a farm food safety plan for YOUR farm!
Winter Wednesday Lunch Webinar: Current Issues in Strawberry Pest Management
January 14, 2015
1:00 PM - 2:00 PM
Penn State and Cornell University have teamed up to present a series of webinars to keep you informed about critical production issues. This series provides convenient access to timely updates in commercial vegetable and small fruit production for extension educators, producers, and industry representatives in Pennsylvania, New York, and surrounding states.
Kathy Demchak, Senior Extension Associate, Penn State, will be speaking during this webinar.
Announcements
Crops Not Covered by Crop Insurance: Deadline 2/1
USDA recently announced the release of a reinvigorated Noninsured Crop Disaster Assistance Program (NAP). This is a result of opportunities created by the Farm Bill of 2014, and a general interest in covering more crops under the increasingly important policy umbrella known as crop insurance. NY legislators have been pushing for more creativity to provide safety net programs for producers of horticultural crops that do not have other crop insurance alternatives.
For very early spring planted vegetables the deadline is February 1, with later planted crops having a later deadline.
Read more on program and deadlines
.
Soil Health Grant for Veg Growers
The Cornell Vegetable Program just received a two year grant to work with vegetable, potato and dry bean growers in the Cornell Vegetable Program Region to increase or diversify their cover cropping, and/or to reduce tillage. For cooperating growers soil sampling, soil testing, and interpretation for the Cornell Soil Health Test (CSHT) will be free. Evaluation of biomass, weed growth, nitrogen produced, crop response, etc. can be done for new cover crop plantings being tried. Reduced/zone-tilled crops planted side by side with conventional crops can also be evaluated. Field days are part of this grant, as is assistance for grower discussion groups/grower-to-grower networking. More money than ever is available as an incentive for adoption of good soil health practices!
Learn more!
2015 Cornell Vegetable Guidelines Available Soon
The 2015 edition of the Cornell Commercial Vegetable Production Guidelines will be released in January. This annual publication provides up-to-date vegetable crop production information for New York State. It has been designed as a practical guide for vegetable crop producers, crop consultants, and ag suppliers.
NOTE: Beginning in 2015, Vegetable Guidelines will no longer be offered for free online. Instead, you will have the option to purchase just a print copy ($33 plus shipping), online version ($33), or a bundle of a print copy plus online access ($46 plus shipping). You can order this publication, or other Cornell Guidelines from the
Cornell Store
at Cornell University at 800-624-4080.
New Video Helps to Promote the Work of the CVP
Many people in our community are not aware of the size or the impact of the Western New York vegetable industry on the state's economy. We decided to do something about that! The Cornell Vegetable Program is proud to release a video that highlights vegetable production in our region – from fresh market to processing, from farms that are several thousand acres to just a few, from biodynamic growers to conventional – and provides an introduction to our team of Vegetable Specialists and how we assist growers in this area. We greatly appreciate that several WNY vegetable growers shared their thoughts on what the Cornell Vegetable Program means to them: Paul Fenton, Batavia; Mark Zittel, Eden; and Matt Mortellaro, Elba. The video was produced by videographer, James Monahan.
Watch the video
and leave us a comment!
Cornell Vegetable Program - Cornell Cooperative Extension
Your Trusted Source for Research-Based Knowledge