Event Details
Date
August 7, 2013
Time
5:30 PM, immediately following Empire Farm Days
Location
Fred Jensen's Farm
1073 Marshall Road
Waterloo, NY 13165
Cost
This event is free.
Host
NWNY Dairy, Livestock & Field Crops Team and CVP
Bill Verbeten
585-313-4457
email Bill Verbeten
Reduced Tillage Farm Tour
August 7, 2013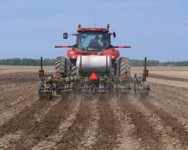 Grab dinner and a beverage at
Empire Farm Days
and then join us for a free tour of local farms to view reduced tillage crops and equipment and a comparison of production practices. The tour will start at Fred
Jensen's Farm
*. Whether you're already an established reduced tiller, thinking of trying it, or a relatively new adopter fine-tuning your reduced tilling, you'll learn a lot at this tour.
Reduced Tillage Tour plantings and equipment:
- Deep placement of ammonia preplant vs. liquid N applied at planting
- Strip tiller with N applicator configured from various components
- Strip till soybeans planted with and without auto guidance
- No till soybeans drilled vs. planted in 30 inch rows
- Crops in fields with effective tile vs. insufficient tile
- Auto steer on an articulated tractor, and auto guidance that failed
- Ammonia applied on a bias to corn planting
For more information about this event, contact
Bill Verbeten
of the NWNY Dairy, Livestock & Field Crops Team.
For more information on reduced till vegetables, contact
Carol MacNeil
.
* Directions: Fred Jensen's Farm, 1073 Marshall Rd, Waterloo, NY -
From EFD, go ~5 miles, west on County House Rd, crossing Rt. 96, then left onto Marshall Rd.
From Rt. 96A south of Geneva, go east 0.2 miles on Boody's Hill/W. River Rd, then right onto Marshall Rd. for 2 miles.


Upcoming Events
Building Fertility Through Cover Crops - Cancelled
March 11, 2014
9:00 am - 2:00 pm
Canandaigua, NY
This workshop has been cancelled. Please contact Robert Hadad with any questions pertaining to this topic.
2014 NYS Dry Bean Growers Meeting

March 18, 2014
9:00 am - 3:15 pm
LeRoy, NY
Join us for the important dry bean updates for 2014! Topics will include varieties, insect, disease & weed management, and soils & tillage. Back by popular demand...there will be a tasting of innovative dry bean dishes!
Winter Wednesday Lunch Webinar: Weed Control in Sweet Corn, Pumpkins, and Winter Squash
March 19, 2014
1:00 - 2:00 PM
Penn State and Cornell University have teamed up to present a series of webinars to keep you informed about critical production issues. This series provides convenient access to timely updates in commercial vegetable and small fruit production for extension educators, producers, and industry representatives in Pennsylvania, New York, and surrounding states.
Robin Bellinder, Cornell, and Dwight Lingenfelter, Penn State, will be speaking during this webinar on conventional and organic weed control options in sweet corn, pumpkins, and winter squash.
Announcements
Job Available: CVP Vegetable Research Technician
The Cornell Vegetable Program seeks an individual to assist in research trial implementation, data collection and harvest. Work in field and greenhouses throughout Western, NY. Full-time with benefits. Minimum 6 months training beyond HS diploma or Associate's degree. Applicants must apply online.
Review the full job description and apply online
on Cornell's Human Resources site.
General information
about applying for a Cornell position is also available. This posting will only be open through March 22, 2014 so apply now!
2014 Cornell Vegetable Guidelines Available
The 2014 edition of the Cornell Commercial Vegetable Production Guidelines is available. This annual publication provides up-to-date vegetable crop production information for New York State. It has been designed as a practical guide for vegetable crop producers, crop consultants, and ag suppliers. The cost of this guide is $33 plus shipping. You can order this publication, or other Cornell Guidelines, through Cornell Cooperative Extension offices or from the
Cornell Store
at Cornell University at 800-624-4080.
Cornell Vegetable Program - Cornell Cooperative Extension
Your Trusted Source for Research-Based Knowledge