Event Details
Date
August 7, 2013
Time
5:30 PM, immediately following Empire Farm Days
Location
Fred Jensen's Farm
1073 Marshall Road
Waterloo, NY 13165
Cost
This event is free.
Host
NWNY Dairy, Livestock & Field Crops Team and CVP
Bill Verbeten
585-313-4457
email Bill Verbeten
Reduced Tillage Farm Tour
August 7, 2013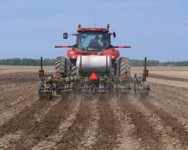 Grab dinner and a beverage at
Empire Farm Days
and then join us for a free tour of local farms to view reduced tillage crops and equipment and a comparison of production practices. The tour will start at Fred
Jensen's Farm
*. Whether you're already an established reduced tiller, thinking of trying it, or a relatively new adopter fine-tuning your reduced tilling, you'll learn a lot at this tour.
Reduced Tillage Tour plantings and equipment:
- Deep placement of ammonia preplant vs. liquid N applied at planting
- Strip tiller with N applicator configured from various components
- Strip till soybeans planted with and without auto guidance
- No till soybeans drilled vs. planted in 30 inch rows
- Crops in fields with effective tile vs. insufficient tile
- Auto steer on an articulated tractor, and auto guidance that failed
- Ammonia applied on a bias to corn planting
For more information about this event, contact
Bill Verbeten
of the NWNY Dairy, Livestock & Field Crops Team.
For more information on reduced till vegetables, contact
Carol MacNeil
.
* Directions: Fred Jensen's Farm, 1073 Marshall Rd, Waterloo, NY -
From EFD, go ~5 miles, west on County House Rd, crossing Rt. 96, then left onto Marshall Rd.
From Rt. 96A south of Geneva, go east 0.2 miles on Boody's Hill/W. River Rd, then right onto Marshall Rd. for 2 miles.


Upcoming Events
High Tunnel School (Bath, NY)
December 2, 2014
10:00 AM - 3:00 PM; registration at 9:30 AM
Bath, NY
This beginner level school is for new high tunnel growers and will focus on best management practices, with an emphasis on tomato production. The school is strongly encouraged for growers with 2 or fewer seasons of tunnel growing experience, those considering getting a tunnel in the next few seasons, or NRCS EQIP recipients.
2014 Processing Beet and Carrot Advisory Meeting

December 8, 2014
12:30 PM - 2:30 PM
Batavia, NY
All are invited to discuss the 2014 processing beet and carrot season in New York. Hear ideas and concerns from fellow growers and industry members. Your input is needed to set future research priorities.
2014 Processing Pea Advisory Meeting

December 8, 2014
10:00 AM - 12:00 PM
Batavia, NY
Come discuss the 2014 processing pea season with industry colleagues. Your input is needed to set priorities for future research.
Announcements
Do's and Don'ts for Barn Snow Removal
The recent Western New York lake effect snow storms have dumped feet of snow causing many barns to be in danger of failure. The forecasted rain events for the next few days, along with warming temperatures will increase the weight of the current snow on barn roofs, thus further increasing the risk of barn failure.
Removal of significant snow accumulations off of a barn roof is best performed in a systematic way to reduce the risk of injury or death to both barn occupants and those working on the roof. Removing roof snow without a proper approach may actually cause more damage than if left alone in some cases by creating an unbalanced and/or concentrated roof loads.
Read more and view drawings on how to safely and effectively remove snow from a barn roof.
Erie County Snowfall - Contact Us to Report Damage
The Cornell Vegetable Program is working with Erie County Cornell Cooperative Extension to report damage caused by the record snowfall in Western New York this week to NYS Ag & Markets, Federal lawmakers, Cornell University's EDEN staff, and New York Farm Bureau. All of these organizations are working together to coordinate an effective response for the agricultural industry. The National Guard has been mobilized in the Buffalo area, but Farm Bureau has been told the current primary responsibility is the health and safety of the citizens. Much of the effort is clearing roads for emergency services and health care workers. As soon as those are met, the focus will turn to other immediate needs, including agricultural priorities.
Report your snowfall damage to Darcy Telenko
so that we can forward the information to the appropriate response organization.
In an emergency, your first call should be to 9-1-1. If you need any non-emergency assistance, please contact New York Farm Bureau at 1-800-342-4143. New York Farm Bureau can connect you to the appropriate state services who may be able to help.
Cornell Vegetable Program - Cornell Cooperative Extension
Your Trusted Source for Research-Based Knowledge