Event Details
Date
August 7, 2013
Time
5:30 PM, immediately following Empire Farm Days
Location
Fred Jensen's Farm
1073 Marshall Road
Waterloo, NY 13165
Cost
This event is free.
Host
NWNY Dairy, Livestock & Field Crops Team and CVP
Bill Verbeten
585-313-4457
email Bill Verbeten
Reduced Tillage Farm Tour
August 7, 2013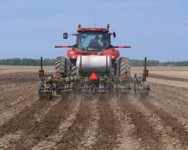 Grab dinner and a beverage at
Empire Farm Days
and then join us for a free tour of local farms to view reduced tillage crops and equipment and a comparison of production practices. The tour will start at Fred
Jensen's Farm
*. Whether you're already an established reduced tiller, thinking of trying it, or a relatively new adopter fine-tuning your reduced tilling, you'll learn a lot at this tour.
Reduced Tillage Tour plantings and equipment:
- Deep placement of ammonia preplant vs. liquid N applied at planting
- Strip tiller with N applicator configured from various components
- Strip till soybeans planted with and without auto guidance
- No till soybeans drilled vs. planted in 30 inch rows
- Crops in fields with effective tile vs. insufficient tile
- Auto steer on an articulated tractor, and auto guidance that failed
- Ammonia applied on a bias to corn planting
For more information about this event, contact
Bill Verbeten
of the NWNY Dairy, Livestock & Field Crops Team.
For more information on reduced till vegetables, contact
Carol MacNeil
.
* Directions: Fred Jensen's Farm, 1073 Marshall Rd, Waterloo, NY -
From EFD, go ~5 miles, west on County House Rd, crossing Rt. 96, then left onto Marshall Rd.
From Rt. 96A south of Geneva, go east 0.2 miles on Boody's Hill/W. River Rd, then right onto Marshall Rd. for 2 miles.


Upcoming Events
2016 Empire State Producers EXPO

January 19 - January 21, 2016
Morning, Mid-day, and Afternoon Sessions
Syracuse, NY
This show combines the major fruit, flower, vegetable, and direct marketing associations of New York State in order to provide a comprehensive trade show and educational conference for the fruit and vegetable growers of this state, as well as the surrounding states and Eastern Canada. The Cornell Vegetable Program Specialists are involved in organizing sessions on Processing Vegetables, Potatoes, Onions, Cabbage/Cole Crops, Soil Health, Weed Management, Climate Change, Beginning Farmers, High Tunnels, and Specialty Vegetables.
Announcements
Ag Worker Protection Standard Revisions Finalized
On September 28, 2015 EPA finalized revisions to the worker protection standard. This final rule enhances the protections provided to agricultural workers, pesticide handlers, and other persons under the Worker Protection Standard (WPS) by strengthening elements of the existing regulation, such as training, notification, pesticide safety and hazard communication information, use of personal protective equipment, and the providing of supplies for routine washing and emergency decontamination.
Read more
about the revisions on the EPA's website.
2015 NYS Certified Seed Potato Directory Available
The
2015 NYS Certified Seed Potato Directory
is now available. There is a wealth of information on NYS potato seed certification, as well as on the 75 varieties grown for certification in 2015. The varieties include standards for processing and tablestock, newer varieties and numbered lines, and specialty/heirloom varieties. Brief summaries of the varieties' maturity, appearance, yield potential, and major disease susceptibility are included. Contact info for the growers with seed supplies of each variety is included. There is also a listing of the inspectors from the NYS Department of Agriculture and Markets in Albany, Rochester and Syracuse.
The NYS Certified Seed Potato Program is part of the New York Seed Improvement Project.
New Fungicide to Combat Early Blight and SLS
Priaxor is labeled for disease control and plant health in the following crops: barley, corn (all types), dried shelled peas and beans, edible-podded legume vegetables, fruiting vegetables (including tomato), oats, oilseed crops (flax seed, rapeseed, safflower, and sunflower), peanut, rye, sorghum and millet, soybean, succulent shelled peas and beans, sugar beet, sugarcane, tuberous and corm vegetable (potato), wheat and triticale.
Early blight in tomato and potato is one of the most important uses for Priaxor.
QoI fungicides are no longer recommended used alone for this disease because resistance is becoming widespread.
Having a QoI component in Priaxor is important for managing Septoria leaf spot, another important disease in NY.
Priaxor is classified for restricted use in NY. Use is prohibited in Suffolk and Nassau counties on Long Island. REI is 12 hours. PHI is 0 days for tomato. It is as long as 21 days for some other crops.
Read more...
Cornell Vegetable Program - Cornell Cooperative Extension
Your Trusted Source for Research-Based Knowledge