Event Details
Date
August 7, 2013
Time
5:30 PM, immediately following Empire Farm Days
Location
Fred Jensen's Farm
1073 Marshall Road
Waterloo, NY 13165
Cost
This event is free.
Host
NWNY Dairy, Livestock & Field Crops Team and CVP
Bill Verbeten
585-313-4457
email Bill Verbeten
Reduced Tillage Farm Tour
August 7, 2013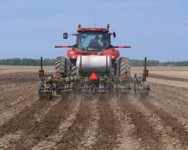 Grab dinner and a beverage at
Empire Farm Days
and then join us for a free tour of local farms to view reduced tillage crops and equipment and a comparison of production practices. The tour will start at Fred
Jensen's Farm
*. Whether you're already an established reduced tiller, thinking of trying it, or a relatively new adopter fine-tuning your reduced tilling, you'll learn a lot at this tour.
Reduced Tillage Tour plantings and equipment:
- Deep placement of ammonia preplant vs. liquid N applied at planting
- Strip tiller with N applicator configured from various components
- Strip till soybeans planted with and without auto guidance
- No till soybeans drilled vs. planted in 30 inch rows
- Crops in fields with effective tile vs. insufficient tile
- Auto steer on an articulated tractor, and auto guidance that failed
- Ammonia applied on a bias to corn planting
For more information about this event, contact
Bill Verbeten
of the NWNY Dairy, Livestock & Field Crops Team.
For more information on reduced till vegetables, contact
Carol MacNeil
.
* Directions: Fred Jensen's Farm, 1073 Marshall Rd, Waterloo, NY -
From EFD, go ~5 miles, west on County House Rd, crossing Rt. 96, then left onto Marshall Rd.
From Rt. 96A south of Geneva, go east 0.2 miles on Boody's Hill/W. River Rd, then right onto Marshall Rd. for 2 miles.


Upcoming Events
Central NY Soil Health Field Day
September 4, 2015
9:30 AM - 3:00 PM
Skaneateles, NY
Nationally recognized soil health experts Ray Archuleta, "Ray the Soils Guy," NRCS, and Frank Gibbs, known for his "tile line smoke machine," formerly NRCS, will be speaking on good soil health, and demonstrating how to evaluate your soil's health. Also, taking advantage of the Cornell Soil Health Test, and interseeding cover crops into cash crops.
2015 NYS Dry Bean Growers Field Meeting

September 17, 2015
5:15 PM - 8:00 PM
Caledonia, NY
View six standard and new black bean varieties in a grower-planted trial. Get an update on Sclerotinia white mold control, including info on fungicide resistance, and bacterial diseases. Hear about progress in breeding varieties with pods high on the plant, ensuring not only easier harvest, but also foliage drying to reduce disease pressure. Western bean cutworm moth counts were very high this year. Hear reports on pod and/or bean damage. 1.0 DEC credits available.
Announcements
Late Blight Confirmed in WNY Counties
Late blight has now been confirmed in commercial potato and/or tomato fields in the following counties: Ontario, Orleans, Erie, Niagara, Genesee, Livingston, Monroe, Steuben, Wayne, Wyoming, Yates, Tioga, Oneida, and Ulster.
The LB strain was determined to be US-23 in these counties, sensitive to Ridomil (mefenoxam fungicides). All tomatoes and potatoes in Western NY and the Finger Lakes Region are at high risk of infection!
LB forecast programs have been indicating extremely high risk of disease development week after week. Scout fields, especially low spots, protected areas, etc. twice a week. Growers and gardeners should destroy all potato culls and volunteers now. All tomato and potato growers should be applying fungicides on a regular basis, at no longer than 7 day intervals. At some locations less than a 5 day spray interval may be needed to protect potatoes and tomatoes (Alternate fungicides; follow label directions!) according to the LB Decision Support System (DSS) forecast. Organic growers should also be applying a fungicide regularly. There are copper formulations approved for organic production. Fungicides differ in how long they will provide protection from infection.
Cornell Vegetable Program - Cornell Cooperative Extension
Your Trusted Source for Research-Based Knowledge