Event Details
Date
August 7, 2013
Time
5:30 PM, immediately following Empire Farm Days
Location
Fred Jensen's Farm
1073 Marshall Road
Waterloo, NY 13165
Cost
This event is free.
Host
NWNY Dairy, Livestock & Field Crops Team and CVP
Bill Verbeten
585-313-4457
email Bill Verbeten
Reduced Tillage Farm Tour
August 7, 2013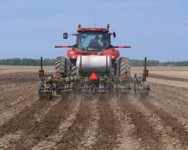 Grab dinner and a beverage at
Empire Farm Days
and then join us for a free tour of local farms to view reduced tillage crops and equipment and a comparison of production practices. The tour will start at Fred
Jensen's Farm
*. Whether you're already an established reduced tiller, thinking of trying it, or a relatively new adopter fine-tuning your reduced tilling, you'll learn a lot at this tour.
Reduced Tillage Tour plantings and equipment:
- Deep placement of ammonia preplant vs. liquid N applied at planting
- Strip tiller with N applicator configured from various components
- Strip till soybeans planted with and without auto guidance
- No till soybeans drilled vs. planted in 30 inch rows
- Crops in fields with effective tile vs. insufficient tile
- Auto steer on an articulated tractor, and auto guidance that failed
- Ammonia applied on a bias to corn planting
For more information about this event, contact
Bill Verbeten
of the NWNY Dairy, Livestock & Field Crops Team.
For more information on reduced till vegetables, contact
Carol MacNeil
.
* Directions: Fred Jensen's Farm, 1073 Marshall Rd, Waterloo, NY -
From EFD, go ~5 miles, west on County House Rd, crossing Rt. 96, then left onto Marshall Rd.
From Rt. 96A south of Geneva, go east 0.2 miles on Boody's Hill/W. River Rd, then right onto Marshall Rd. for 2 miles.


Upcoming Events
Clean Up Your Veggies! Post-Harvest Handling System Workshop
March 9, 2015
9:30 AM - 12:30 PM
Shortsville, NY
Join NOFA-NY and Cornell Vegetable Program's Robert Hadad to learn how to design, build, and operate a small-scale, DIY post-harvest handling system! This great workshop will focus on the trifecta of good washing and handling—food safety, maintaining high quality and efficiency, and affordability for new and small growers.
Weed Management Workshop for Processing Vegetable and Dry Bean Growers

March 11, 2015
12:30 PM - 3:30 PM
Batavia, NY
Workshop will focus on developing a long-term plan for managing weeds and weed seed banks, selection and use of herbicides for processing vegetables and dry beans, and reducing the risk for herbicide resistant weeds.
Forecasting Tomato/Potato Late Blight Risk: Using An Online Tool to Make Decisions for YOUR Farm

March 16, 2015
1:00 PM - 4:00 PM
Lockport, NY
The Cornell Vegetable Program and NYS IPM will assist growers with setting up an account on the Late Blight (LB) Decision Support System (DSS) website. Learn how late blight (development) units, and fungicide (loss) units, are used to forecast when you'll need to apply a fungicide spray to YOUR farm location or fields. Get text alerts or a personal email when you are within several days of needing to spray.
Announcements
Do's and Don'ts for Barn Snow Removal
Concerned about the snowload on your barn roof? Removal of significant snow accumulations off of a barn roof is best performed in a systematic way to reduce the risk of injury or death to both barn occupants and those working on the roof. Removing roof snow without a proper approach may actually cause more damage than if left alone in some cases by creating an unbalanced and/or concentrated roof loads.
Read more and view drawings on how to safely and effectively remove snow from a barn roof.
2015 Cornell Vegetable Guidelines Available
The 2015 edition of the Cornell Commercial Vegetable Production Guidelines is now available. This annual publication provides up-to-date vegetable crop production information for New York State. It has been designed as a practical guide for vegetable crop producers, crop consultants, and ag suppliers. In addition to the annually revised pesticide and crop production information, this edition also includes revised soil management guidelines; adding mode of action/group numbers to all pesticide listings; updated Colorado potato beetle resistance management information; totally revised organic vegetable production information; and the addition of western bean cutworm in sweet corn and western flower thrips in tomatoes as pests of concern.
NOTE: Beginning in 2015, Vegetable Guidelines will no longer be offered for free online. Instead, you will have the option to purchase just a print copy ($33 plus shipping), online version ($33), or a bundle of a print copy plus online access ($46 plus shipping). You can order this publication, or other Cornell Guidelines from the
Cornell Store
at Cornell University at 800-624-4080.
Cornell Vegetable Program - Cornell Cooperative Extension
Your Trusted Source for Research-Based Knowledge