Event Details
Date
February 27 - February 28, 2014
Time
8:30 AM registration & refreshments; 9:00 AM - 4:00 PM training
Location
Civil Defense Center
7220 State Rte 54
Bath, NY 14810
Cost
$60.00 per farm
Contact Angela Parr if you need to borrow a laptop for Day 2


Host
Cornell Cooperative Extension & Cornell GAPs
Angela Parr
585-394-3977 x426
email Angela Parr
Pre-Registration Deadline: February 24, 2014

EVENT HAS PASSED
Farm Food Safety Training with GAPs (Steuben County)
February 27 - February 28, 2014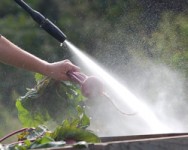 In recent years, several food borne illness outbreaks in produce have made national news. Both the produce industry and the federal government have stepped up demands for fruit and vegetable farms to meet food safety practice standards. These standards are known as GAPs (Good Agricultural Practices).
A new program, Harmonized GAPs, has been developed to combine several food safety certifications into one program. New York's retail produce buyers, such as Wegmans, are asking growers to adopt Harmonized GAPs certification in many cases.
In response, Cornell Cooperative Extension, the Cornell Vegetable Program, the Cornell Lake Ontario Fruit Team, the Produce Safety Alliance, and the Cornell National GAPs Program, with assistance from NY Ag & Markets, will be presenting a training for farm food safety or GAPs, including Harmonized GAPs. The training is open to all produce farms and related industry people.
This workshop is sponsored by NOFA-NY and is partially funded through a grant from the Genesee Valley Regional Market Authority.

Thursday, February 27
What is GAPs?
How does GAPs work?
What does it mean for my farming operations?
Friday, February 28
Write a food safety plan for your farm*
Optional supplemental session
Mock audit (at a participant's farm during the growing season)
$60.00 per person registration includes educational materials, lunch and refreshments. Add $15.00 each for additional attendee from the same farm. Space is limited!
Pre-register by February 24, 2014.
Mail the
GAPs flyer and registration form
in with your payment, or
register and pay online here
.
* A laptop computer is required for the second day. If you need to borrow a computer, please let us know in advance. If you are not computer savvy, please bring a person with you that has computer knowledge and skills.
GAPs flyer & registration form (PDF; 707KB)


Upcoming Events
Vegetable Pest and Cultural Management Field Meeting - Orleans County

July 31, 2014
6:00 PM - 8:00 PM
Waterport, NY
This course will demonstrate pest management in fresh market vegetables in both field and greenhouse (high tunnel) vegetables; primarily for those growing for wholesale auction. A hands-on demonstration of weed, insect and disease identification in vegetables including management options such as inter-row cover crops, grafting and where appropriate, spray options will be used to educate growers. Judson Reid, Senior Extension Associate with the Cornell Vegetable Program will instruct participants and facilitate peer-based learning.
Vegetable Disease Management - In Field Management Scenarios

August 4, 2014
6:00 PM - 7:30 PM
Eden, NY
Join us for field tours to talk about best crop production practices for managing and controlling vegetable diseases. Expect an update on diseases currently affecting vegetable crops in WNY along with hands-on demonstrations on identifying pests and scouting. Dr. Christine Smart, Cornell Plant Pathologist, will provide disease management information for both conventional and organic growers. Cornell Vegetable Program Specialists Robert Hadad and Darcy Telenko will lead field tours and facilitate discussions among participants.
Muck Donut Hour Every Tuesday
August 5, 2014
8:30 - 9:30 AM
Elba, NY
Meet with Cornell Vegetable Program Specialist Christy Hoepting every Tuesday morning to ask questions and share your observations.
Announcements
2014 Cornell Vegetable Guidelines Available
The 2014 edition of the Cornell Commercial Vegetable Production Guidelines is available. This annual publication provides up-to-date vegetable crop production information for New York State. It has been designed as a practical guide for vegetable crop producers, crop consultants, and ag suppliers. The cost of this guide is $33 plus shipping. You can order this publication, or other Cornell Guidelines, through Cornell Cooperative Extension offices or from the
Cornell Store
at Cornell University at 800-624-4080.
Cornell Vegetable Program - Cornell Cooperative Extension
Your Trusted Source for Research-Based Knowledge