Event Details
Date
February 27 - February 28, 2014
Time
8:30 AM registration & refreshments; 9:00 AM - 4:00 PM training
Location
Civil Defense Center
7220 State Rte 54
Bath, NY 14810
Cost
$60.00 per farm
Contact Angela Parr if you need to borrow a laptop for Day 2


Host
Cornell Cooperative Extension & Cornell GAPs
Angela Parr
585-394-3977 x426
email Angela Parr
Pre-Registration Deadline: February 24, 2014

EVENT HAS PASSED
Farm Food Safety Training with GAPs (Steuben County)
February 27 - February 28, 2014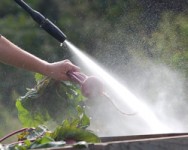 In recent years, several food borne illness outbreaks in produce have made national news. Both the produce industry and the federal government have stepped up demands for fruit and vegetable farms to meet food safety practice standards. These standards are known as GAPs (Good Agricultural Practices).
A new program, Harmonized GAPs, has been developed to combine several food safety certifications into one program. New York's retail produce buyers, such as Wegmans, are asking growers to adopt Harmonized GAPs certification in many cases.
In response, Cornell Cooperative Extension, the Cornell Vegetable Program, the Cornell Lake Ontario Fruit Team, the Produce Safety Alliance, and the Cornell National GAPs Program, with assistance from NY Ag & Markets, will be presenting a training for farm food safety or GAPs, including Harmonized GAPs. The training is open to all produce farms and related industry people.
This workshop is sponsored by NOFA-NY and is partially funded through a grant from the Genesee Valley Regional Market Authority.

Thursday, February 27
What is GAPs?
How does GAPs work?
What does it mean for my farming operations?
Friday, February 28
Write a food safety plan for your farm*
Optional supplemental session
Mock audit (at a participant's farm during the growing season)
$60.00 per person registration includes educational materials, lunch and refreshments. Add $15.00 each for additional attendee from the same farm. Space is limited!
Pre-register by February 24, 2014.
Mail the
GAPs flyer and registration form
in with your payment, or
register and pay online here
.
* A laptop computer is required for the second day. If you need to borrow a computer, please let us know in advance. If you are not computer savvy, please bring a person with you that has computer knowledge and skills.
GAPs flyer & registration form (PDF; 707KB)


Upcoming Events
2015 Finger Lakes Produce Auction Growers Meeting

January 8, 2015
10:00 AM - 3:30 PM
Penn Yan, NY
This course will educate produce growers on pest management, varieties and marketing issues in vegetables grown for auction. Topics such as disease resistant varieties, pest ID, responsible spray options, food safety and attributes of successful auction growers will be presented. 2.25 DEC Category Credits in 10, 1a and 23.
Winter Wednesday Lunch Webinar: Current Issues in Strawberry Pest Management
January 14, 2015
1:00 PM - 2:00 PM
Penn State and Cornell University have teamed up to present a series of webinars to keep you informed about critical production issues. This series provides convenient access to timely updates in commercial vegetable and small fruit production for extension educators, producers, and industry representatives in Pennsylvania, New York, and surrounding states.
Kathy Demchak, Senior Extension Associate, Penn State, will be speaking during this webinar.
2015 Empire State Producers EXPO

January 20 - January 22, 2015
Morning, Mid-day, and Afternoon Sessions
Syracuse, NY
This show combines the major fruit, flower, vegetable, and direct marketing associations of New York State in order to provide a comprehensive trade show and educational conference for the fruit and vegetable growers of this state, as well as the surrounding states and Eastern Canada. The Cornell Vegetable Program Specialists are involved in organizing sessions on Processing Vegetables, Potatoes, Onions, Cabbage/Cole Crops, Soil Health, Managing Herbicide Resistance, Tunnels, and Ethnic Vegetables. Registration information will be available soon.
Announcements
Crops Not Covered by Crop Insurance: Deadline 2/1
USDA recently announced the release of a reinvigorated Noninsured Crop Disaster Assistance Program (NAP). This is a result of opportunities created by the Farm Bill of 2014, and a general interest in covering more crops under the increasingly important policy umbrella known as crop insurance. NY legislators have been pushing for more creativity to provide safety net programs for producers of horticultural crops that do not have other crop insurance alternatives.
For very early spring planted vegetables the deadline is February 1, with later planted crops having a later deadline. Read more on program and deadlines.
2015 Cornell Vegetable Guidelines Available Soon
The 2015 edition of the Cornell Commercial Vegetable Production Guidelines will be released in January. This annual publication provides up-to-date vegetable crop production information for New York State. It has been designed as a practical guide for vegetable crop producers, crop consultants, and ag suppliers.
NOTE: Beginning in 2015, Vegetable Guidelines will no longer be offered for free online. Instead, you will have the option to purchase just a print copy ($33 plus shipping), online version ($33), or a bundle of a print copy plus online access ($46 plus shipping). You can order this publication, or other Cornell Guidelines from the
Cornell Store
at Cornell University at 800-624-4080.
New Video Helps to Promote the Work of the CVP
Many people in our community are not aware of the size or the impact of the Western New York vegetable industry on the state's economy. We decided to do something about that! The Cornell Vegetable Program is proud to release a video that highlights vegetable production in our region – from fresh market to processing, from farms that are several thousand acres to just a few, from biodynamic growers to conventional – and provides an introduction to our team of Vegetable Specialists and how we assist growers in this area. We greatly appreciate that several WNY vegetable growers shared their thoughts on what the Cornell Vegetable Program means to them: Paul Fenton, Batavia; Mark Zittel, Eden; and Matt Mortellaro, Elba. The video was produced by videographer, James Monahan.
Watch the video
and leave us a comment!
Cornell Vegetable Program - Cornell Cooperative Extension
Your Trusted Source for Research-Based Knowledge