Event Details
Date
February 27 - February 28, 2014
Time
8:30 AM registration & refreshments; 9:00 AM - 4:00 PM training
Location
Civil Defense Center
7220 State Rte 54
Bath, NY 14810
Cost
$60.00 per farm
Contact Angela Parr if you need to borrow a laptop for Day 2


Host
Cornell Cooperative Extension & Cornell GAPs
Angela Parr
585-394-3977 x426
email Angela Parr
Pre-Registration Deadline: February 24, 2014

EVENT HAS PASSED
Farm Food Safety Training with GAPs (Steuben County)
February 27 - February 28, 2014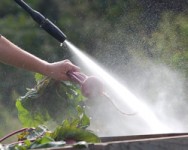 In recent years, several food borne illness outbreaks in produce have made national news. Both the produce industry and the federal government have stepped up demands for fruit and vegetable farms to meet food safety practice standards. These standards are known as GAPs (Good Agricultural Practices).
A new program, Harmonized GAPs, has been developed to combine several food safety certifications into one program. New York's retail produce buyers, such as Wegmans, are asking growers to adopt Harmonized GAPs certification in many cases.
In response, Cornell Cooperative Extension, the Cornell Vegetable Program, the Cornell Lake Ontario Fruit Team, the Produce Safety Alliance, and the Cornell National GAPs Program, with assistance from NY Ag & Markets, will be presenting a training for farm food safety or GAPs, including Harmonized GAPs. The training is open to all produce farms and related industry people.
This workshop is sponsored by NOFA-NY and is partially funded through a grant from the Genesee Valley Regional Market Authority.

Thursday, February 27
What is GAPs?
How does GAPs work?
What does it mean for my farming operations?
Friday, February 28
Write a food safety plan for your farm*
Optional supplemental session
Mock audit (at a participant's farm during the growing season)
$60.00 per person registration includes educational materials, lunch and refreshments. Add $15.00 each for additional attendee from the same farm. Space is limited!
Pre-register by February 24, 2014.
Mail the
GAPs flyer and registration form
in with your payment, or
register and pay online here
.
* A laptop computer is required for the second day. If you need to borrow a computer, please let us know in advance. If you are not computer savvy, please bring a person with you that has computer knowledge and skills.
GAPs flyer & registration form (PDF; 707KB)


Upcoming Events
Muck Donut Hour Every Tuesday
August 4, 2015
8:30 - 9:30 AM
Elba, NY
Meet with Cornell Vegetable Program Specialist Christy Hoepting every Tuesday morning to ask questions and share your observations.

Muck Donut Hour Every Tuesday - LAST ONE THIS YEAR!
August 11, 2015
8:30 - 9:30 AM
Elba, NY
Meet with Cornell Vegetable Program Specialist Christy Hoepting every Tuesday morning to ask questions and share your observations.

Soil Health Seminar Center & Demo Plots at Empire Farm Days
August 11 - August 13, 2015
9:30 AM each day
Seneca Falls, NY
Join us at the new Soil Health Seminar Center to hear and meet nationally renowned soil health researchers, industry speakers, and experienced growers. Cover crop demos, and inter-seeded soybean plots and equipment, will be nearby. Presentations will occur mornings beginning at 9:30 AM.

Announcements
Late Blight Confirmed in WNY Counties
Late blight has now been confirmed in commercial potato and/or tomato fields in the following counties: Genesee, Livingston, Monroe, Steuben, Wayne, Wyoming, Yates, Tioga, Oneida, and Ulster.
The LB strain was determined to be US-23 in these counties, sensitive to Ridomil (mefenoxam fungicides). All tomatoes and potatoes in Western NY and the Finger Lakes Region are at high risk of infection!
Continuing frequent rainfall has been extremely favorable for the development of late blight (LB). LB forecast programs have been indicating extremely high risk of disease development week after week. Scout fields, especially low spots, protected areas, etc. twice a week. Growers and gardeners should destroy all potato culls and volunteers now. All tomato and potato growers should be applying fungicides on a regular basis, at no longer than 7 day intervals. At some locations less than a 5 day spray interval may be needed to protect potatoes and tomatoes (Alternate fungicides; follow label directions!) according to the LB Decision Support System (DSS) forecast. Organic growers should also be applying a fungicide regularly. There are copper formulations approved for organic production. Fungicides differ in how long they will provide protection from infection.
Cucurbit Downy Mildew Confirmed in WNY
Characteristic disease symptoms are angular, pale green areas bounded by the leaf veins. They will turn yellow and later necrotic. Under high humidity conditions sporulation will occur on the lower leaf surface. Apply targeted fungicides tank-mixed with protectant fungicides weekly and alternated among available modes of action (FRAC code), starting when there is risk for a specific crop based on forecasting program. Refer to the Cornell Vegetable Guidelines for a complete list of products available. For more information, contact
Robert Hadad
or
Darcy Telenko
.
Herbicide Charts for Vegetable Crops Available
The Cornell Vegetable Program has compiled herbicide charts for control of weeds in the following crops in New York in 2015:
beans (snap & dry beans)
,
beans (lima)
,
beets
,
cabbage
,
carrots
,
cucurbits
,
peas
,
peppers
, and
sweet corn
. While these reference charts are handy, it is critical to read the labels thoroughly.
Cornell Vegetable Program - Cornell Cooperative Extension
Your Trusted Source for Research-Based Knowledge