Event Details
Date
August 7, 2013
Time
5:30 PM, immediately following Empire Farm Days
Location
Fred Jensen's Farm
1073 Marshall Road
Waterloo, NY 13165
Cost
This event is free.
Host
NWNY Dairy, Livestock & Field Crops Team and CVP
Bill Verbeten
585-313-4457
email Bill Verbeten
Reduced Tillage Farm Tour
August 7, 2013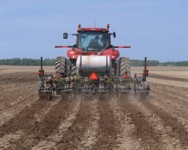 Grab dinner and a beverage at
Empire Farm Days
and then join us for a free tour of local farms to view reduced tillage crops and equipment and a comparison of production practices. The tour will start at Fred
Jensen's Farm
*. Whether you're already an established reduced tiller, thinking of trying it, or a relatively new adopter fine-tuning your reduced tilling, you'll learn a lot at this tour.
Reduced Tillage Tour plantings and equipment:
- Deep placement of ammonia preplant vs. liquid N applied at planting
- Strip tiller with N applicator configured from various components
- Strip till soybeans planted with and without auto guidance
- No till soybeans drilled vs. planted in 30 inch rows
- Crops in fields with effective tile vs. insufficient tile
- Auto steer on an articulated tractor, and auto guidance that failed
- Ammonia applied on a bias to corn planting
For more information about this event, contact
Bill Verbeten
of the NWNY Dairy, Livestock & Field Crops Team.
For more information on reduced till vegetables, contact
Carol MacNeil
.
* Directions: Fred Jensen's Farm, 1073 Marshall Rd, Waterloo, NY -
From EFD, go ~5 miles, west on County House Rd, crossing Rt. 96, then left onto Marshall Rd.
From Rt. 96A south of Geneva, go east 0.2 miles on Boody's Hill/W. River Rd, then right onto Marshall Rd. for 2 miles.