Precision Agriculture Series - Steuben County
---
Event Details
Date
February 6, 2020
March 26, 2020
April 9, 2020

Time
1:00 - 3:00 PM
Location
Steuben County Office Bldg Annex Conference Rooms A-B
20 E Morris St
Bath, NY 14810
Cost
FREE!
Host
Cornell Vegetable Program
Ali Nafchi
585-313-6197
email Ali Nafchi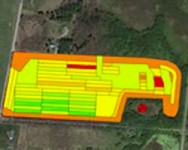 THIS EVENT HAS BEEN POSTPONED but has not yet been rescheduled. If you have any questions, please contact Ali Nafchi at 585-313-6197.


---
Join Cornell Cooperative Extension to learn what precision agriculture entails, the economics of using precision ag, and the preferred methodology and benefits. This free, 3-day event series is being organized by CCE Steuben County with assistance from Dr. Ali Nafchi, Precision Ag Specialist of the CCE Cornell Vegetable Program and CCE NWNY Dairy, Livestock, and Field Crops team. Topics for each day will be determined by the audience interests and questions.
Precision Agriculture (Introduction)
Why should producers be interested in precision agriculture?
Goals, key factors, information, technology, management
Components of Precision Agriculture Equipment
Key components, equipment, computer/controllers, sensors, GIS, GPS, remote sensing, satellite imagery, UAV's
Agricultural management philosophy (PA perspective)
What is zone management?
Best management practices
Soil and tillage management
Soil electrical conductivity (EC) and ways to measure it
Precision soil sampling vs. grid sampling

Soil EC: Veris vs. EM38, EC vs. soil texture, and EC vs. yield map
Site specific management/variable rate applications
Variable depth tillage control, variable seeding rate, automatic section control, variable rate irrigation, and variable irrigation based on soil texture
Map Principles
Why is map-making important?
Yield maps vs. prescription maps
Importance of yield monitors, yield monitoring components, calibration and factors that effect on it
Introduction to NDVI
Characteristic of NDVI values
NDVI estimation and photo analysis
Economics of using precision agriculture Preferred methodology and benefits, evaluation
Topics for each day will be determined by the audience interests and questions.
FREE sessions but registration is required by calling CCE Steuben County at 607-664-2300.