ONLINE: Cole Crop School
---
Event Details

Date
March 30, 2020
Time
9:00am join webinar; 9:15am - 12:30pm program
Location
Online Meeting

Cost
FREE!
Host
Cornell Vegetable Program
Elizabeth Buck
585-406-3419
email Elizabeth Buck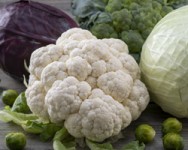 THIS EVENT HAS BEEN SWITCHED TO AN ONLINE FORMAT. Online registration is now open!
Note that 3.0 DEC credits are still available in categories 1a, 10, and 23.
Fresh Market cole crop production has gotten tougher over the last few years. In addition to scouting, ID and management of common pests, diseases, and weeds, the morning includes special seminars on controlling swede midge, alternaria, and on winter high tunnel production strategies. This school is designed for organic and conventional fresh market growers who consider themselves beginner or intermediate skill-level cole crops producers.
9:00 Registration, DEC credit sign-in
9:15 Pest Control in Cole Crops - Robert Hadad, Cornell Vegetable Program (CVP)
Introduce top pest concerns & scouting info
Preventative & reactive management strategies
9:45 Beating Swede midge Troubles - Christy Hoepting, CVP
Biology, life cycle, and ID of this relatively new, invasive pest
Strong emphasis on new research on cultural controls and prevention
Selection and use of appropriate chemical controls
10:15 Common Cole Crops Diseases - Elizabeth Buck, CVP
Downy mildew, white mold, club root, pythium/fusarium, black rot
ID, basic biology, scouting
IPM control tactics
10:45 Break
11:00 Controlling Alternaria in Broccoli - Christy Hoepting, CVP

Basic biology & favorable conditions
Scouting and ID - alternaria vs look-a-likes
Discussion on efficacy of cultural controls, new fungicide recommendations
11:30 Integrated Weed Control - Bryan Brown, NYS IPM Program

Frequently troublesome weeds in cole crop production
Cultural and mechanical controls
Review herbicides, including recent research work
12:00 Winter High Tunnel Brassica Production - Judson Reid, CVP
Variety selection to avoid common winter diseases
Planting timing, canopy and humidity mgmt.
Pest management, incl. associated economics