2021 Empire State Producers EXPO
---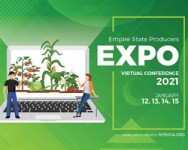 Following much consideration, the New York State Vegetable Growers Association and Cornell Cooperative Extension announced the annual Becker Forum and Empire State Producers Expo will be a virtual conference scheduled for January 11-15, 2021.

2021 BECKER FORUM -- January 11, 2021
Farm Labor: Times of Change
Adapting to the newest New York labor regulations
Grower panel on managing overtime
Federal immigration update

2021 EMPIRE STATE PRODUCERS EXPO -- January 12-15, 2021
WHAT TO EXPECT IN A VIRTUAL EXPO

Attend sessions online using Zoom. Everyone will be attending this year from a computer.
Receive current information from our experts by watching a live or pre-recorded slide show.
Ask questions in the chat.
Presenters will answer questions verbally or in the chat box.
View the session(s) on a computer in the comfort of your home or office.
Need DEC credit? - our sessions will accommodate for this need.
Don't have access to a computer or the internet?
If you need assistance with registering without a credit card or assistance with needing a location with computer/internet to participate in the Expo, please contact Jessica at (585) 993-0775.
SESSION LIST and REGISTRATION NOW AVAILABLE!
A full session list and registration is now available on the NYS Vegetable Growers Association website.


Upcoming Events
Precision Agriculture Workshop VIRTUAL SERIES
January 21, 2021
February 4, 2021
February 18, 2021

Farmers and anyone interested in learning more about precision agriculture and how it can be implemented on the farm is invited to attend a 3-part virtual series. The series will feature Dr. Ali Nafchi, Precision Agriculture Specialist with CCE's NWNY Dairy, Livestock and Field Crops Team and the Cornell Vegetable Program. Topics will begin with an introduction to precision agriculture and why any producer of an agricultural product should be interested in precision agriculture.
Remote GAPs Training and Farm Food Safety Plan Writing Session
January 27 - January 28, 2021
Join Cornell Cooperative Extension on January 27th for a remote GAPs training. Instructors will walk growers through how to conduct a risk assessment on their farm utilizing the seven areas of farm food safety. Participants will gain hands-on experience in creating a traceability system for their farm, as well as learn about packing house design with food safety principles guiding placement of equipment and suggested materials. Students will also learn about how to train their employees related to food safety and understand what they will need to implement on their farm in order to pass a third-party food safety audit, such as GAPs.
On January 28th growers can join us for a day focused on writing their farm food safety plan. Trainers will be joined by NYS Department of Agriculture & Markets Farm Products inspectors to give guidance and input for farms in creating their farm food safety plans to meet the needs for a potential audit. At the conclusion of day two growers will have all components of their farm food safety plans outlined with the most critical pieces.
Announcements