Precision Agriculture Workshop VIRTUAL SERIES
---
Event Details
Date
January 21, 2021
February 4, 2021
February 18, 2021

Time
1:00 - 2:30pm
Location
Online via Zoom

Cost
FREE!
Host
CCE Seneca County
Judy Wright
315-539-9251 x109
email Judy Wright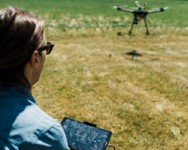 Farmers and anyone interested in learning more about precision agriculture and how it can be implemented on the farm is invited to attend a 3-part virtual series. The series will feature Dr. Ali Nafchi, Precision Agriculture Specialist with CCE's NWNY Dairy, Livestock and Field Crops Team and the Cornell Vegetable Program. Topics will begin with an introduction to precision agriculture and why any producer of an agricultural product should be interested in precision agriculture.

Precision agriculture is a management tool utilizing observation and measurement to determine variability within fields. Computers, sensors, GPS, remote sensing, satellite imagery and drones are all components of precision agriculture but all are not necessarily needed to make informed decisions. Participants should bring their questions to learn more about site specific management, variable rate applications, and the economics of using precision agriculture.

Thursday, January 21, 2021, 1:00 PM - 2:30 PM
Thursday, February 4, 2021, 1:00 PM - 2:30 PM
Thursday, February 18, 2021, 1:00 PM - 2:30 PM
All sessions are FREE to attend; however, pre-registration is required. Register online on CCE Seneca County's website. Due to current COVID-19 safety precautions this virtual series will be conducted via Zoom. To fully access the series it is recommended that participants have a high speed internet connection for their computer. Please contact Seneca County Cornell Cooperative Extension at least one week prior to the series beginning if you need assistance accessing Zoom by calling 315-539-9251 or email CCE Seneca County.

Can't attend during the middle of the day? This series will be REPEATED Thursdays, January 28, February 11 and 25, 2021 from 6:00 PM - 7:30 PM. See CCE Seneca County's website for more details.


Upcoming Events
Managing Soil Nitrogen in Winter High Tunnels
March 5, 2021
To meet the year-round demand for locally produced food, vegetable farmers have embraced protected agriculture to extend their growing season, improve yields, and enhance crop quality. However, a statewide survey found that after several growing seasons, farmers struggle to maintain productivity due to challenges in long term soil health and fertility management. Cornell Cooperative Extension is exploring practices that high tunnel growers can adopt to better manage soil fertility and improve soil health.

Grab your lunch and join us for a virtual conversation on Friday, March 5, 2021 from 12:00pm - 1:30pm to hear our project updates and research results.
Assess and Prevent Food Safety Risks in Leafy Greens Production
March 18, 2021
This training will provide an overview of possible sources of contamination related to soil amendments, wildlife, water, post-harvest handling, transportation and more. This training will emphasize specific risks that leafy greens growers may experience, identify tangible corrective actions that can be taken, and provide participants the opportunity to work through example scenarios as a group.

2021 NYS Dry Bean Meeting

March 19, 2021
Join the us for the annual Dry Bean Meeting! There will be presentations covering the latest research in NY dry beans. Topic areas include market updates, white mold management, Western bean cutworm and soybean cyst nematode management, herbicide resistance management, dry bean variety testing, and incorporating NY dry beans into schools. This meeting is sponsored by Genesee Valley Bean Company, and Bayer CropScience.
Announcements